Trade talks for Hamels heating up
Papelbon, Revere, Francoeur and Utley also considered as Deadline approaches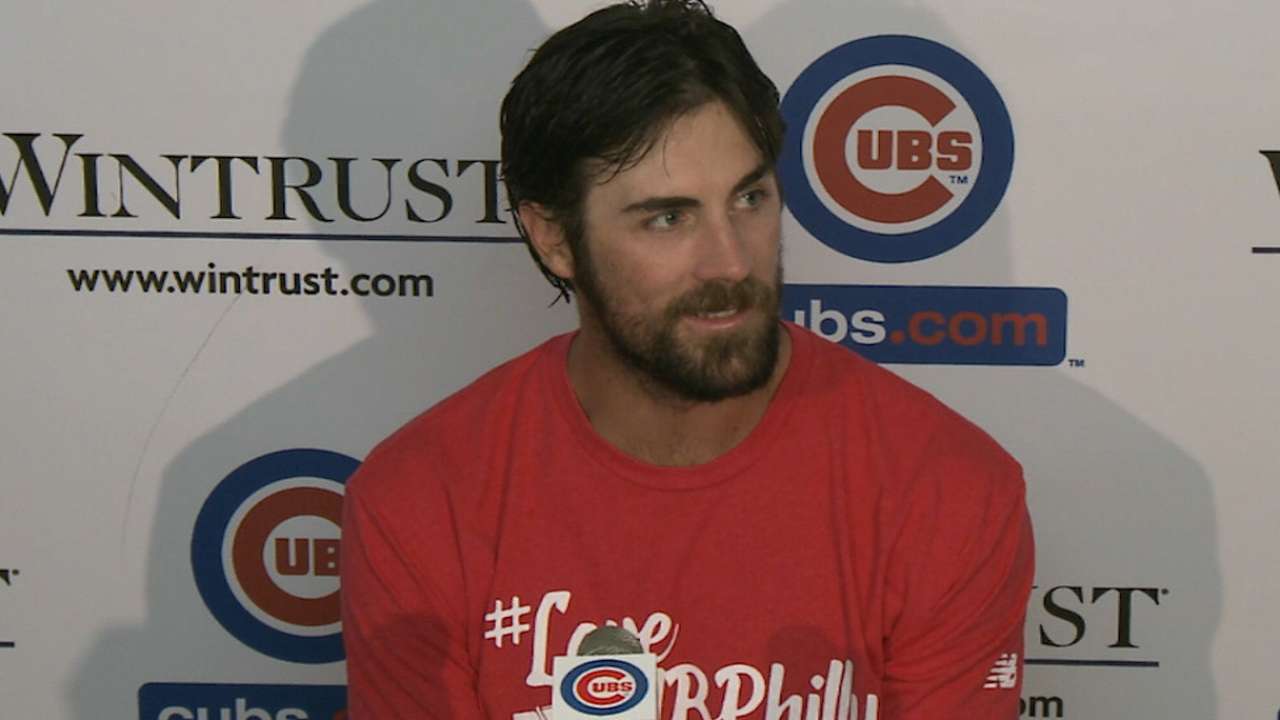 CHICAGO -- Even before Phillies ace Cole Hamels pitched a no-hitter against the Cubs on Saturday, trade discussions between Philadelphia and multiple postseason contenders had escalated.
Hamels' dominant performance at Wrigley Field certainly has not slowed those talks.
Several sources have told MLB.com that the Dodgers and Rangers lead the race to acquire Hamels, with the Rangers privately bracing themselves to finish second. The Yankees, Giants and Cubs are the other teams most actively pursuing Hamels.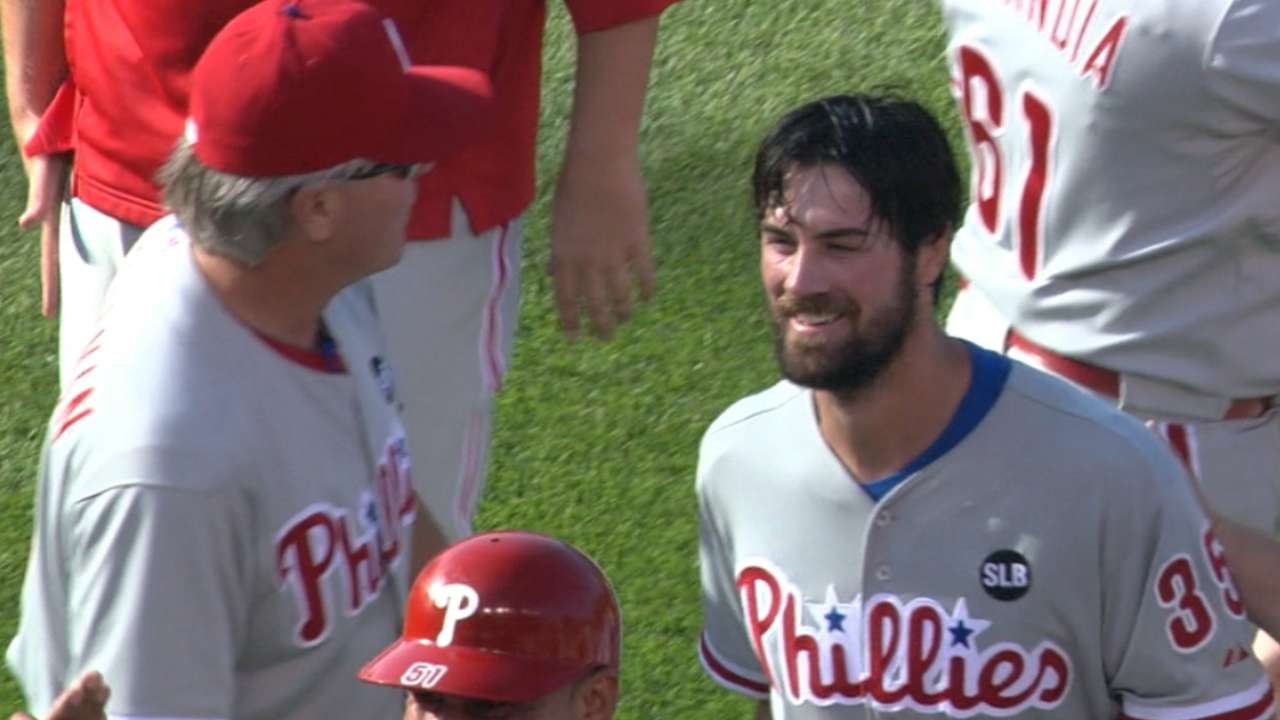 The Dodgers are willing to deal, but they are expected to hold onto shortstop Corey Seager and left-hander Julio Urias, whom MLBPipeline.com considers the fourth- and fifth-best prospects in baseball, respectively. Right-hander Grant Holmes ranks 75th overall, and right-hander Jose De Leon is 89th, but the Phillies need power bats. Dodgers outfield prospects Alex Verdugo and Scott Schebler have power potential. The Dodgers also have a couple of catchers in their system who could interest Philadelphia.
Perhaps the Phillies and Dodgers get will creative again, as they did last December, when they included the Padres to help facilitate the Jimmy Rollins deal.
Of course, the Rangers still have a shot, because the Phillies like their farm system. Texas is becoming more comfortable with the prospect of taking on Hamels' remaining salary, which pays him $22.5 million through 2018, plus a $6 million buyout on a $20 million club option for 2019. Texas catching prospect Jorge Alfaro and outfield prospect Nomar Mazara, who rank 34th and 42nd overall, respectively, could be part of a package for Hamels. Both have power.
Sources said that no deal is imminent, but with five days remaining before the non-waiver Trade Deadline, there is plenty of time to make something happen.
The feeling around baseball is that Hamels finally will be dealt.
But will anybody else from the Phillies?
The Cubs, Blue Jays and Nationals have been pursuing closer Jonathan Papelbon. Philadelphia almost certainly will have to eat some of Papelbon's salary to get a prospect it desires. That is the reality of the game these days. The more money a team pays, the better the prospects they receive.
Ben Revere, Jeff Francoeur and, perhaps surprisingly, Chase Utley have been receiving interest. The Angels still like Revere, and they are monitoring Utley's return from an ankle injury. But if Utley is traded, it likely would be a waiver trade next month, because he is still on the disabled list.
Todd Zolecki is a reporter for MLB.com. Read his Phillies blog The Zo Zone, follow him on Twitter and listen to his podcast. This story was not subject to the approval of Major League Baseball or its clubs.