Hamels celebrates, 'can't dwell' on achievement
Phillies ace has to move on, prepare for next start after no-hitter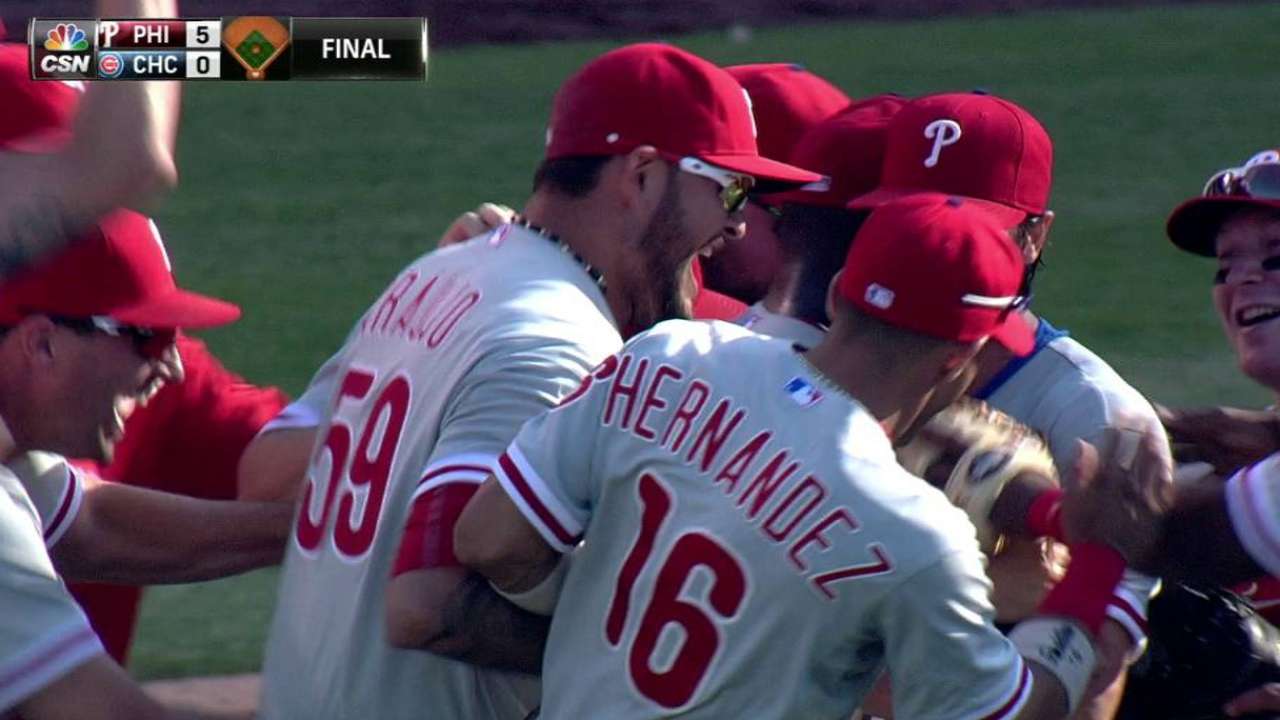 CHICAGO -- Cole Hamels celebrated his no-hitter Saturday night with family and friends, but the once-in-a-lifetime moment still had not sunk in Sunday morning.
"Not really," Hamels said in the visitors' clubhouse at Wrigley Field. "It's weird. I think the postseason has a bigger impact because it comes at the end of the season. Here, you can't dwell on it because you're still playing. You still have basically a half-season to go and you have to get ready to go again in five days."
Hamels is scheduled to pitch for the Phillies on Thursday night against the Braves at Citizens Bank Park, but he could be traded by then. Sources told MLB.com that the Rangers, Dodgers, Cubs, Yankees and Giants are most aggressively pursuing Hamels, with Texas and Los Angeles possibly in the lead at this point.
Time will tell.
"I felt great," said Hamels, who threw 129 pitches. "Everything felt more in sync than it had. I feel great today. I don't feel like I threw as many pitches as I did. That's a good sign. It means I was throwing correctly."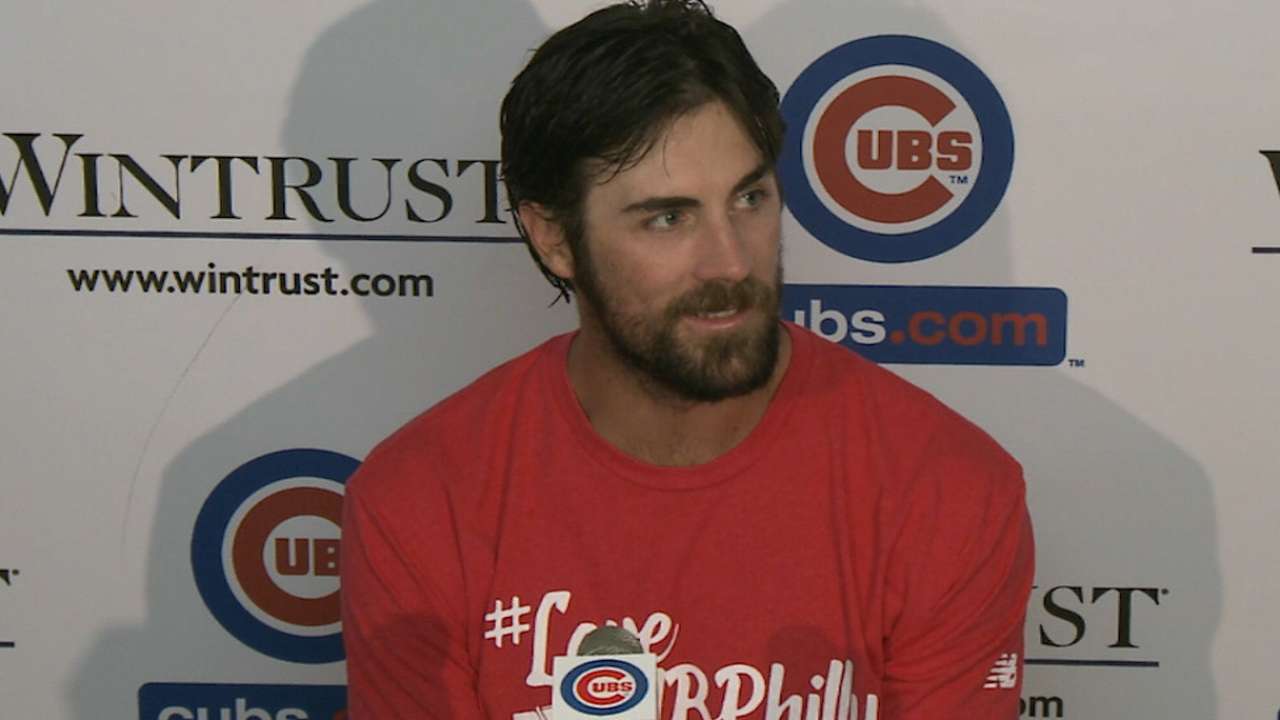 Hamels said he heard from plenty of people afterward, including Roy Halladay, Cliff Lee, Roy Oswalt and Brett Myers.
"That was nice, because those guys all helped impact me," Hamels said.
To the Hall
The National Baseball Hall of Fame and Museum collected a couple things from the game, including Hamels' Phillies cap.
"That's cool, but unfortunately it probably smells pretty bad," Hamels said.
Pete follows Whitey
Ben Revere replaced Cody Asche in left field in the ninth inning, which is kind of a no-win situation for Revere. If he catches a ball hit to him, he did his job. If he does not, he is the defensive replacement that lost the no-hitter.
But Phillies interim manager Pete Mackanin felt comfortable with the move. He played for the Rangers in 1973, when Jim Bibby threw a no-hitter against the A's. Texas manager Whitey Herzog approached Mackanin in the eighth inning and told him to replace shortstop Jim Fregosi.
"If it was good enough for Whitey, I figured it was good enough for me," Mackanin said Sunday morning.
Mackanin made two plays in the eighth inning to preserve Bibby's no-hitter. Revere didn't have a ball hit to him.
"I would have dived through the brick wall to catch a ball," Revere said. "I don't care. Every time they swung, I thought a line drive was coming my way, or a ball would knuckle on me. A lot of things were running through my head. But I died for two seconds when [Odubel] Herrera made that catch in center. Luckily, he caught it."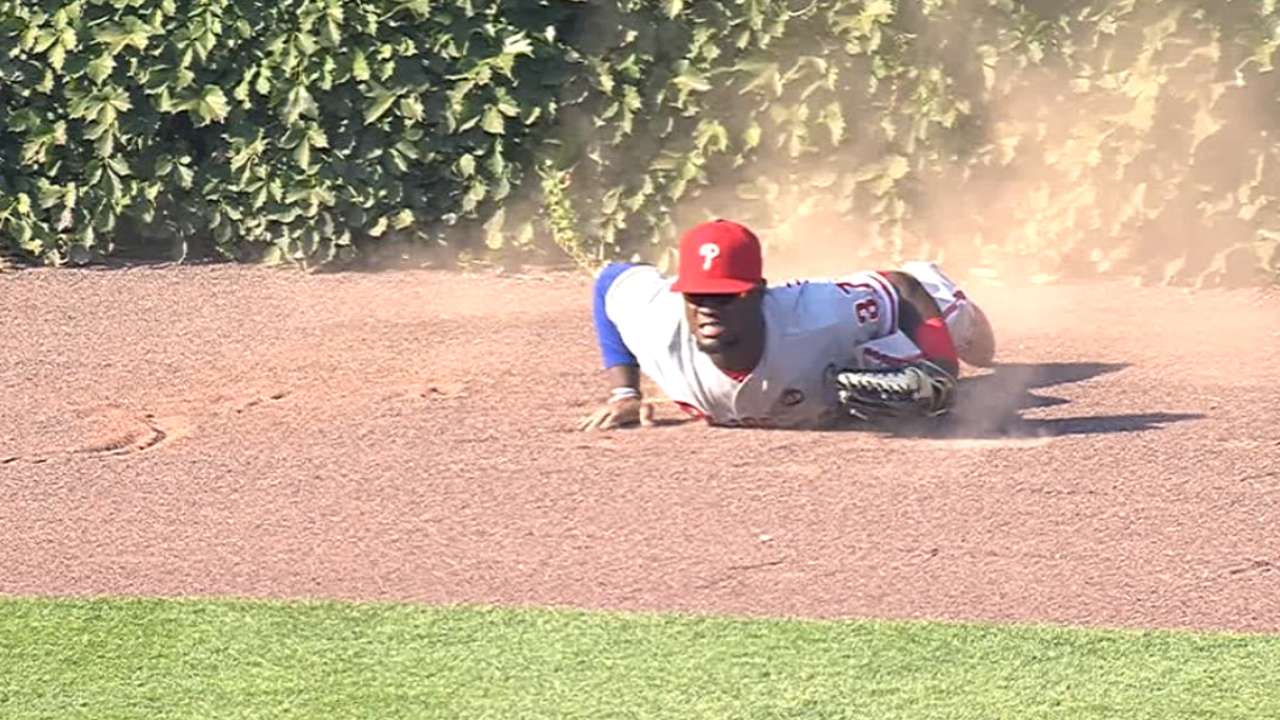 Mack's "code"
Mackanin has been part of several no-hitters and perfect games, including Halladay's perfect game and postseason no-hitter in 2010. Mackanin wrote out the lineup cards for those games, and if you ever get a look at them in the Hall of Fame, you will see Mackanin's initials in the lower right-hand corner.
Former Phillies coach Sam Perlozzo told him to do that before every game just in case something historic happened.
"So I'm in the Hall of Fame," Mackanin said with a smile.
Todd Zolecki is a reporter for MLB.com. Read his Phillies blog The Zo Zone, follow him on Twitter and listen to his podcast. This story was not subject to the approval of Major League Baseball or its clubs.