Molitor not sweating Perkins' recent hiccups
Reliever Pressly progressing; GM Ryan focused on Twins' needs with Deadline nearing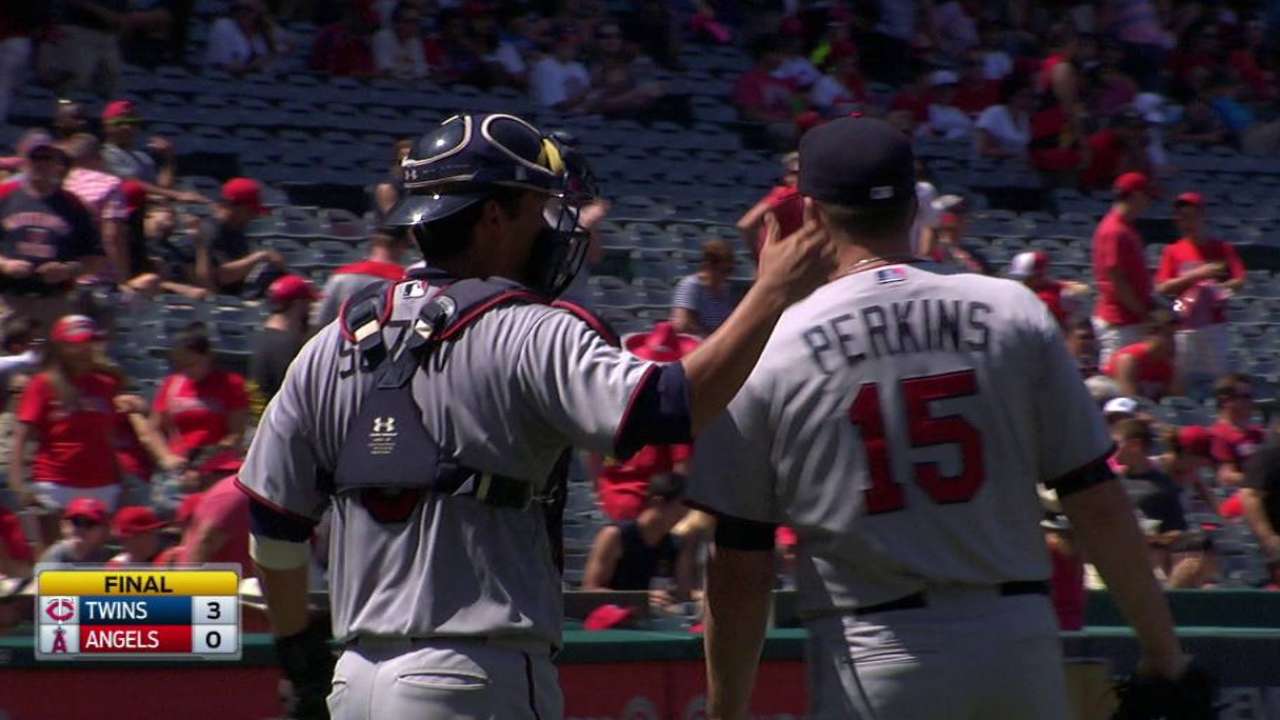 MINNEAPOLIS -- Sometimes the best thing for a closer coming off a blown save is to get right back in there. At least that's how Twins manager Paul Molitor views it, so when a save situation arises, Glen Perkins will be right back in the middle of it for the Twins.
"If he gets back into the game, it means we're in a good position to win, so I would have no hesitation," Molitor said.
The trust in his All-Star closer is no surprise, despite the fact that Perkins blew his second save in three attempts Saturday, giving up a game-tying home run to Alex Rodriguez and a go-ahead homer to John Ryan Murphy in the ninth inning. Perkins has been rock solid for the Twins all season, starting the year with 28 straight saves.
But he also threw 20 pitches in one of his longest outings of the season Saturday. Prior to that, he only had four outings with of 20 or more pitches.
"A lot of times when guys have a little higher pitch outings, he's usually pretty efficient in terms of pitches, but I think he'll be fine," Molitor said. "We'll probably have to get the final sign-off when he goes out there and plays catch and see how he's doing."
Perkins struggled with location in the outing but said afterwards that he hoped to get a chance to pitch in Sunday's game.
"I'm not overly concerned about that being a trend or him getting into any kind of a funk or anything," Molitor said. "I just think we'll kind of write that one off and see how he does the next time."
Worth noting
• Twins general manager Terry Ryan said reliever Ryan Pressly, who was put on the disabled list with on July 6, retroactive to July 5, with a right lat strain, is healthy and has no pain.
"Now we can move to the next step and that would be picking up a ball. It's encouraging. It'll be a while for him," Ryan said.
• Ryan said that what other teams do before the July 31 non-waiver Trade Deadline won't impact his moves. The American League Central-leading Royals have reportedly upgraded their rotation by landing Johnny Cueto.
"There are clubs adding already. We need to take care of our own business here. We have needs, just like any club that's in contention has needs. We'll take care of business. I don't react to much on what other clubs do. It catches your eye," Ryan said. "We need to do what's right for this franchise and this club in the short term and long term."
• Molitor was inducted into the Hall of Fame in 2004. Since then, he's missed just one induction ceremony -- until this year.
"I obviously miss being there because it's a great privilege to be a part of that group and partake in the ceremonies each and every year. You think about today and what it was like for yourself 11 years ago being in that position," Molitor said. "The quality individuals -- both past members and the guys that are going in today -- it's going to be a great day for those guys. I can say that from a firsthand experience."
Betsy Helfand is an associate reporter for MLB.com. This story was not subject to the approval of Major League Baseball or its clubs.