Cubs shake off no-no, treat it like normal loss
Hamels' effort marked first no-hitter against Chicago since 1965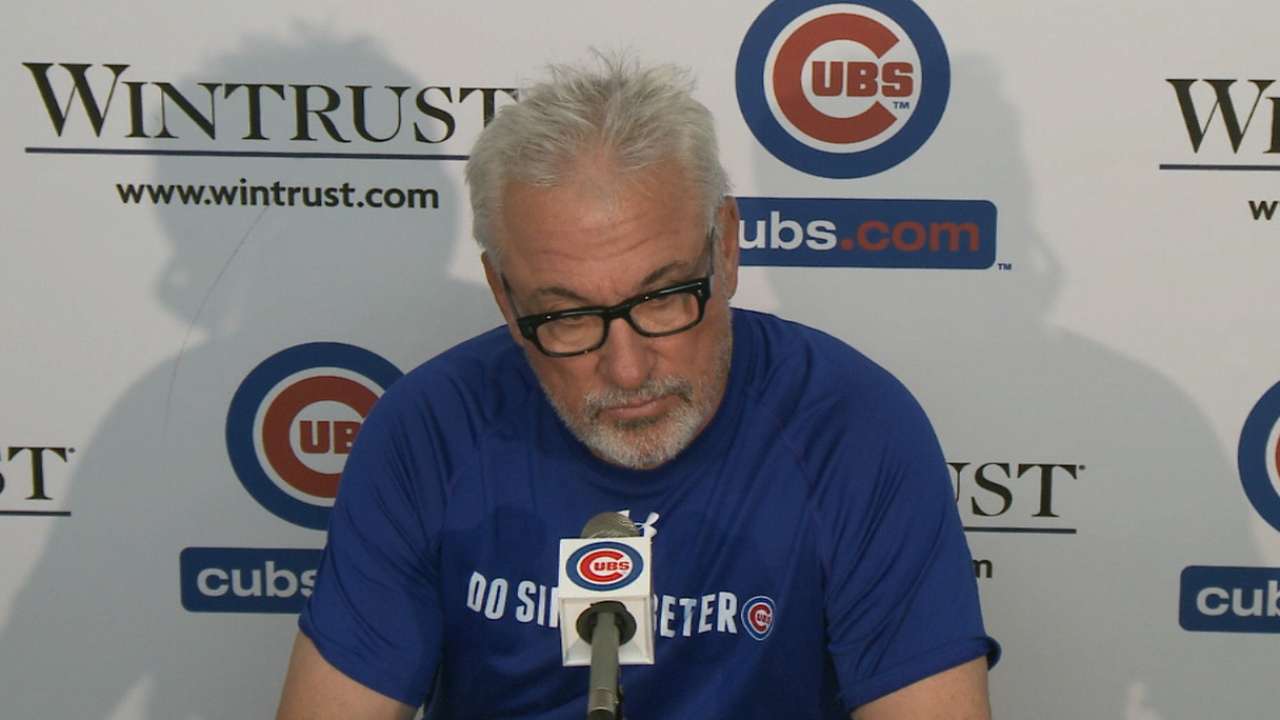 CHICAGO -- When Kris Bryant flied out to left field in the first inning Saturday, he thought the ball had a chance to land in the bleachers. Same thing with the ball the Cubs' rookie hit to center off the Phillies' Cole Hamels with two outs in the ninth. But that ball ended up in center fielder Odubel Herrera's glove to end the game and preserve Hamels' no-hitter.
"The wind changed directions after [batting practice]," Bryant said Sunday. "It could've been a completely different game. ... The wind is a big factor here, and I'm slowly learning that."
The Cubs had played a Major League record 7,920 consecutive games since previously being no-hit on Sept. 9, 1965, against Sandy Koufax at Dodger Stadium.
It was the first no-no at Wrigley Field since Chicago's Milt Pappas did so against the Padres on Sept. 2, 1972, and the first by a Cubs opponent at Wrigley since Aug. 19, 1965, when the Reds' Jim Maloney threw a no-hitter.
Chicago manager Joe Maddon didn't plan on any pregame pep talk prior to Sunday's game.
"It's a loss," Maddon said. "I don't talk to them after every loss. We didn't get a hit [Saturday], but we hit some balls really well. Their guy was really good."
Bryant said Hamels had a little more life to his fastball than they had seen on video preparing for the game, but he also downplayed the significance.
"Just because it's a no-hitter doesn't mean it's any different than getting beat any other day," Bryant said. "That's how we look at it -- we just got beat that day. I don't think there's any difference between that and any other loss."
Maddon has some experience with no-hitters, and he boasted that he threw one himself when he was a junior in high school.
Did Bryant know anything about the last time the Cubs were no-hit?
"Nope -- too young," Bryant said.
Carrie Muskat is a reporter for MLB.com. She writes a blog, Muskat Ramblings. You can follow her on Twitter @CarrieMuskat and listen to her podcast. This story was not subject to the approval of Major League Baseball or its clubs.