Warren an option for Tuesday start in Texas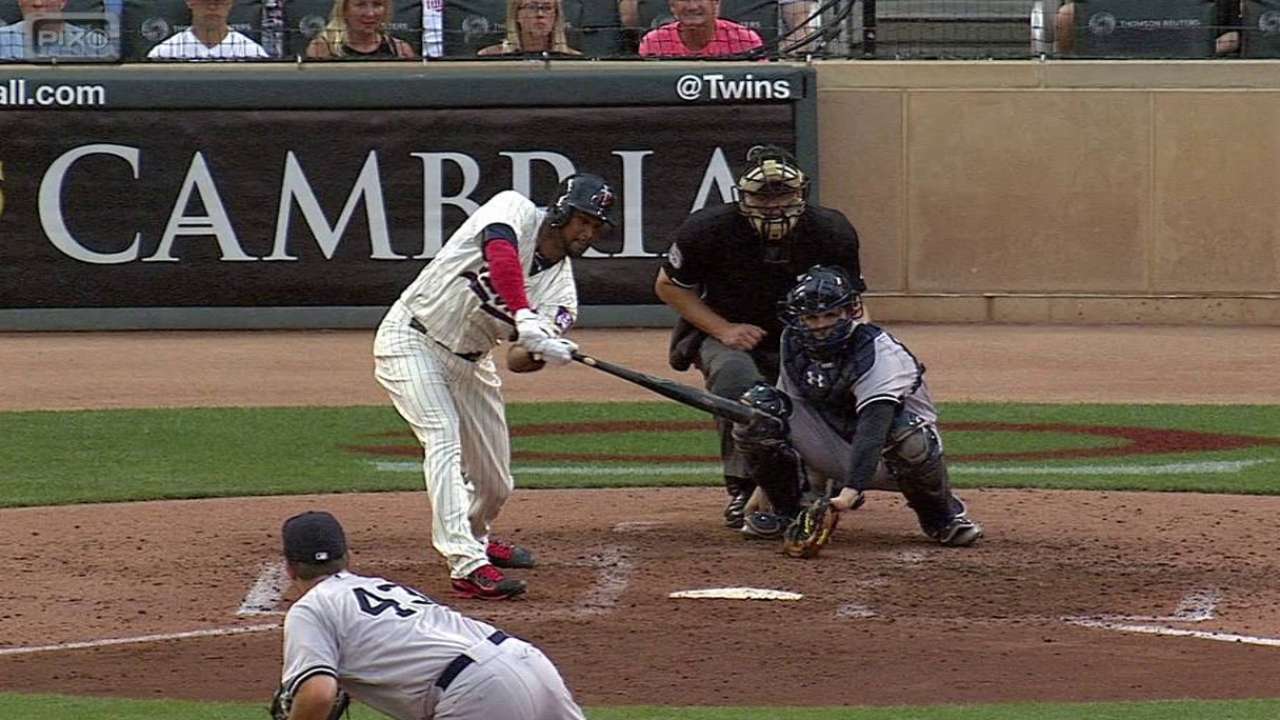 MINNEAPOLIS -- Adam Warren threw 29 pitches in Saturday's 8-5 victory over the Twins, but that does not necessarily preclude him from starting Tuesday's game against the Rangers, Yankees manager Joe Girardi said.
"It's definitely possible. We'll talk," Girardi said. "Yesterday, if you're a starter, is the equivalent of a little bit more than a bullpen day. So it' something we'll look at."
Warren picked up the victory in relief of starter CC Sabathia, hurling 2 1/3 scoreless innings. He opened the year in the Yankees' rotation and was 5-5 with a 3.59 ERA in 14 starts before being bumped to the bullpen to accommodate the return of right-hander Ivan Nova.
"It's been a tougher transition than I thought it would be, but I think just getting back into the routine of things and just preparing myself, I think I've gotten used to it," Warren said.
"Getting used to going one inning at a time, getting up in the bullpen and sitting down -- there's just things that I took for granted that I'm getting used to. I'm starting to settle in and feel comfortable."
The other in-house option, Girardi said, is to start left-hander Chris Capuano. He is 0-4 with a 5.64 ERA in 15 games (three starts) and allowed four runs -- including two homers -- in a mopup inning of Friday's 10-1 loss to the Twins.
Girardi said that the organization had tried to set right-hander Bryan Mitchell up for the start, but he sustained a fall that pushed him back to start on Saturday for Triple-A Scranton/Wilkes-Barre, effectively ruling him out.
Similarly, right-hander Luis Severino -- the organization's No. 1 prospect, according to MLB.com -- is not an option to pitch on Tuesday because he started for Scranton/Wilkes-Barre on Friday.
The juggling is necessary in part because the Yankees do not want to pitch right-hander Masahiro Tanaka on four days' rest; Tanaka has been given an extra day in each of his nine outings since returning from the disabled list in June. They are also mindful of Michael Pineda's climbing innings total, which stands at 118.
"I have not been given a number," Girardi said. "We'll pay attention, and a lot of times a player tells you, from what they're doing out on the mound and maybe they need a little break. We'll do the best we can."
Bryan Hoch is a reporter for MLB.com. Follow him on Twitter @bryanhoch and read his MLBlog, Bombers Beat. This story was not subject to the approval of Major League Baseball or its clubs.