Historic group of greats inducted into Hall of Fame
Johnson, Martinez, Smoltz, Biggio take their places in Cooperstown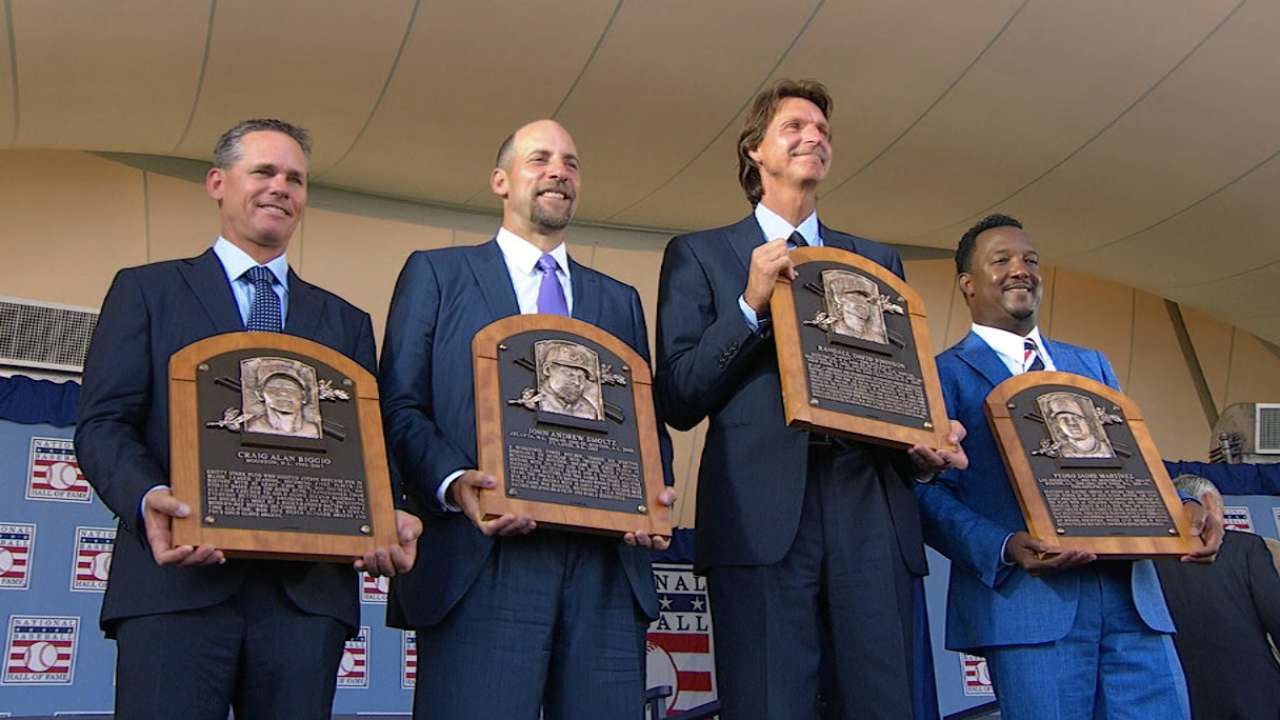 COOPERSTOWN, N.Y. -- For anyone who has been there to make the comparison, Sunday's induction ceremony for the National Baseball Hall of Fame was much like a World Baseball Classic contest with the defending-champion Dominican Republic participating.
Dominican flags were waving in clusters as the rhythmic sound of cymbals clanging and congas beating resounded throughout the grounds behind the Clark Sports Center.
The Class of 2015 was dominated by three of the greatest pitchers of their era, plus a versatile position player who ended his 20-year career, all with Houston, with 3,060 hits -- Randy Johnson, Pedro Martinez, John Smoltz and Craig Biggio.
Hall of Fame Class of 2015
The estimated crowd of 45,000, was highly partisan with fans from Texas supporting Biggio -- the first Astros player elected to the Hall -- and Latin American fans there to see Martinez inducted. He was the first Dominican to enter since Juan Marichal in 1983 and just the second overall.
Biggio led off among the speakers, and he encouraged Astros fans, who had made the trek to upstate New York.
"Let me hear you," Biggio said. "Pedro is going to give you guys a run for the money."
And that he did. Martinez was decked in a light blue suit boasting a patch below his right shoulder detailed with the Dominican national coat of arms and another on his left shoulder representing the U.S. His tie had wide slanted stripes of red, white and blue, the Dominican national colors. The coat of arms is in the middle of the flag, too. Of course, Martinez said after the festivities that he had a reason for all that.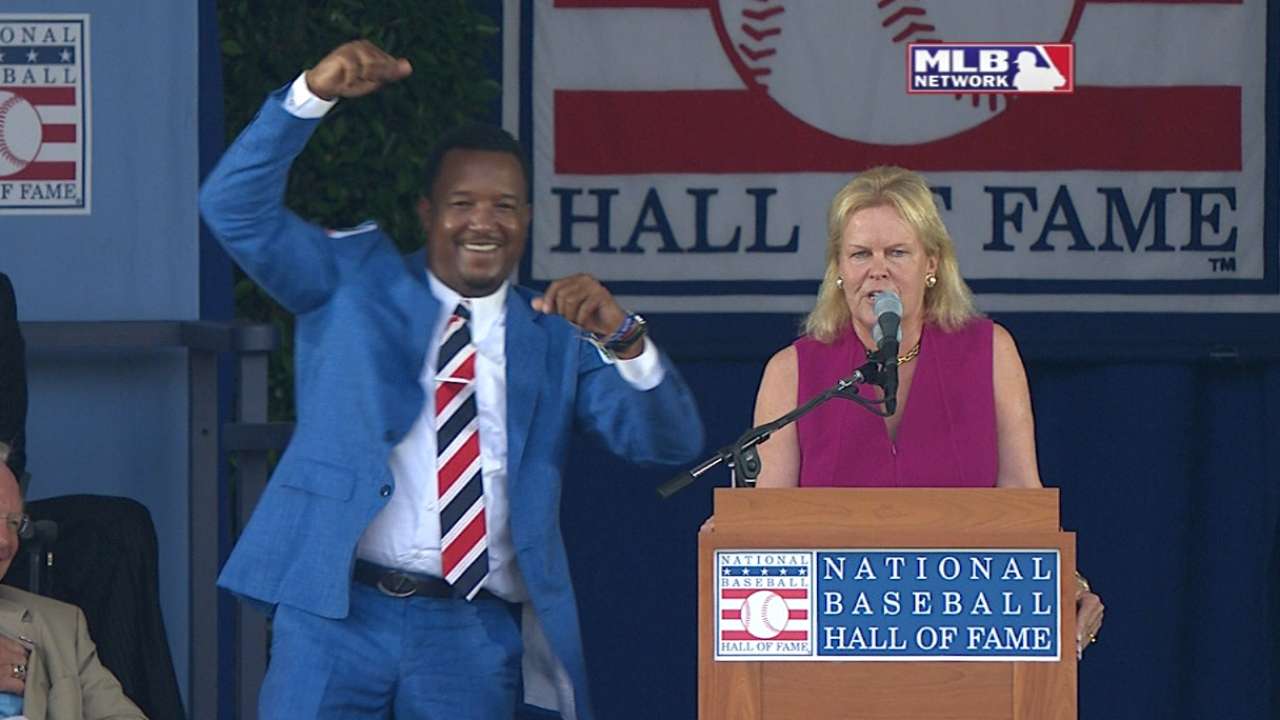 "I wanted to make sure I recognized both sides," said Martinez, who played for the Dodgers, Expos, Mets and Phillies in his career, but went into the Hall as a member of the Red Sox. "The Dominican because I was born there, and a lot of the people -- as you saw -- showed up from all over the country and the Dominican Republic and different places to support one of their sons being inducted into the Hall of Fame.
"At the same time, I'm a U.S. citizen. I respect America. I wanted to recognize America. I wanted to give America the same props I gave the Dominican Republic, because without America, I wouldn't be standing in Cooperstown, N.Y., being inducted into the Hall of Fame."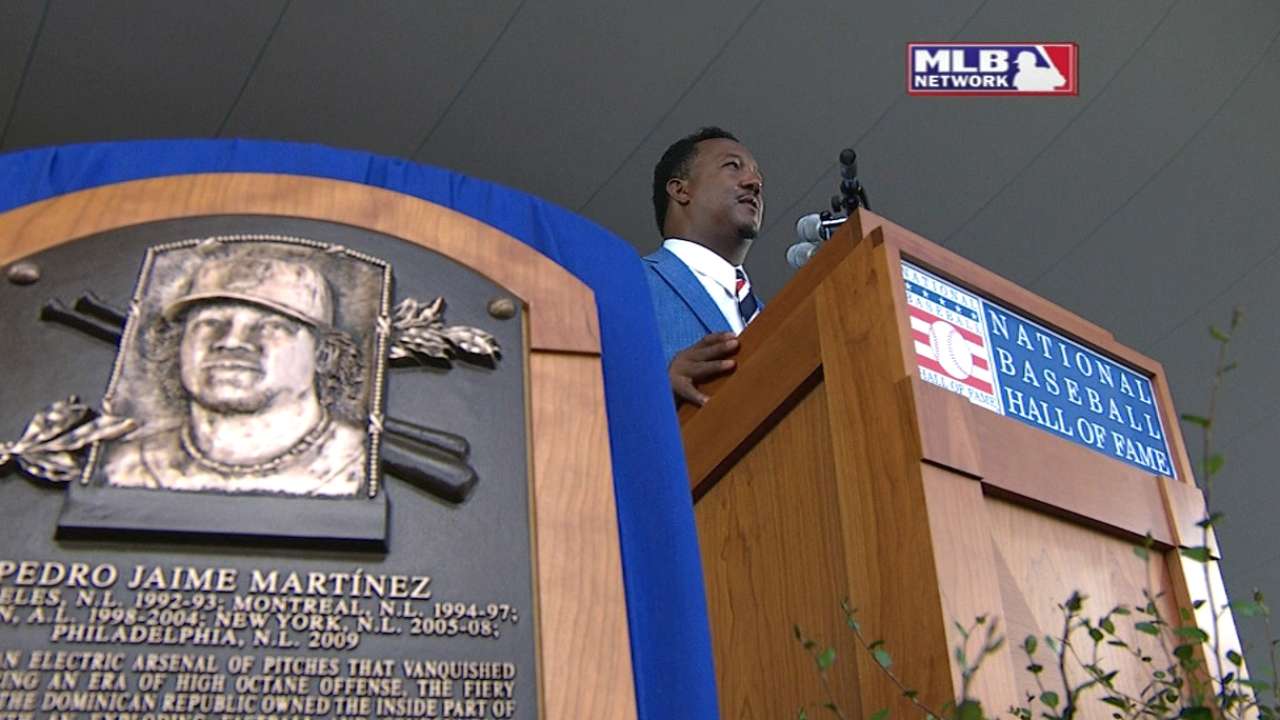 It was perhaps one of the most festive, and at the same time emotional, induction ceremonies in recent memory. It was presided over for the first time by new Commissioner Rob Manfred, who read the inscription on each plaque to all the inductees before they launched into their respective speeches.
• Cut4: All things Hall of Fame
Biggio, who grew up on Long Island, admitted leading up to the speech that he might cry, and he began to tear up when remembering his parents, who had passed away long before his election this past January in his third appearance on the Baseball Writers' Association of America ballot. The other three men honored on Sunday were overwhelming first-ballot electees.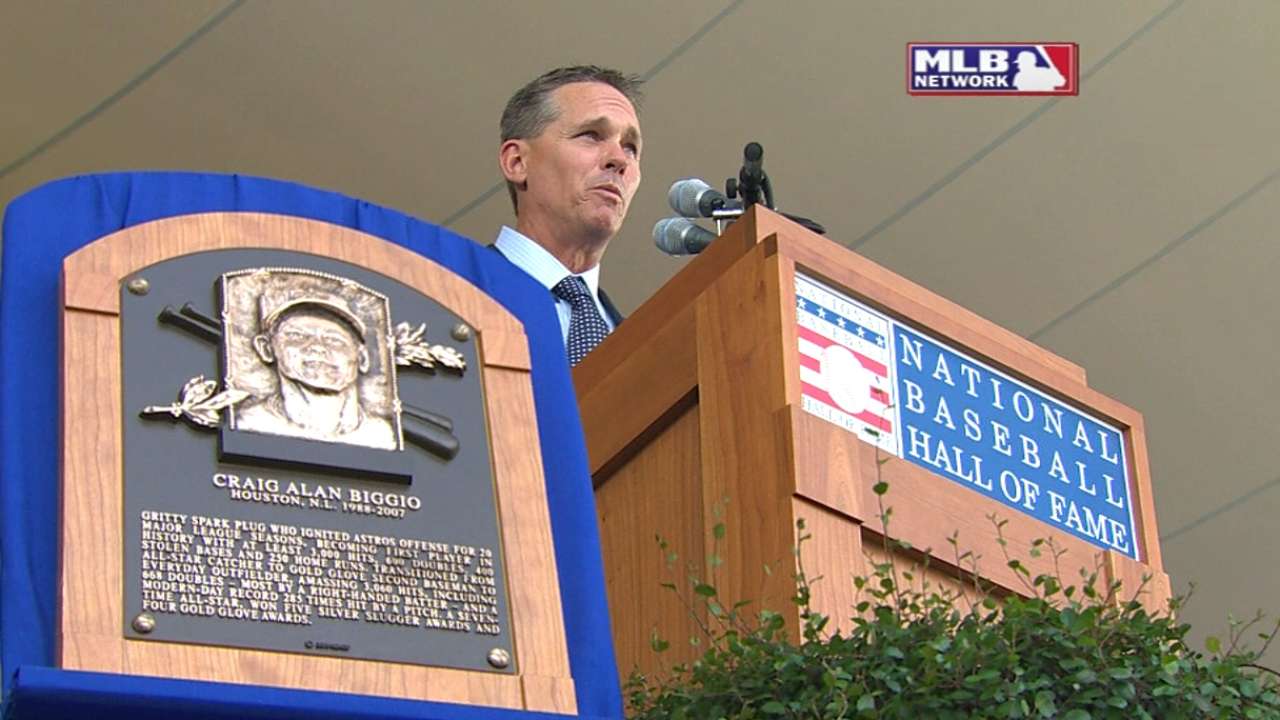 Biggio went in with a vintage Astros star on his cap that he donned for the final eight years of his career etched into the bronze plaque.
"My journey started in the little town of Kings Park, N.Y., not too far from here," Biggio said to a smattering of applause.
"I hear you," he added in an aside before continuing. "My mother, Johnna Biggio, and my father, Lee Biggio, were two hard-working people, who are no longer here. But I know they're watching."
That's when Biggio began to choke up.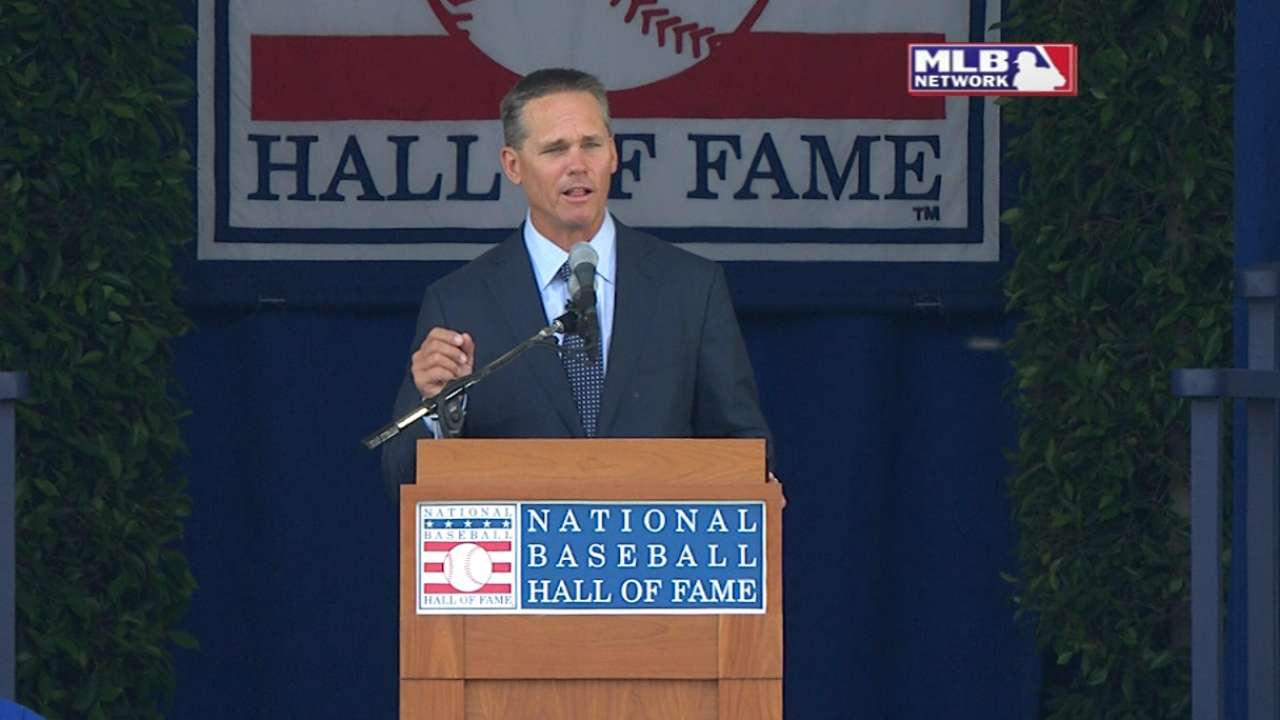 "This was very special," Biggio said afterward. "When you think about the amount of people who were here from Houston, it's a long journey, and obviously it's not easy to get here. For them to come to enjoy this together, and so many of them to come to enjoy this together, it was just a great day."
• Cut4: Astros fans drove 25 hours straight to see Biggio inducted
Johnson conducted his speech stoically, but he said afterward that he is a highly emotional person and that the experience was, indeed, a very emotional one. Johnson won 303 games pitching for the Expos, Mariners, Astros, D-backs (twice), Yankees and Giants. He chose the D-backs over the Mariners and was torn about that decision, which Seattle officials in attendance actually endorsed. The Big Unit is the first D-back to enter the Hall, and with Ken Griffey Jr., heading up the next BBWAA ballot, he should be the first Mariner.
"It was extremely emotional talking about the things I care about," Johnson said. "There have been a lot of events in the last two weeks. I'm pretty relaxed now. I don't know why I wasn't nervous in front of a crowd of 50,000. Go figure!"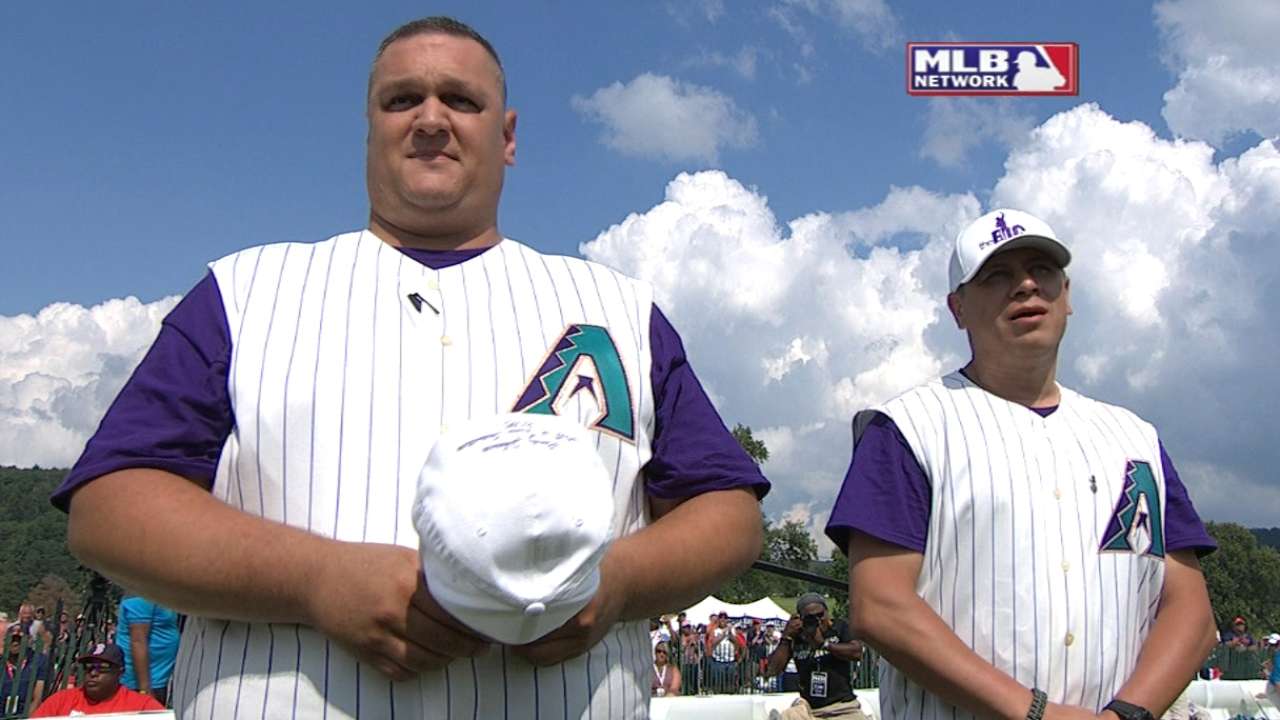 Johnson, whose 4,875 strikeouts rank No. 2 all-time behind Nolan Ryan's 5,714, said the day was about thanking all those who helped him get to the Hall of Fame. Johnson also pitched a no-hitter for the Mariners, a perfect game for the D-backs and was the co-MVP of Arizona's seven-game win over the Yankees in the 2001 World Series.
"It's very humbling to look behind me and see the best who have played this game," Johnson said in the speech.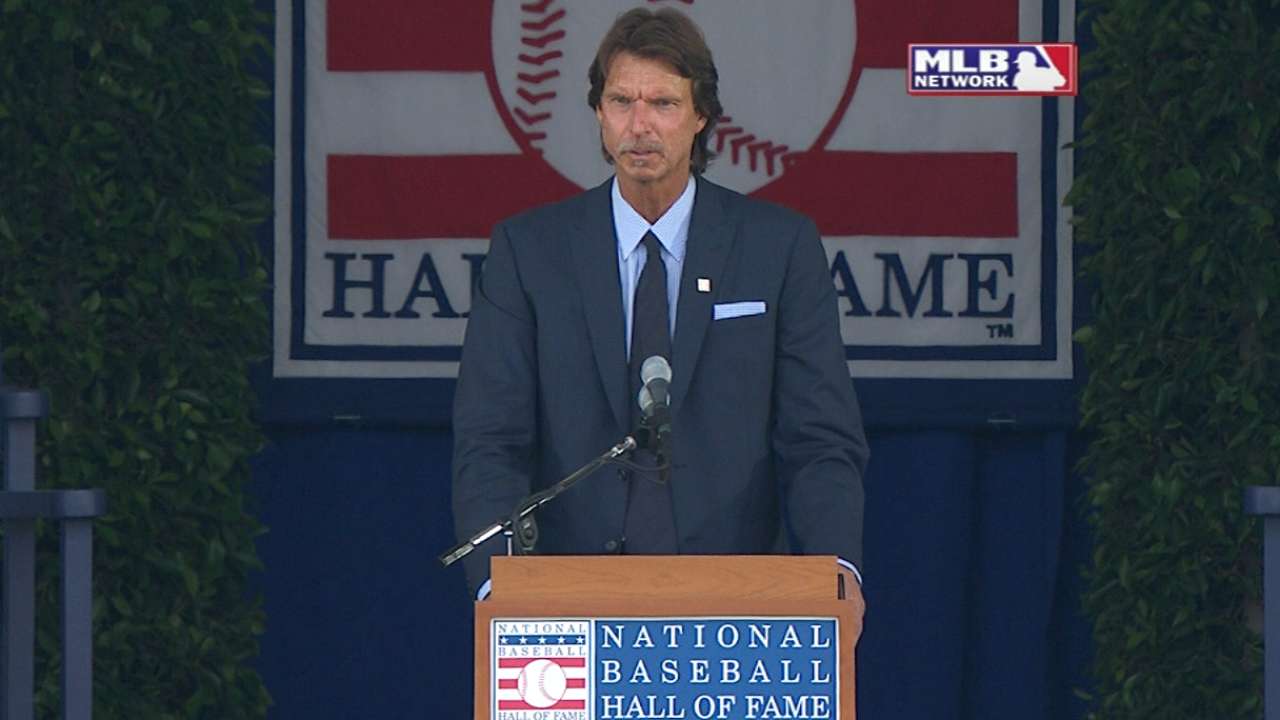 "So many of the reasons that I've been inducted into the Hall of Fame are long gone now. My fastball is gone. I no longer have a mullet. And my scowl is long gone. I'm so happy to be elected to the Baseball Hall of Fame and be in the greatest fraternity of all time."
Smoltz played his first 20 seasons with the Braves, finishing after right shoulder surgery in 2009, starting that season with the Red Sox and ending it with the Cardinals after Boston released him. Smoltz went in wearing the script Atlanta "A" on his plaque.
• Cut4: Smoltz debuted a new hairdo during his induction speech
Smoltz missed the entire 2000 season and his career was bifurcated by Tommy John elbow surgery. He won 213 games, 210 of them as a starter, and saved 154 as a closer. The right-hander is the first Hall of Fame pitcher to have had Tommy John surgery.
Smoltz admitted the best way to describe his career was "unique," and said that he's received four major phone calls in his life. The first two were from the Tigers, first finding out he was drafted and then later traded to the Braves.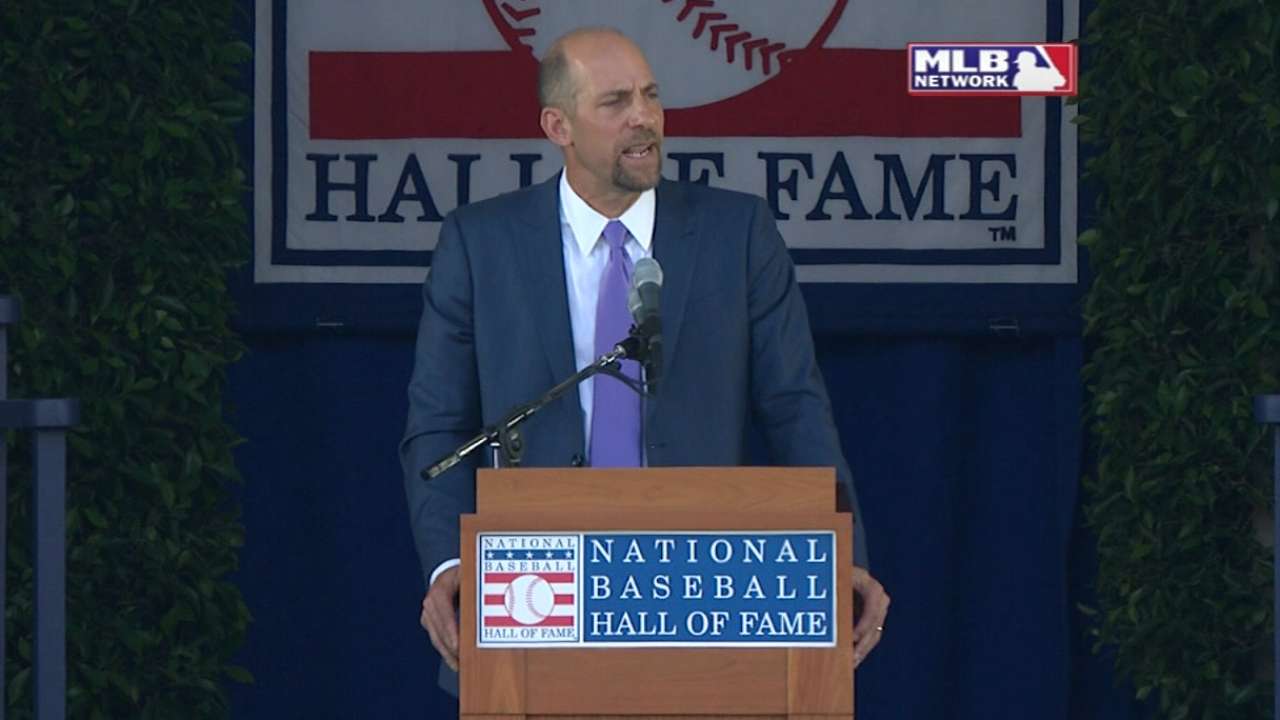 The third was from Tommy John, the first pitcher to undergo ligament replacement surgery, encouraging him to continue his career.
"That phone call, at the age of 34, meant the world to me," Smoltz said. "Emotionally, I'd given up. I thought no one would wait for a pitcher my age on my contract. That was a pivotal moment in my career."
• Smoltz's Hall message: Protect 'future arms'
Smoltz also spoke about the rising number of Tommy John surgeries, calling it an epidemic and reminding young players and parents that "baseball is not a year-round sport."
The fourth call came in January, when he found out he'd been elected to the Hall of Fame.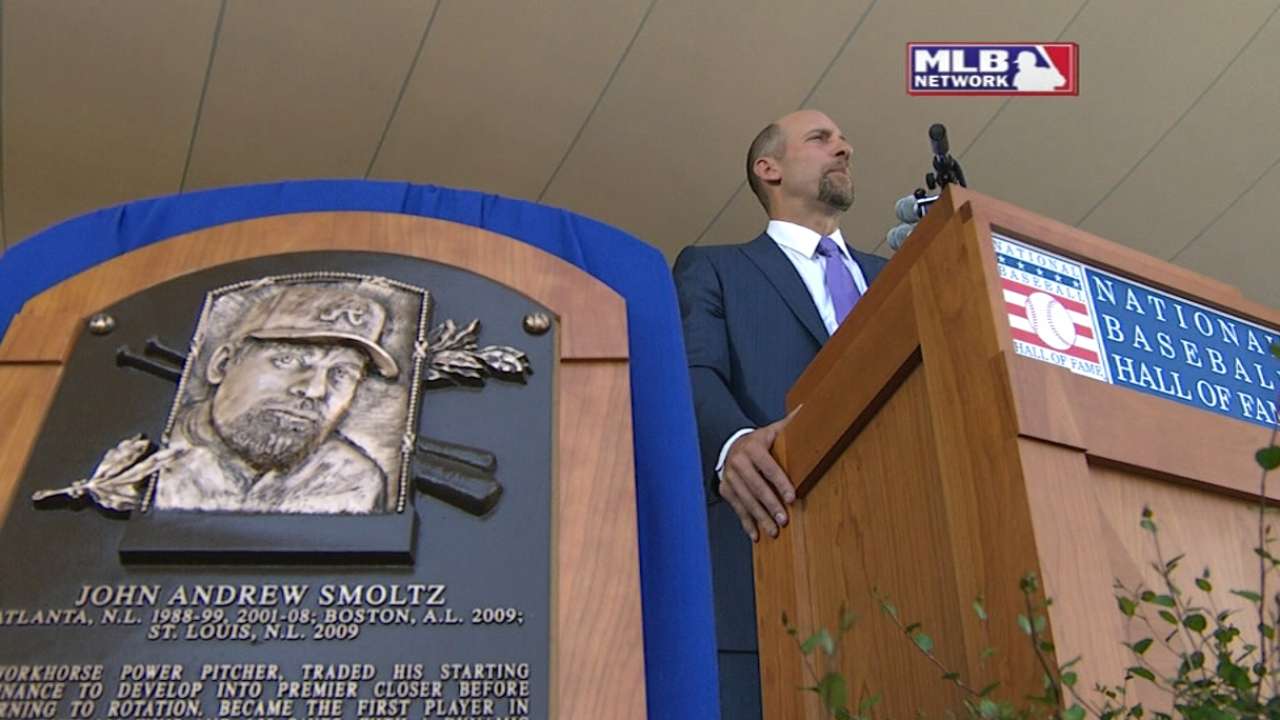 But the lion's share of the love on what turned out to be a warm and sunny afternoon was for Martinez -- 219-100 in his career, a winning percentage of .687 that ranks sixth all-time and trails only Whitey Ford's .690 among pitchers in the modern era with at least 150 victories.

With the crowd in a melodic frenzy, Pedro actually boogied on the stage beneath the white canopy and in front of 48 returning Hall of Famers as Manfred recited the text off his plaque. He adlibbed the entire speech, beginning it with a tad of Spanish, went into the next portion of it in English and pretty much concluded in Spanish.

In a finishing flourish, he called on Marichal, the Giants' great right-hander, to come forward, and the two of them unfurled the Dominican flag.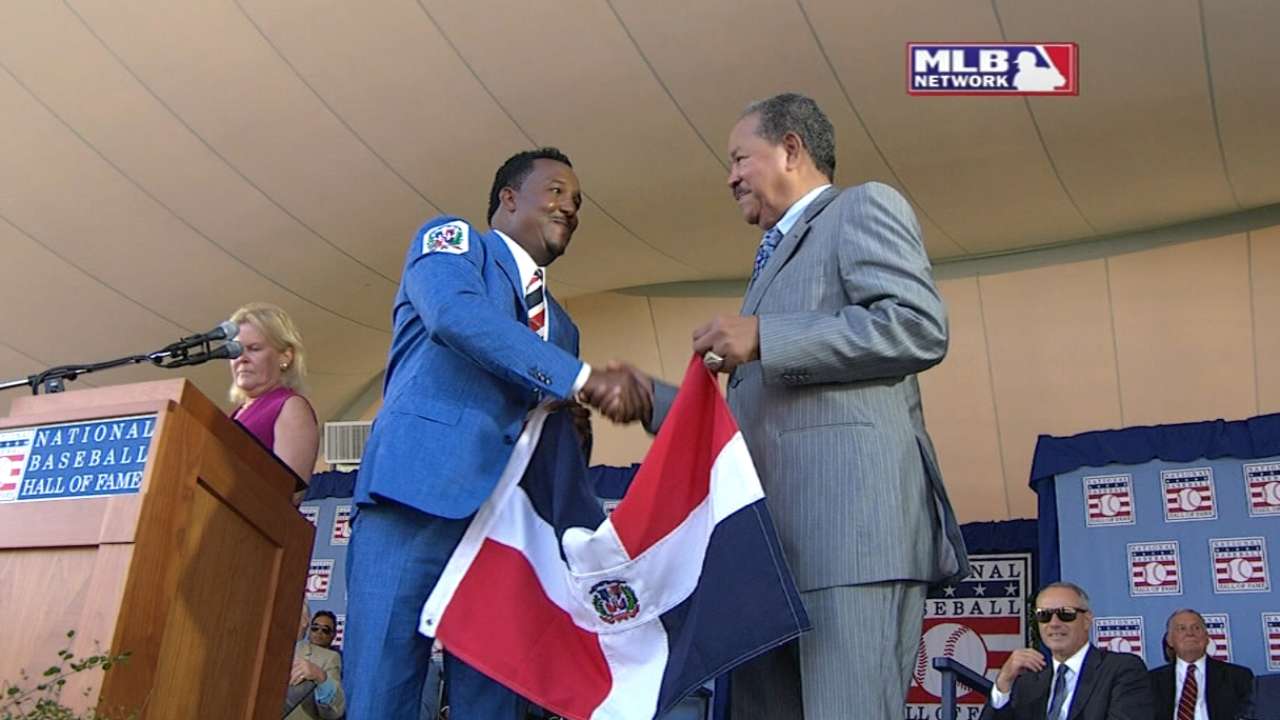 "I thought today, which is Father's Day in the Dominican Republic, I didn't think there would be a better image for the people down there than to see me and Marichal together," Martinez said. "We cleared the way for us to Cooperstown. I don't think I could give a better gift on Father's Day for the people of the Dominican Republic."
Barry M. Bloom is a national reporter for MLB.com and writes an MLBlog, Boomskie on Baseball. Follow @boomskie on Twitter. This story was not subject to the approval of Major League Baseball or its clubs.