Aybar's rare mental lapse costs Angels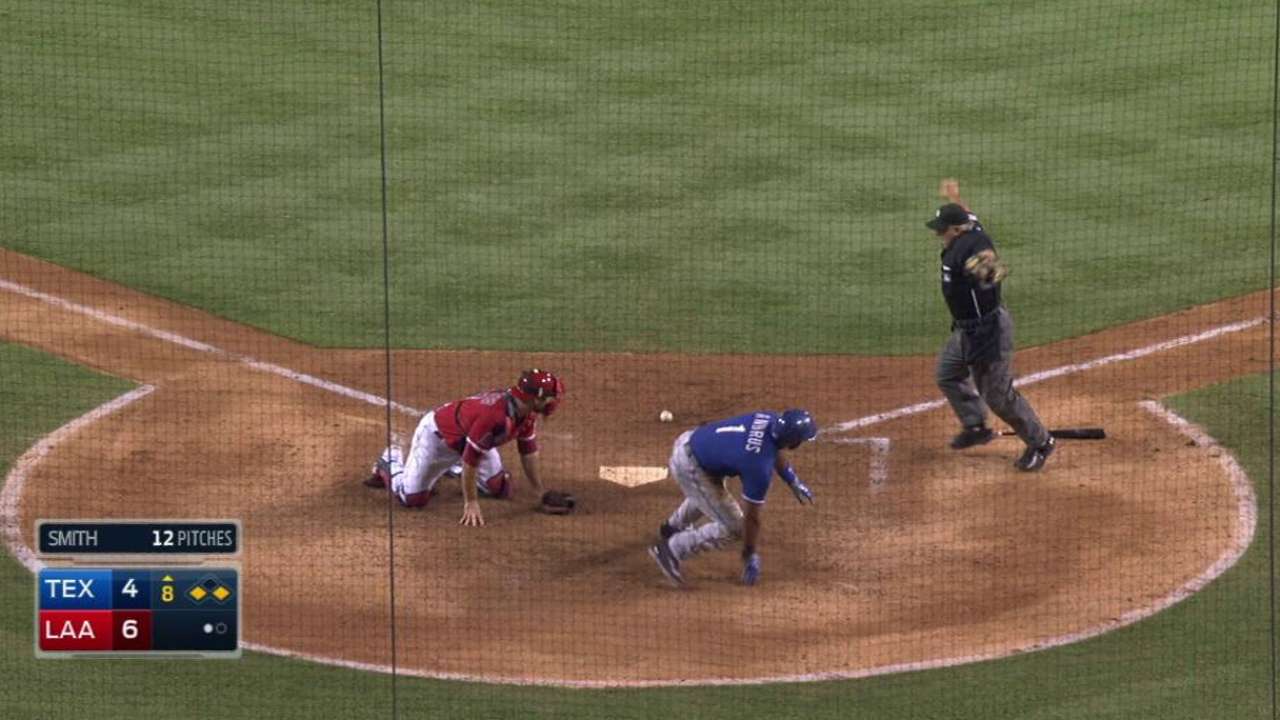 ANAHEIM -- Angels shortstop Erick Aybar knew he shouldn't have thrown home. He knew he should have taken the double play. But baseball can be a fast game in the moment -- even a 3 1/2-hour game like the Angels' 7-6 loss to the Rangers on Saturday -- and all he could do was react.
With the Angels holding a 6-4 lead in the eighth inning, Texas had runners on first and third and nobody out when Shin-Soo Choo hit a hard ground ball right at Albert Pujols at first base. Pujols stepped on first for the force, then threw to Aybar, covering second. Instead of tagging Mitch Moreland for the second out, Aybar saw Elvis Andrus breaking for home and threw to the plate, too late.
Rather than holding a one-run lead with two outs and the bases empty, setup man Joe Smith had one out and the tying run on second and the Rangers' game-changing three-run rally was underway.
"You guys saw it," Aybar said as the media huddled at his locker postgame. "What are you gonna do? It's baseball. Everything happens. I saw Andrus in the middle, I threw home. Safe."
Should he have taken the out with a two-run lead?
"Yeah -- everybody saw that," he said.
It was a play Aybar would usually make. Even Smith was surprised.
"Yeah, I was. I was," Smith said. "But you know what, he's great. He's a veteran, he knows what's going on. If there's a situation late in the game, that's who I want them to hit the ball to. I trust him 100 percent, and I've got all the confidence in the world in Aybar."
But small plays like that, in-the-moment mistakes, can make the difference between winning and losing baseball. And the Angels had several of those stack up on them Saturday, their third straight loss following a stretch in which they won 17 of 20 games.
Aybar was a little off. Smith was a little off. Hector Santiago was a little off, lasting only five innings while allowing four runs for just the third time this season. Pujols was a little off, short-hopping a throw to second base in the fifth inning that skipped away from Aybar and produced a Texas run.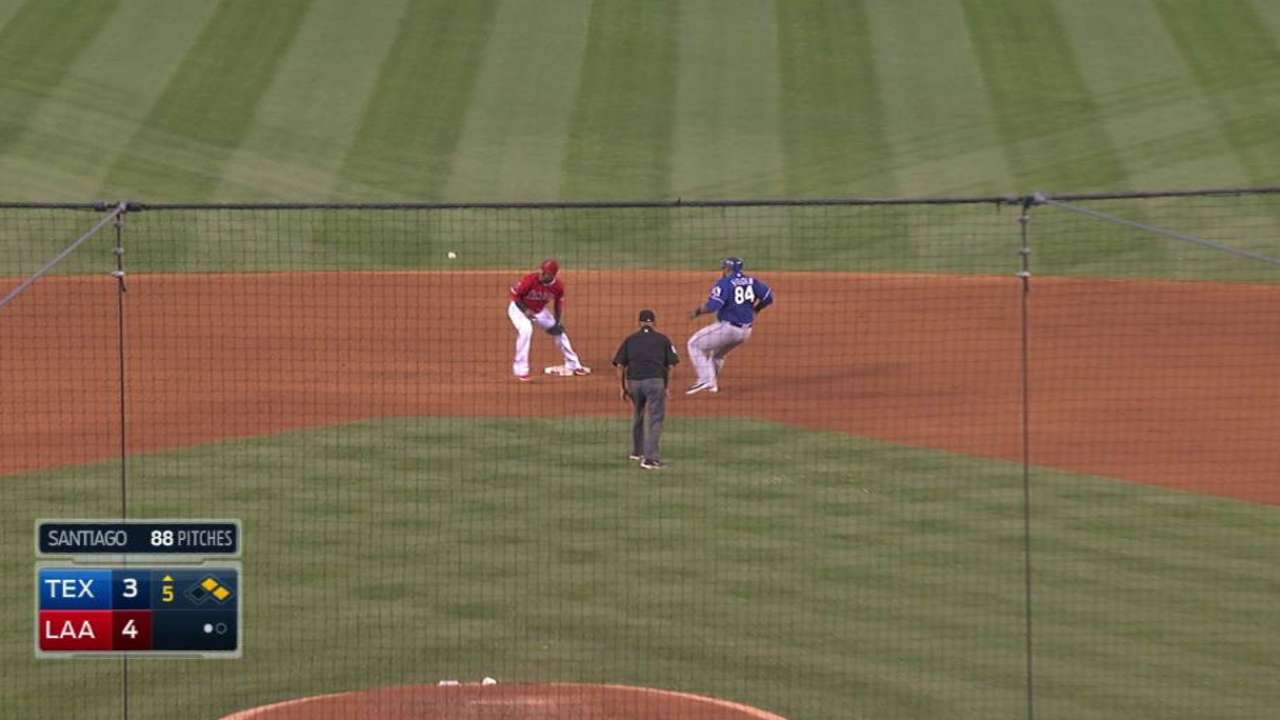 Saturday was the type of game the Angels don't want to let get away from them as they get further into the second half of the season, and potentially a playoff race.
"We should have taken the double play at second and Erick just reacted and threw it home," manager Mike Scioscia said.
"I thought Joe wasn't that far off. ... And you look around, there's three runs on the board," he said of Smith.
"Hector just didn't look as crisp from the get-go -- it looked like he was trying to force a little bit to get some velocity and his command wasn't quite where it needed to be," he said of Santiago's outing. "He still battled."
It's a battle the Angels would like to win, though.
David Adler is an associate reporter for MLB.com. Follow him on Twitter @_dadler. This story was not subject to the approval of Major League Baseball or its clubs.