Once again, Gio delivers against Bucs
Washington 6-0 since '12 when lefty faces Pittsburgh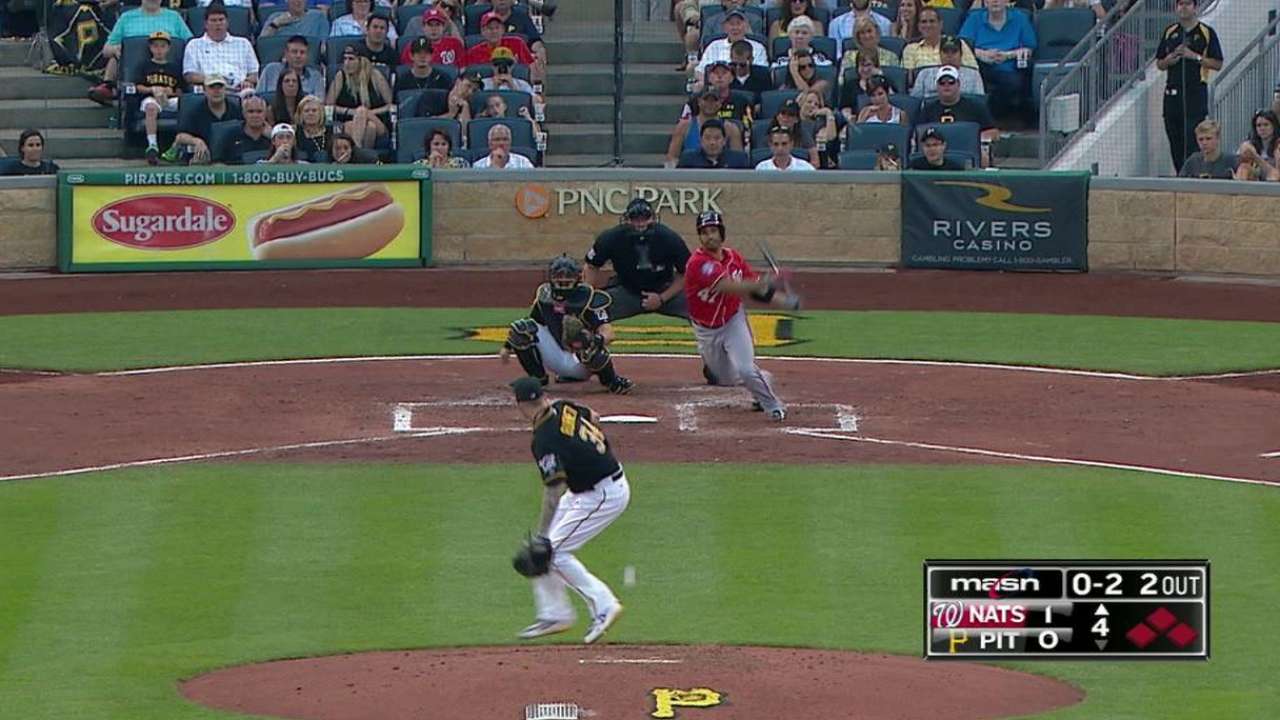 PITTSBURGH -- Entering Saturday night, the Nationals were 5-0 since 2012 in the five games Gio Gonzalez started against the Pirates.
Complemented by run support and an understanding with catcher Jose Lobaton, Gonzalez delivered yet again in a 9-3 win over Pittsburgh at PNC Park, moving that record to 6-0.
Gonzalez, 8-4 with a 3.83 ERA this season, surrendered three runs (one earned) on five hits in five-plus innings. It was the southpaw's fifth straight start in which he allowed two earned runs or fewer.
And he did it a little under the weather.
Nationals manager Matt Williams said Gonzalez wasn't feeling well pregame, and the pitcher said the training staff got him some fluids to keep him "afloat."
"I thought he pitched well and gave us what he could," Williams said.
Gonzalez dominated early, retiring 15 of the first 17 batters he faced. Then he ran into a bit of trouble.
The first two hitters of the sixth reached base via a single and fielding error. That was followed up with RBI singles by Starling Marte and Andrew McCutchen before Gonzalez was pulled in favor of right-hander Aaron Barrett.
"He may have run out of gas a little bit," Williams said of Gonzalez.
Regardless, Gonzalez's performance through five was effective, and the pitcher thanked the man behind the plate.
The left-hander was in-sync with Lobaton all evening, and with reason. Lobaton has caught nine of Gonzalez's last 10 starts.
Gonzalez said Lobaton called an efficient game.
"It's just great chemistry," Gonzalez said. "We're on the same page for everything. We're doing our homework, getting ready for every start."
Whatever Gonzalez and Lobaton are doing, it's working.
John McGonigal is an associate reporter for MLB.com. This story was not subject to the approval of Major League Baseball or its clubs.