Since break, Burnett has been off
After rough outing, All-Star points to lack of execution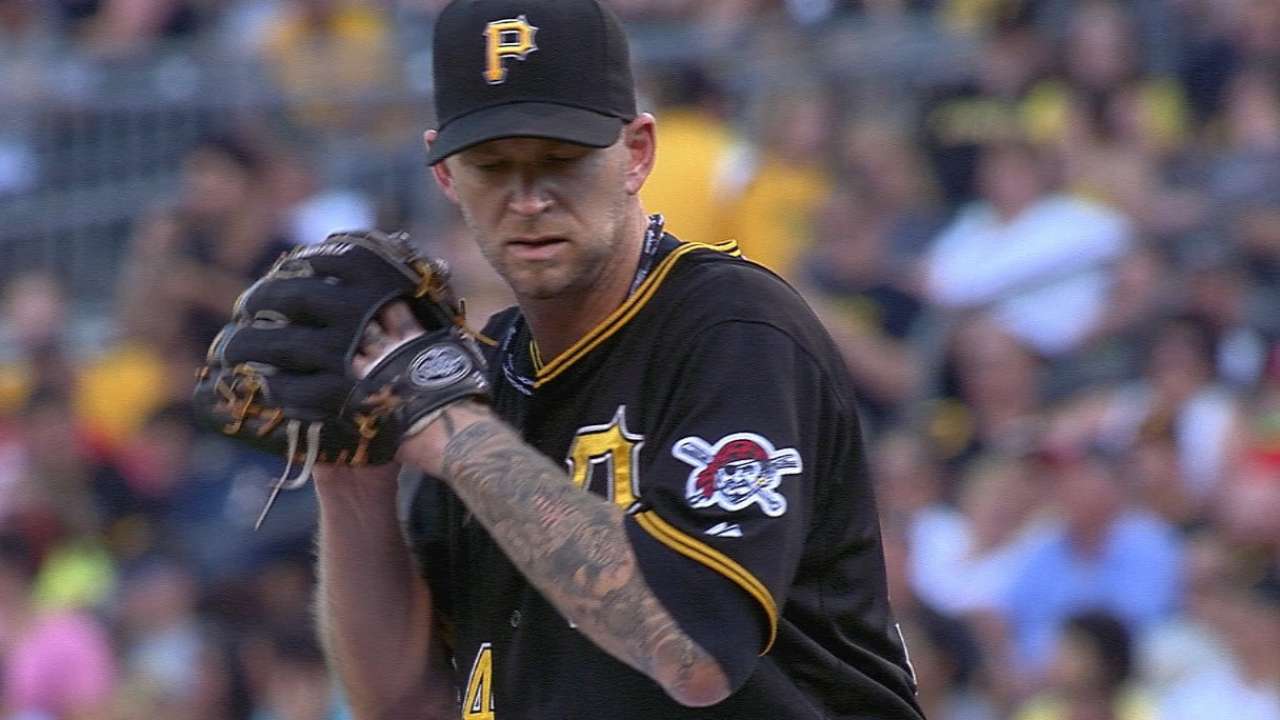 PITTSBURGH -- A.J. Burnett defied all sorts of expectations with his first-half success. He was named to his first All-Star team. He carried a 2.11 ERA into the break. And as a result, he may have created unreasonably high expectations heading into the second half.
After a shaky six-inning outing in Kansas City on Monday, Burnett allowed five runs on 11 hits over 5 2/3 innings Saturday night as the Pirates lost to the Nationals, 9-3, at PNC Park.
In two starts since heading to Cincinnati for the All-Star Game, Burnett has given up 11 earned runs on 22 hits over 11 2/3 innings. Considering his dominant first 3 1/2 months, what has he learned this week?
"That I'm a human being. You expect me to go out and do what I did in the first half, you're nuts," Burnett said. "I'm going to do everything I can, but that's ridiculous numbers."
"It's kind of like when your GPS recalculates, getting through the All-Star break," added Pirates manager Clint Hurdle. "We'll get him back out there, talk about what he felt, evaluate the outing with him and [pitching coach Ray Searage] and go from there."
There were some positive takeaways from Saturday's start. He struck out eight and didn't walk anybody. But even the low walk total, Burnett said, was a product of him missing out over the plate.
"It's got to be done," Burnett said. "You can't leave balls in the middle of the zone to big league hitters."
He made an errant pickoff throw to first base in the first, though he wound up stranding the runner at third with a pair of strikeouts. He didn't cover home plate on a wild pitch in the second, allowing Ian Desmond to easily score as catcher Francisco Cervelli scrambled to get the ball.
"I think you've got to be moving in that direction," Hurdle said. "The ball didn't get that far away, and I think Frankie was surprised that we didn't have a play."
Burnett hit two batters in the foot and gave up three singles in a two-run fourth, with one of the singles bouncing off his glove to drive in a run.
"Control was terrible. I'm hitting guys in the foot, throwing balls down the middle, throwing balls away at first," Burnett said. "What else? Didn't cover home. I got strikeouts, but strikeouts don't win ballgames."
Burnett, 38, said he feels "great" physically. His recent struggles are essentially a product of him missing over the heart of the plate rather than just off the edges. And the solution to those problems, he said, boils down to making minor adjustments.
"First half, I executed," Burnett said. "Last two starts, I haven't."
Adam Berry is a reporter for MLB.com. Follow him on Twitter at @adamdberry. This story was not subject to the approval of Major League Baseball or its clubs.