Miller supported by former crowd, not current offense
Former Cardinals righty allows one run on two hits, but remains winless since May 17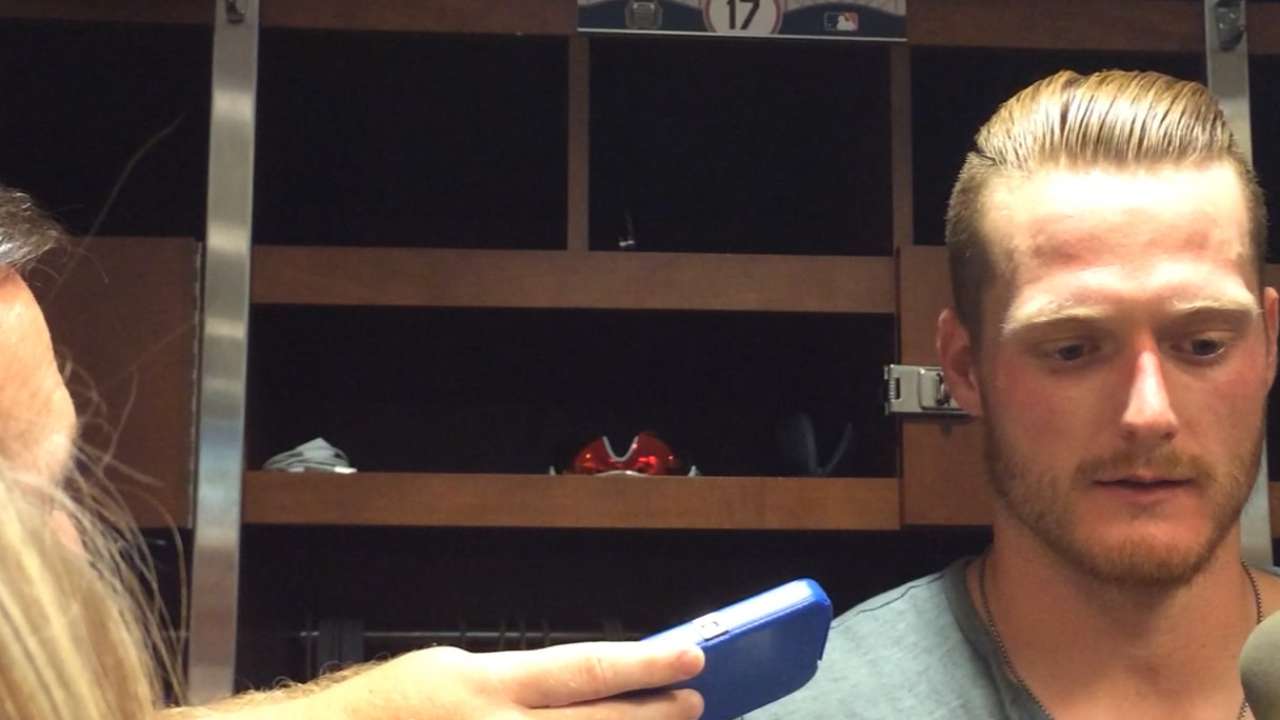 ST. LOUIS -- After 7 1/3 innings of brilliant pitching and two standing ovations from the crowd at Busch Stadium, all Shelby Miller could do was watch as the Cardinals snuck a run across the plate for a 1-0 victory over the Braves on Saturday night.
When Cardinals pinch-hitter Stephen Piscotty lifted a sacrifice fly to right field in the eighth inning off Braves reliever Luis Avilan, Miller took a loss he hardly deserved in an impressive return to the city where he began his career.
Kolten Wong led off the first inning with a bloop double to left for the Cardinals, but Miller did not allow another hit until Yadier Molina singled to lead off the eighth, a blow that proved costly for the 24-year-old righty when Pete Kozma, pinch-running for Molina, scored the go-ahead run with Miller in the Braves' dugout.
"I felt great. I felt like I had command of all my pitches," Miller said. "Curveball, I even threw a [splitter], and that's pretty rare. I felt good. I felt like we did a good job getting ahead in counts and making pitches in certain situations when we needed them."
In 10 of Miller's 20 starts, the Braves have scored two runs or fewer, and Miller is 0-6 in those games. Miller is winless in his last 12 outings -- he beat the Marlins on May 17 with a two-hit shutout -- despite posting eight quality starts during that span.
"One run, two hits. How much more can you ask for and can he do other than drive in a couple of runs himself?" Braves manager Fredi Gonzalez said. "He pitched great. He outpitched [St. Louis starter Carlos] Martinez. He really did."
The St. Louis fans were more generous with their applause for Miller than Martinez, who earned the win with eight innings of shutout work. Miller debuted with the Cardinals in 2012 and served as a vital part of the pitching staff during the last two seasons before he was dealt to the Braves in the offseason.
When Miller came to bat in the second inning, Molina stalled behind the plate, allowing the crowd time to acknowledge him. When Miller exited in the eighth, another ovation ensued.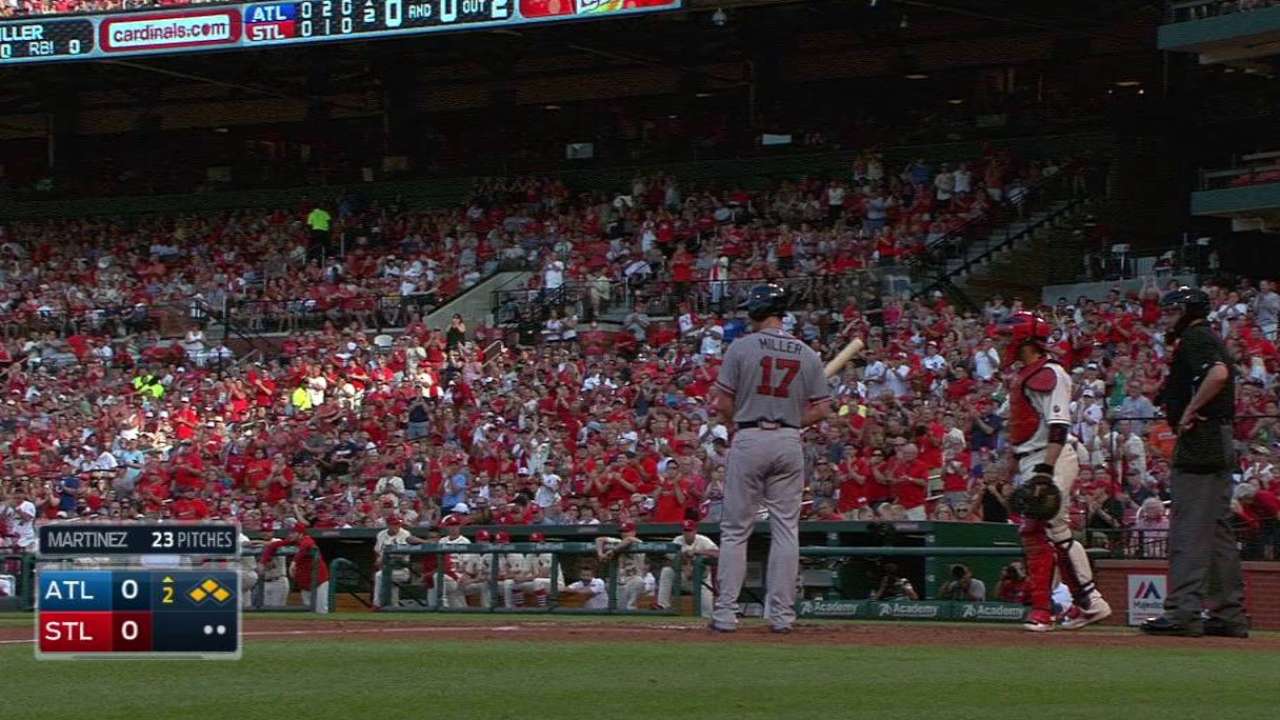 "It's nice. Obviously, being here for two years and playing here for two years, I have nothing but respect for that organization and all the fans," Miller said. "They're considered the best, and coming in tonight kind of shows why they are considered the best.
"It was nice to get something like that, but at the same time, we're out there trying to win a ballgame, and that didn't happen tonight."
David Cobb is an associate reporter for MLB.com. This story was not subject to the approval of Major League Baseball or its clubs.