Elvis throws glove at ball, then keys rally
ANAHEIM -- The bottom of the Rangers' order came up big in the eighth inning on Saturday night. Headlining the cast was shortstop Elvis Andrus, who went from playground goofball to winning-rally starter within two innings.
The Rangers trailed, 6-4, going into the eighth inning, but Andrus, hitting in the fifth spot, led off with a single against reliever Joe Smith. From there the Rangers scored three runs and came away with a 7-6 victory over the Angels for their fourth straight win.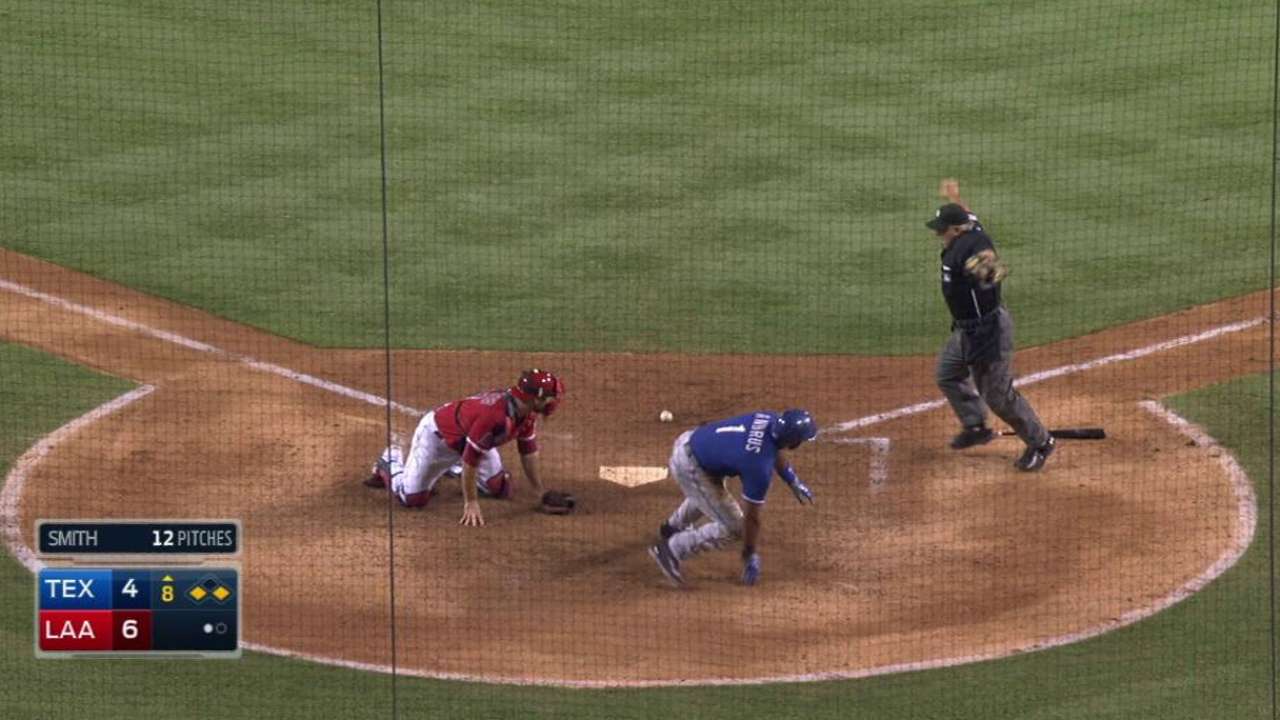 "That was a great win," Andrus said. "The last three or four games we've played that way, not giving up and fighting to the last pitch. It was a great comeback."
Now about that one play in particular …
"I'm trying to come up with a word for that one," Andrus said.
The play occurred in the sixth inning after a two-out triple by Johnny Giavotella against Rangers reliever Anthony Bass. That brought up Kole Calhoun, a left-handed hitter, and shortstop Andrus shifted to the right side of second base. But Calhoun lined a single over his head and into center field.
As the ball passed above him, Andrus threw his glove in the air at it.
"As soon as I threw the glove and got it back, I said, 'Did I really do that?'" Andrus said. "I will make sure it doesn't happen again."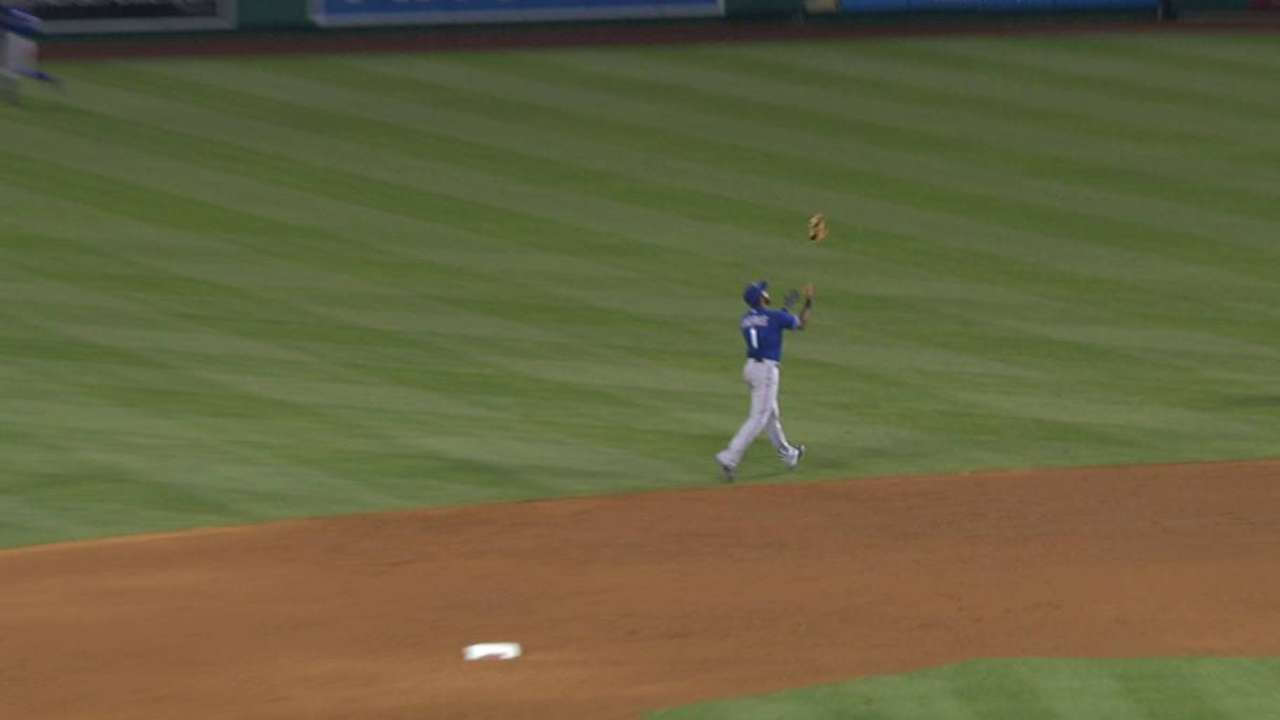 The situation is covered by Rule 7:05 C:
Each runner including the batter-runner may, without liability to be put out, advance -- (c) Three bases, if a fielder deliberately throws his glove at and touches a fair ball. The ball is in play and the batter may advance to home base at his peril.
The Rangers won the game, but manager Jeff Banister was not amused by his shortstop's lark.
"I don't want anybody to think that's the way we play," Banister said. "It was a lapse of mental consciousness I guess, really not understanding the three-base rule if you clip the ball. That's the second time I have seen it and both times the guy didn't know the three-base rule."
Andrus redeemed himself in the eighth with the Rangers trailing, 6-4. He led off with a single and went to third on a single by Mitch Moreland. With runners at the corners, Shin-Soo Choo hit a hard grounder to first baseman Albert Pujols, who stepped on the bag and threw to second trying for Moreland on a double play.
As he did, Andrus broke for home and Angels shortstop Erick Aybar made a big mistake. Instead of tagging Moreland out to complete the double play, Aybar threw home to get Andrus. But he bounced his throw, Andrus slid in safely and Moreland was safe at second. Rather than holding a one-run lead with two outs and the bases empty, the Rangers had the tying run on second with one out.
"We should have taken the double play at second and Erick just reacted and threw it home," Angels manager Mike Scioscia said. "We gave them an extra out there, and those guys got some hits to get the lead. Erick's got a good head out there, he understands the game and he just reacted. It happens. These guys are playing aggressively -- it's just a play that yeah, you want to get the out and get the double play."
After Josh Hamilton walked, Robinson Chirinos singled home the tying run. Hamilton went to third on the throw to the plate and scored on an infield single by Delino DeShields.
T.R. Sullivan is a reporter for MLB.com. Read his blog, Postcards from Elysian Fields, follow him on Twitter @Sullivan_Ranger and listen to his podcast. This story was not subject to the approval of Major League Baseball or its clubs.