Feldman gives Astros another quality outing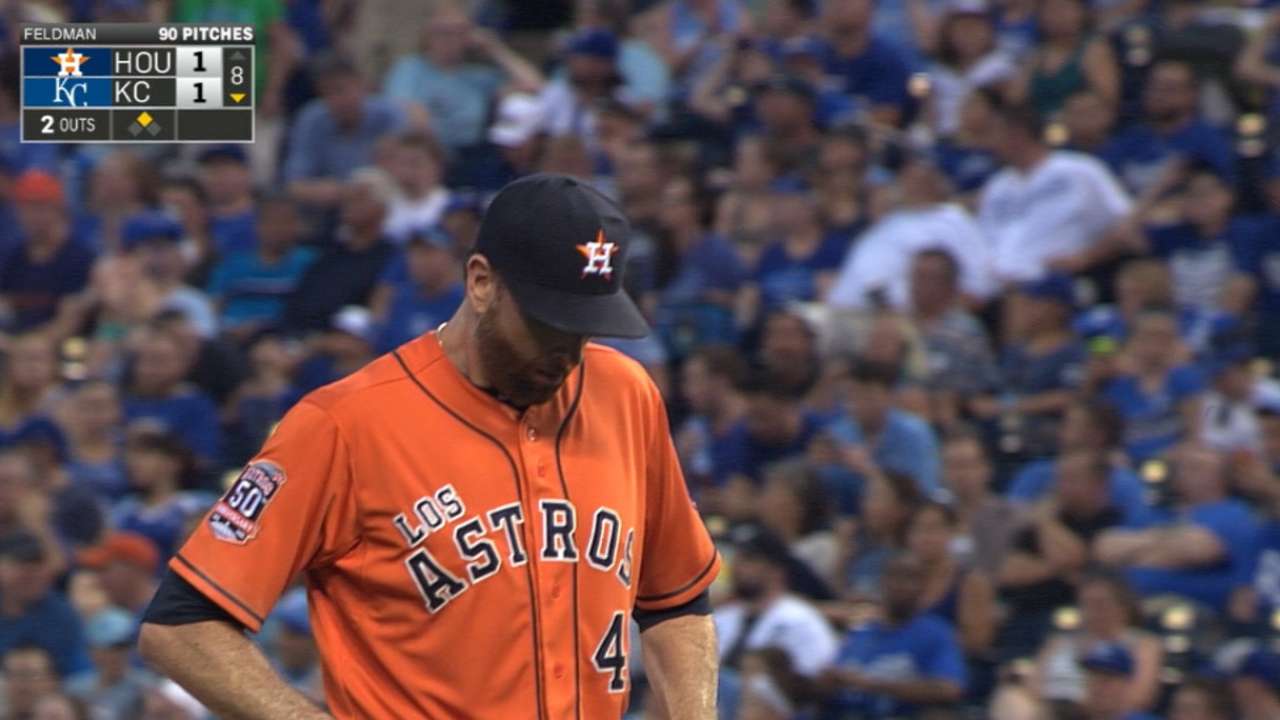 KANSAS CITY -- The Astros lost a tough game on Saturday night, but the silver lining was the performance of veteran right-hander Scott Feldman.
In his second start since coming off the disabled list following knee surgery, Feldman battled the Royals and the heat for 7 2/3 innings. He allowed four hits and one run, but wound up with a no-decision as Kansas City went on to a 2-1 walk-off win in 10 innings.
It was Feldman's longest outing since he went eight innings last Sept. 18 against Cleveland. Thus, optimism abounds regarding what Feldman may be able to contribute in the weeks ahead.
"That's as good as his stuff has been this year," manager A.J. Hinch said. "He threw a lot of strikes and used his defense."
Feldman needed just 90 pitches to get 23 outs. He was leading, 1-0, in the seventh when the Royals had a runner at first and one out. Kendrys Morales hit a towering fly to right-center and it barely eluded center fielder Jake Marisnick and bounced over the wall for a ground-rule double that put runners at second and third. Salvador Perez followed with a foul-ball sacrifice fly to left and that was all the Royals could muster against Feldman.
"He got a little bit unlucky, because Jake is about a foot away from the ball in right-center," Hinch said.
If Feldman can build on Saturday's effort, the Astros' rotation -- led by Dallas Keuchel and Scott Kazmir -- could be something special over the final two months of the regular season.
"I was attacking and getting ahead," Feldman said. "I've been out for so long. It has felt like I'm starting over almost. Hopefully, I can build off this one and continue to pitch deep into games."
Whereas Feldman limited the Royals to one run while going deep into the game, Royals starter Danny Duffy needed 101 pitches to get through six innings. But Duffy limited the Astros on the scoreboard, as Carlos Correa's sacrifice fly in the sixth plated Houston's lone run.
"They were putting the ball in play all night," Feldman said. "In the seventh, they just found some holes and were able to get a run in."
Holding the Royals to one run through 7 2/3 innings didn't get Feldman and the Astros a win on Saturday. But if they keep getting that type of pitching from Feldman and the other starters hold true to form, the Astros envision getting a lot of wins between now and October.
Robert Falkoff is a contributor to MLB.com. This story was not subject to the approval of Major League Baseball or its clubs.