MLB.com Columnist
Barry M. Bloom
On induction's eve, Class of '15 soaks up experience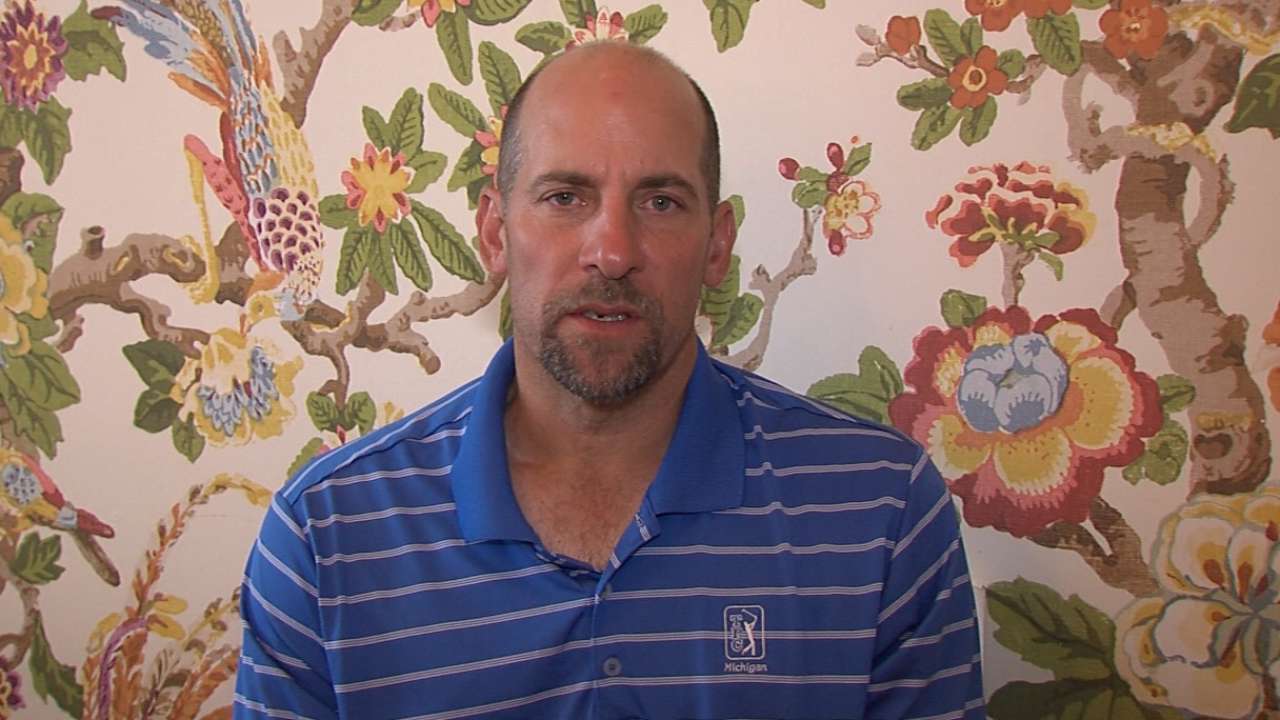 COOPERSTOWN, N.Y. -- The announcement of their election having come six months ago, the four members of the Class of 2015 were enjoying their induction into the National Baseball Hall of Fame on Sunday on the big white-tented stage behind the Clark Sports Center.
Each having traveled a different path, Randy Johnson, Pedro Martinez, John Smoltz and Craig Biggio have spent the past few days drinking up the experience. But there is a common thread.
"Cooperstown is baseball," Biggio said. "It's where it originated. This is what baseball is all about. It's as simple as that. The baseball Hall of Fame is a must see, and I'm not just saying this because I'm going in it now. I'm saying this in general.
Hall of Fame Class of 2015
"It's the history of the game. It's where it's come from, where it is now and where it's going. If you're a true baseball fan, this is a place you need to come see."
Live coverage of Hall of Fame induction day began at 11 a.m. ET Sunday on MLB Network, simulcast live on MLB.com.
It's a different kind of experience watching guys who were once hard and tough players act like kids around their own contemporaries and idols. Johnson with Tom Seaver, Martinez with Juan Marichal, and Smoltz just buddying around and playing golf with his two former Braves rotation mates -- Greg Maddux and Tom Glavine inducted last year.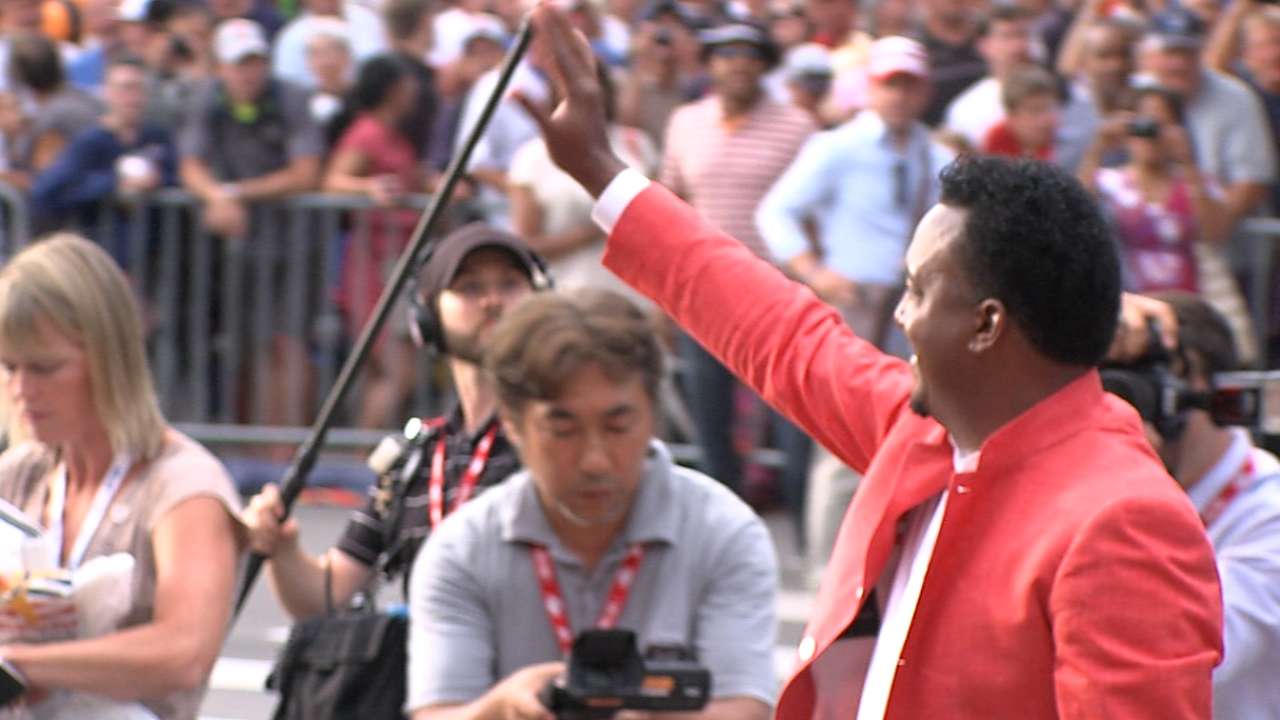 Martinez is the first native of the Dominican Republic elected to the Hall since the Giants great Marichal in 1984. Johnson and Martinez talked about the interaction between their own kids.
"I'm his little brother now," said Martinez, who, at six feet is nearly a foot shorter than the 6-foot-10 Big Unit. "That's what he says, 'I'm your big brother, you're my little brother.' We have been hanging out together. You know, this has been great.
"From the first moment we were announced, for some reason these are four guys that respect, admire and look at each other to learn something from each other."
• Four greats gearing up for induction
Smoltz was here last year as a fan and commentator for MLB Network and watched in awe as his two friends gained entrance to the Hall along with Bobby Cox, the club's manager during that era.
"Last year was odd, strange and cool," Smoltz said. "Everyone said, 'Ah, you'll be here next year.' I was working for the Network. I had a great seat. I got to see everything I never got to see before. For my whole career I've either played on Sunday or broadcast on Sunday going into last year. I'd never seen a speech. I'd never been here so this was really cool.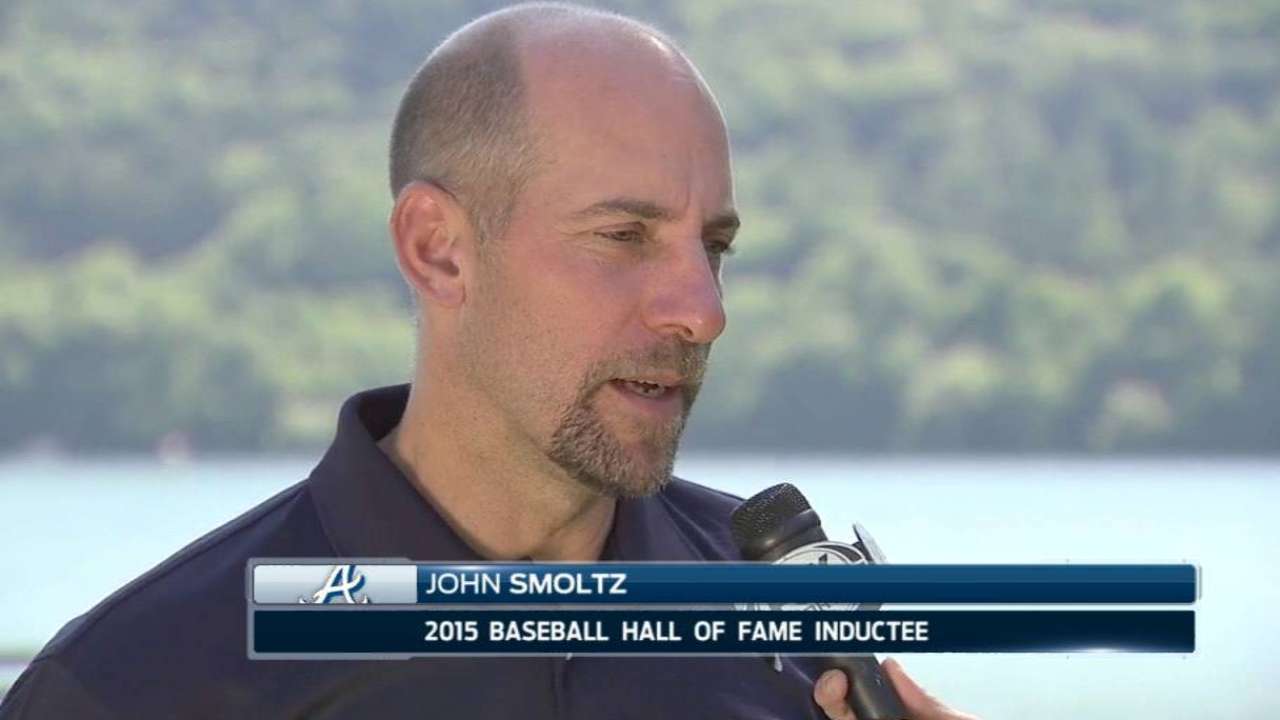 "This year I've taken everything in. I've really had a blast."
The once recalcitrant and sometimes ornery Johnson has become a fountain of descriptive verbal detail since this entire process began.
Traditionally on Friday night prior to the induction, Hall chair Jane Forbes Clark hosts a party at her house honoring all the inductees, plus the returning Hall of Famers, 53 at last count this year. On Saturday morning there is a golf tournament on the course adjacent to the famous Otesaga Resort Hotel where all the VIPs stay.
"I guess this has been a running tradition, so I wanted to be a part of that despite not playing much golf recently," Johnson said.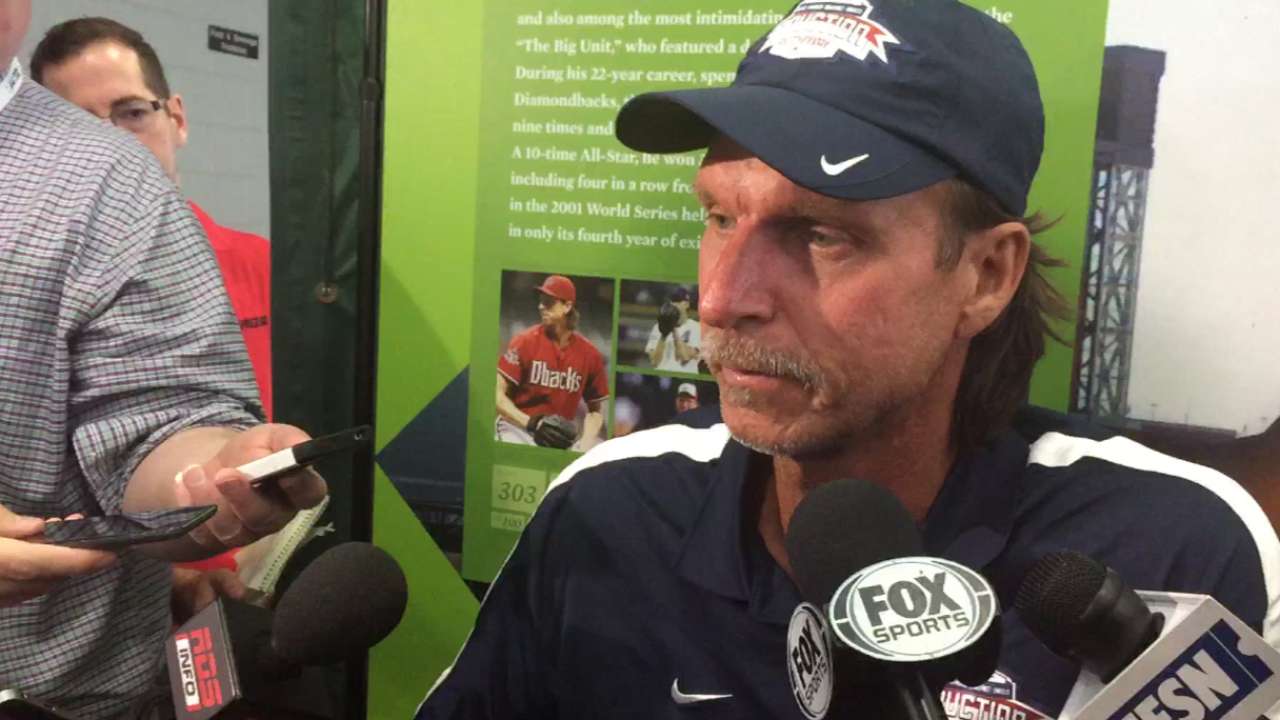 When asked what it has been like to cross paths with all these Hall of Famers, Johnson's long and unwieldy answer went on for more than five minutes.
In essence, Johnson said he had already known Seaver, who like him attended USC, and had met Whitey Ford when he played for the Yankees, winning 17 games each during the 2005-06 seasons. Nolan Ryan he pitched against, and Gaylord Perry he's known for a while.
"The ones that I don't see on a regular basis and the ones I never met have been really great," Johnson said. "This is really something and last night was very special to me to see my family, my kids interacting with Pedro's kids. Then Pedro and I took pictures with our moms. It was just a great evening. I can't say enough about it. Baseball always seems to top itself when that moment comes."
For the quartet, that moment will come on Sunday as each of them receive their individual plaques, this year presented by new Commissioner Rob Manfred for the first time. Behind them will sit the Hall of Famers, with whom they have spent the last few days mingling.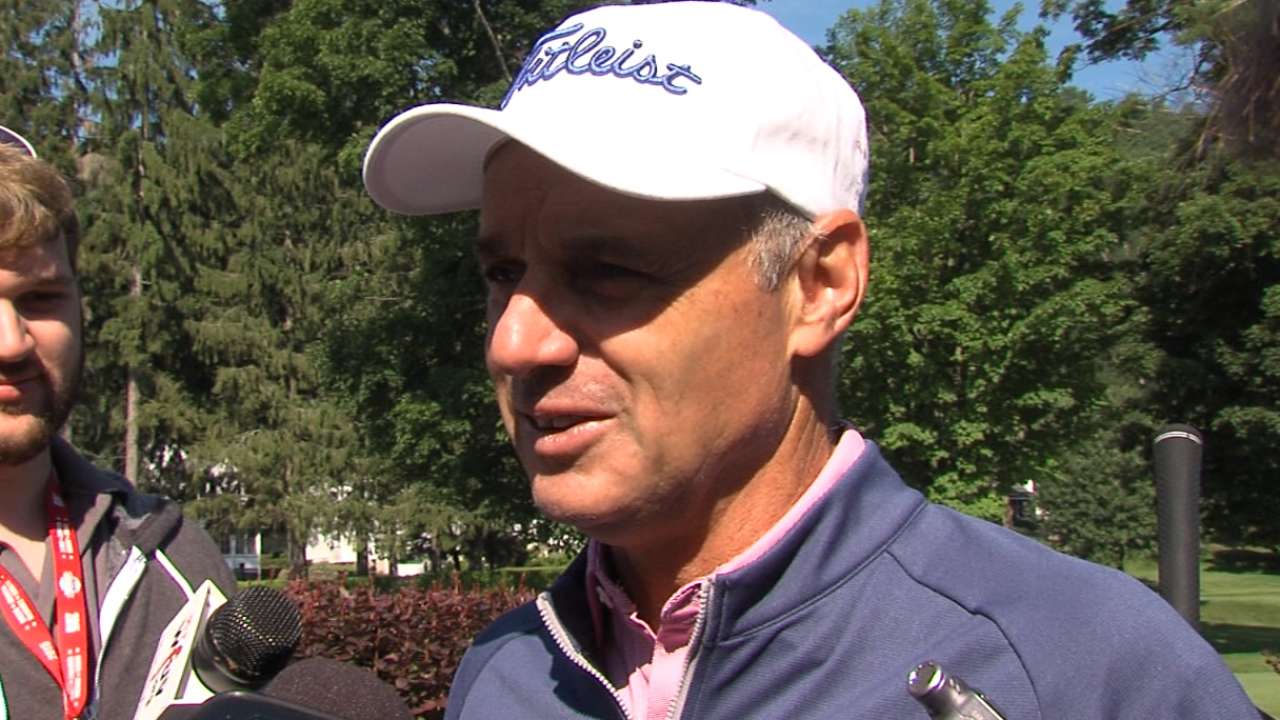 Afterward those plaques will be hung in the museum for posterity along with the the other 211 players already enshrined in there.
"That's pretty cool," Biggio said, "that's pretty special, to know you'll be recognized forever in the Hall."
Barry M. Bloom is a national reporter for MLB.com and writes an MLBlog, Boomskie on Baseball. Follow @boomskie on Twitter. This story was not subject to the approval of Major League Baseball or its clubs.