Gibbons defies book, pushes right buttons
Blue Jays manager calls on Carrera in pinch, sticks with Colabello for winning rally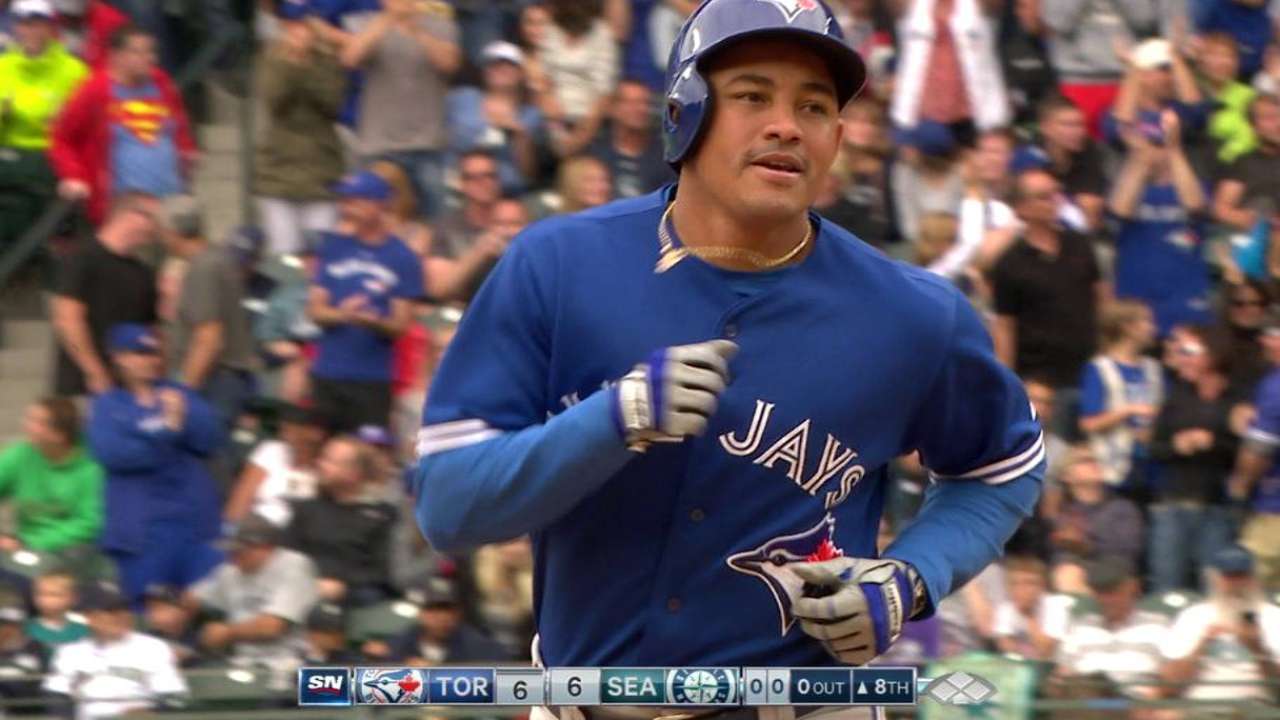 SEATTLE -- A pair of unorthodox late-inning decisions by Blue Jays manager John Gibbons proved to be the difference in an 8-6 victory over the Mariners on Saturday afternoon at Safeco Field.
The interesting thought process began in the eighth, when Gibbons decided to use Ezequiel Carrera as a pinch-hitter instead of Justin Smoak, which led to a game-tying two-run shot, Carrera's second homer of the season. In the ninth, Gibbons then opted to stick with Chris Colabello with the bases loaded, and the veteran hitter came through with the go-ahead two-run single.
"You don't expect him to hit a home run, but lefties have been a little better this year [against Fernando Rodney]," Gibbons said of Carrera. "If anything, he can go up there and work a walk. As far as Smoaky, Rodney still has that good heater. I thought he might be able to tie Smoaky up with that thing. It worked out."
Carrera has found a spot on the Blue Jays' roster as a fourth outfielder who often enters the game as a late-inning defensive replacement or pinch-runner. He's not exactly known for his hitting prowess, but that didn't stop Gibbons from turning to him in the eighth instead of Smoak.
The decision turned quite a few heads. With Carrera represented the tying run after Russell Martin walked, the Blue Jays went with a player who had three career homers in 566 at-bats, compared to Smoak, who has nine home runs in 149 at-bats this year alone.
Carrera worked the count full before sending a 95-mph fastball from Rodney over the wall in right field, putting the Blue Jays in position to win for just the fifth time this year when trailing after the seventh inning.
"My job was to just get on base," said Carrera, who has a .248 average in 65 games this season. "We were down by two runs, and I'm going to try my best to get on base with a walk or whatever. But it happens that I got a fastball over the plate, put a good swing on it, and hit a two-run homer."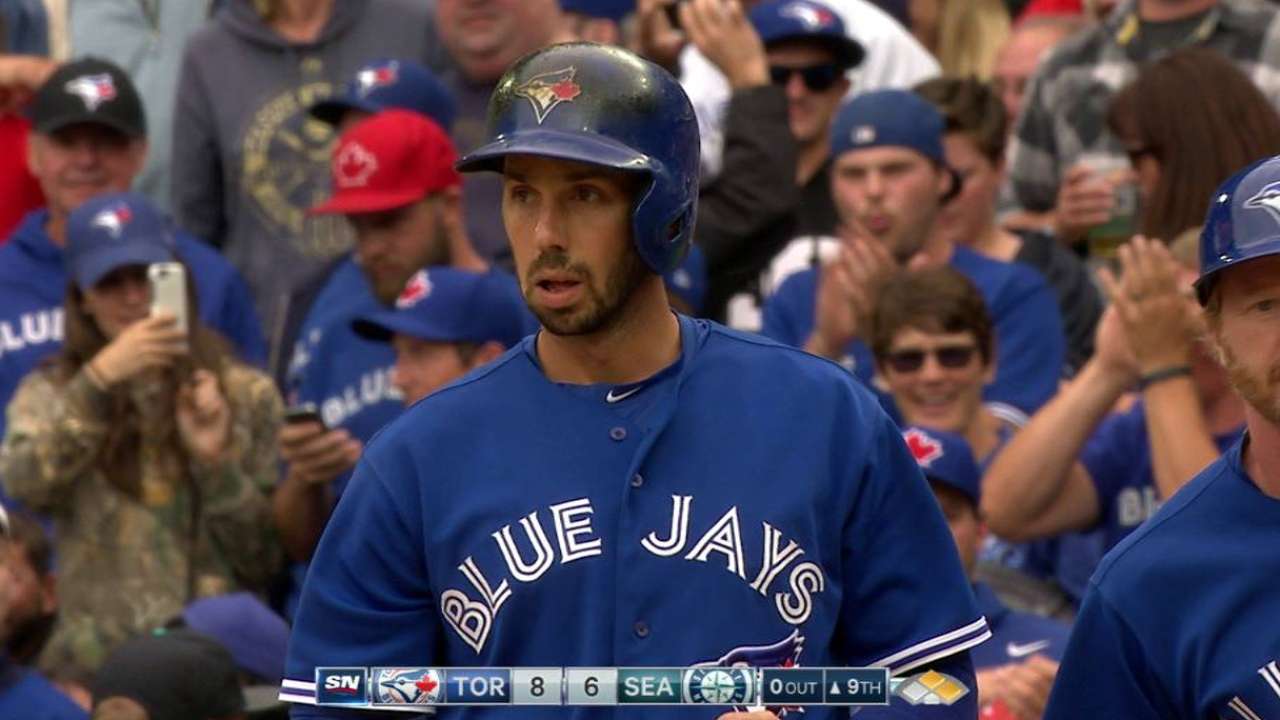 The switch-hitting Smoak was still available off the bench when the Blue Jays loaded the bases with nobody out in the ninth -- on walks to Josh Donaldson and Edwin Encarnacion around a double by Jose Bautista. Closer Carson Smith was on the mound for Seattle, and the numbers suggested that lifting Colabello for Smoak could have been the wise decision. Smith entered play on Saturday with lefties hitting .187 with a .464 OPS against him, compared to a .116 average and .413 OPS for righties.
Despite the numbers, Gibbons stuck with his No. 5 hitter, who has come through with big hits this year -- he had a walk-off single against Houston earlier this season and some well-timed home runs late in games. Colabello rewarded Gibbons' confidence by sending his single through the middle of the infield.
"He's got huge hits all year for us," Gibbons said. "Some game-winners late in games, he has that knack to put the ball in play. That's a perfect situation right there. ... Everything worked out. It doesn't always, but today it did."
Gregor Chisholm is a reporter for MLB.com. Read his blog, North of the Border, follow him on Twitter @gregorMLB and Facebook, and listen to his podcast. This story was not subject to the approval of Major League Baseball or its clubs.