3rd-inning struggles sink Ramirez vs. Orioles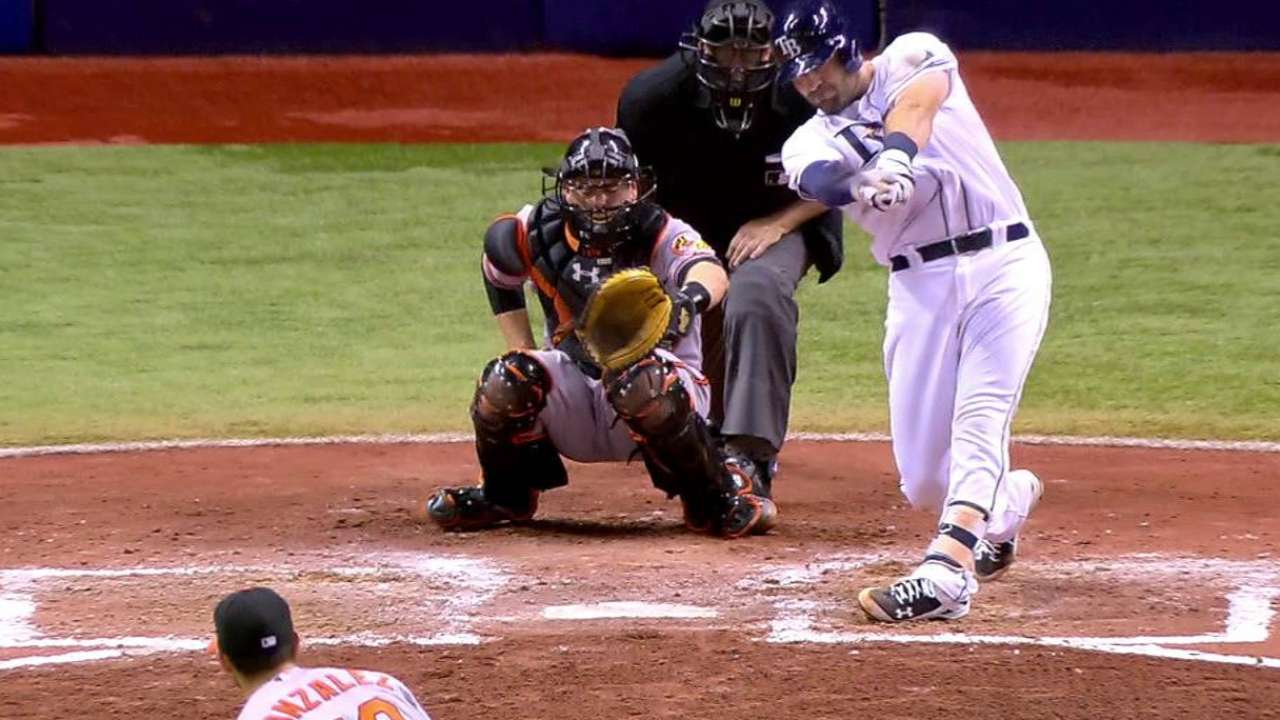 ST. PETERSBURG -- For the majority of Erasmo Ramirez's season-high 7 1/3 innings Saturday, the right-hander pitched much like he has over the last two months in which he has made nine consecutive starts of allowing two runs or fewer.
In the third inning, however, one mistake proved costly for Ramirez and the Rays in their 5-1 defeat to the Orioles.
Ramirez seemed to be cruising toward another quality outing, tossing just 18 pitches through two perfect frames. But in the third, the Orioles J.J. Hardy led off the inning with a single, and then Jonathan Schoop and David Lough followed with one-out singles of their own to load the bases for Chris Davis.
Ramirez fired in a first-pitch strike to the Orioles slugger -- much like he did with every other at-bat on the night, getting ahead on the first pitch against 25 of the 29 batters he faced -- but after running the count full, he left a fastball he wanted down and in over the plate and Davis launched it into the right-field seats for his fifth career grand slam.
"You don't know what is going to happen," Ramirez said. "You just have to execute the pitch and then just wait for everything. In that moment, I didn't execute the pitch and he hit the ball out of the park."
The homer was more than enough to snap the Rays four game home winning streak as the club only had two runners get into scoring position and scored their only run off a Curt Casali solo home run in the eighth.
"We've got to score some runs to win ballgames," Rays manager Kevin Cash said. "We're just not doing that right now. We're in a rut. We've been in it for some time, but there is a bright side. Today guys were taking some aggressive hacks and maybe that's something that we can lead into tomorrow."
Despite the grand slam and the lack of support from his offense, though, Ramirez was still able to flip the switch. In innings four through seven, he retired 11 of the 13 batters he faced before giving up another run in the eighth off a leadoff triple by Lough, who would score on a little league home run on a throwing error by second baseman Logan Forsythe.
"It was tough because you don't want to let the other team go to far from the score," Ramirez said. "Even down 4-0, [our offense] can wake up and do everything, but it didn't happen today. I just put it in my mind to forget about the scoreboard and just try to execute pitches and get deeper into the game."
Troy Provost-Heron is an associate reporter for MLB.com. This story was not subject to the approval of Major League Baseball or its clubs.