Everyone loves a Hall of Fame parade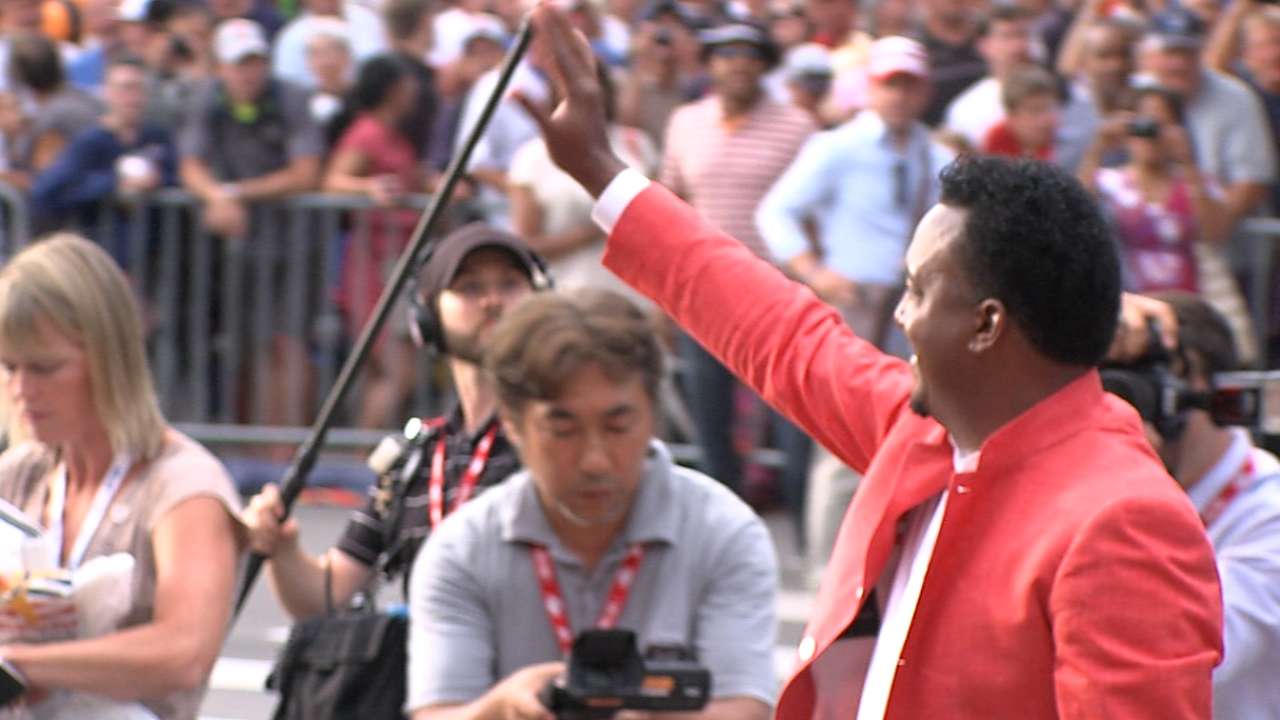 COOPERSTOWN, N.Y. -- Larger-than-life Hall of Fame baseball players often have larger-than-life personalities, which only adds to the fun and excitement of the annual Parade of Legends that highlights Hall of Fame Weekend.
Needless to say, this year's parade was a doozy. It would have been even without Pedro Martinez -- after all, they've had five of these without him and they've all been a blast -- but when you mix in one of baseball's greatest personalities with baseball's best yearly celebration of its stars, you can imagine the chaos.
Fortunately, the chaos Martinez created was the very best kind of chaos, where the gregarious and magnetic right-hander staged a love fest with the fans, and the fans gave it right back.
Hall of Fame Class of 2015
Dressed in a bright coral jacket and white pants, Martinez, the second-to-last Hall of Famer to ride through the streets of Cooperstown, seemingly could not get enough of the adulation pouring in from every inch of sidewalk that lined the streets of the main drag in Cooperstown.
He probably would have stayed there all night if not for the Hall officials that gently ushered him up the stairs of the Hall and into an invitation-only reception that awaited all Hall of Famers and their guests.
Martinez wasn't the only star to take a temporary detour upon hopping off his truck. Plenty of Hall of Famers played up to the crowd and ran over to the masses to sign autographs. The list was endless. Al Kaline. Rod Carew. Robin Yount. Orlando Cepeda. Barry Larkin. Rickey Henderson. Tony La Russa. Bert Blyleven. And, of course, Cal Ripken Jr.
In some ways, the Hall of Famers' reactions to the crowd mirrored their general personalities. Ripken, a notorious autograph signer since his days in uniform, was smooth and experienced. Ozzie Smith was playful and all over the place, running up the street to sign for fans who weren't lucky enough to stage a spot right at the Hall entrance. Then he raced back, waving and smiling all the way. Most would say that's vintage Ozzie.
Wade Boggs implemented a unique method to decide which group of awaiting fans he would sign for, channeling his inner-spirit leader and pitting one side against the next to see who cheered the loudest.
And Randy Johnson, Hall of Fame Class of 2015 and budding photojournalist, opted to stand up throughout his trek down Main Street, taking photos and videos of the scene around him with his phone.
The Parade of Legends started at Doubleday Field, originating on Chestnut Street, proceeded down Main Street and concluded at the Hall. The Hall of Famers, more than 50 strong, rode down the parade route in F-150 trucks.
Alyson Footer is a national correspondent for MLB.com. Follow her on Twitter @alysonfooter. This story was not subject to the approval of Major League Baseball or its clubs.