Swihart has trouble corraling Wright's knuckler
BOSTON -- Red Sox catcher Blake Swihart may be a rookie, but between the Majors and Triple-A Pawtucket, the 23-year-old has plenty of experience catching knuckleballer Steven Wright. That's precisely what made his four passed balls on Saturday so puzzling.
Entering the game, Swihart had allowed just six passed balls -- three with Wright pitching -- in 339 2/3 innings. In Saturday's 5-1 loss to the Tigers at Fenway Park, he saw two balls scoot past him in the second inning, another in the fourth and one more in the fifth.
The miscues led to two unearned runs for Wright, who said his knuckler had more movement and velocity than usual.
"I thought it was moving a lot more than it has all year," Wright said. "It's good, it's a good problem to have. But it can be a problem [for the catcher]. The fact that it was moving that much, it makes it hard to catch."
Swihart admitted the pitch may have had some extra life, but he put most of the blame on himself.
"A couple times, I may not have been in the right position at the right time just to get in front of it -- just not down as much as I can," Swihart said. "I know I'm not going to catch all of them. At some point in the game, I'm going to have a passed ball or a drop. I know I'm going to have a few drops. My job is just to keep it in front of me whenever I can."
With runners on the corners and one out in the fifth, manager John Farrell opted to pull Wright after just 74 pitches. Swihart's struggles contributed to his decision.
"That was part of the reason to go to the bullpen so early," Farrell said, "is because of the difficulties that they had in executing pitches."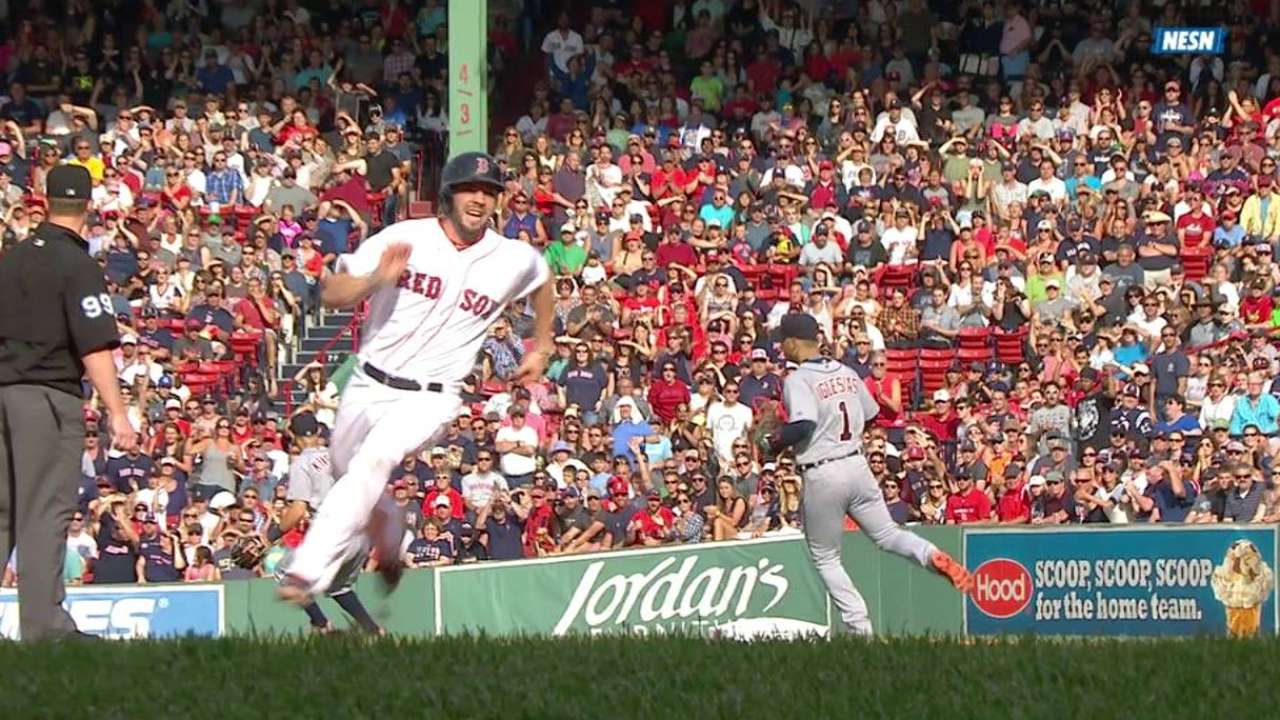 The move paid off, as right-hander Noe Ramirez got out of the jam. Swihart smacked his first career triple in the home half of the fifth before scoring Boston's only run. But the damage had been done on a day when the Red Sox mustered just six hits.
"He's the type of guy, he's a perfectionist -- just like me," Wright said of Swihart. "He doesn't want to miss any, but that's the nature of the pitch. Sometimes it moves too much."
The knuckleball had Swihart's number on this day, but the rookie vowed to defeat it -- or, at least, tame it -- next time around.
"I take a lot of pride in that," Swihart said. "[Wright] threw great, and I wasn't there to back him up as much as I should have been. He did a great job today, and I need to go out next time and help him out a little more."
Aaron Leibowitz is a contributor to MLB.com. This story was not subject to the approval of Major League Baseball or its clubs.