Rosario in unfamiliar spot as possible trade chip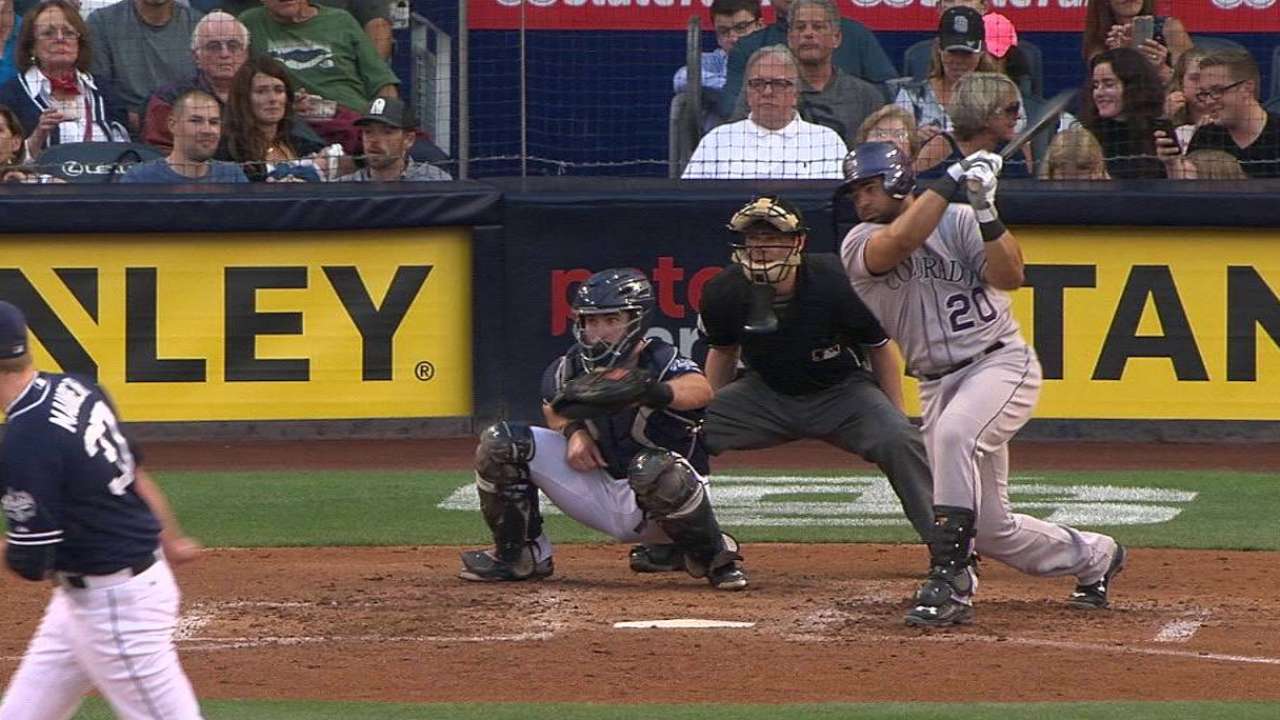 DENVER -- On a hot-for-Denver Saturday, Rockies first baseman Wilin Rosario sought out catching coach Rene Lachemann for drills. He hasn't caught all year but wants to be ready for everything. But he hasn't given much thought to Friday's non-waiver Trade Deadline -- even though it could govern where he is and what his job requirements will be.
"I don't know; I've never been in a situation like that," Rosario said. "I don't know how that works. I know there is a Trade Deadline coming."
The most-speculated about players are shortstop Troy Tulowitzki and outfielder Carlos Gonzalez. But Rosario -- a right-handed hitter with coveted power -- could be moved in a deal that doesn't have the complications that any trade involving the big contracts of Tulowitzki and Gonzalez would carry.
Rosario is on a one-year, $2.8 million contract he signed during the spring as a first-time arbitration-eligible player. Inexperience has been an issue at first base, and after seeing him for three years as their primary catcher, the Rockies decided to move him to first.
But Rosario's bat produced 49 homers in 2012 and 2013, and 13 during an injury-affected 2014. And with inconsistent playing time in 2015, Rosario has managed a .278 average with five homers and 22 RBIs in 180 at-bats.
An opportunity to play either or both positions and serve as a designated hitter could appeal to an American League team. The White Sox and Rangers expressed interest during the offseason, and other AL teams could come calling. Various industry sources say a Tulowitzki or Gonzalez deal would happen close to the deadline, if at all, but a Rosario deal is more possible and could occur at any point.
Moving Rosario could give the Rockies the opportunity to promote 2010 No. 1 Draft pick Kyle Parker, who like Rosario is a right-handed power hitter. Parker, a corner outfielder and first baseman, entered Saturday hitting .281 with nine home runs and 57 RBIs with Triple-A Albuquerque.
Rosario has received high marks from the Rockies for how he has handled the new assignment and change in playing time. His reaction to the possibility of being dealt is to concentrate on his assignment from the Rockies.
It's not as if the Rockies have told Rosario to work on his catching in case of a trade. Rosario has pushed throughout the year to catch bullpen sessions and do drill work, in case of injury. Backup catcher Michael McKenry has been nursing a sore right knee this week, so catching is a possibility.
"I just try to find out what I need to do to get better; that's what I can control," Rosario said. "At the end of the day, the decision is on them. But they know what I'm going to do is my best, and be ready for any opportunity.
"The only thing that's hard for me is to hit sometimes, because I lose my rhythm. But I work hard every day to do something to help my team. That's what's important."
Thomas Harding is a reporter for MLB.com. Follow him on Twitter @harding_at_mlb, and like his Facebook page. This story was not subject to the approval of Major League Baseball or its clubs.