Hedges gaining confidence at big league level
Padres rookie catcher taking every opportunity to learn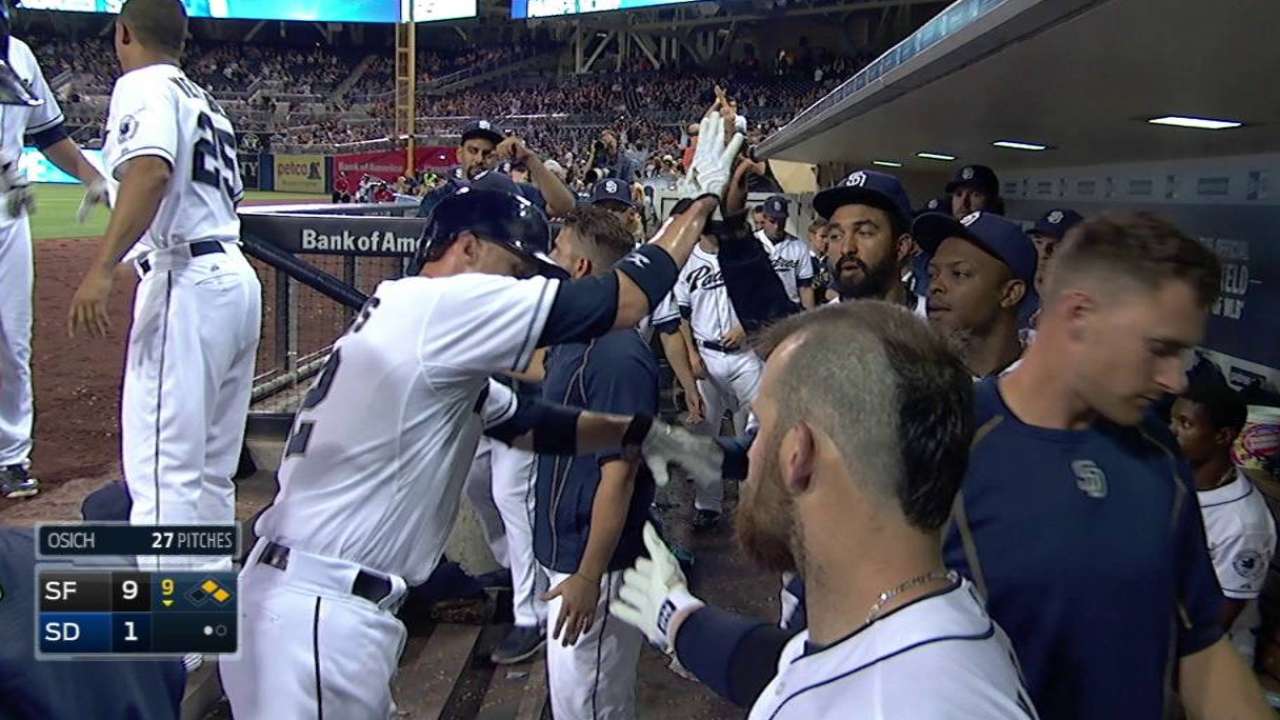 SAN DIEGO -- Like many rookies, catcher Austin Hedges is taking every opportunity he can to learn.
Whether it's chatting with pitching coach Darren Balsley or picking the brain of starter James Shields, who he refers to as "a mastermind of pitch calling," the 22-year-old, who was a second-round pick in 2011, believes he is gaining something each day.
"Any game experience I get helps me out a ton," Hedges said. "Even when I am not playing, I mean there isn't a day that goes by that I am not learning something, watching what everybody else does in there, preparing, watching how the game flow is."
But being a rookie also comes with an eagerness, one that interim manager Pat Murphy said can sometimes hamper the young player.
"I look at it like the volume on the radio in your car, sometimes that volume is just a little too loud, you got to flip it down just a hair," Murphy said. "I think when he settles down, the game will slow down for him a little bit, the music will play at a little better level."
Hedges, who was called up on May 4 from Triple-A El Paso, has made 16 starts for the Padres. Before arriving in San Diego he was batting .324 with two home runs at 15 RBIs in 79 plate appearances.
Backing up the experienced Derek Norris, who leads NL catchers in starts, Hedges made five starts in May, six in June and five in July.
Hedges said he is always learning from Norris and tries to mimic the way he prepares for games, even if he is not in the lineup that day.
"Even though [Hedges] doesn't get to play a lot, I think he still helps us a bunch and believes he can help us. I think that's the key," Murphy said. "I think Austin knows in his mind he is a Major League player. That is the No. 1 goal when they come up -- they know they belong here. And I think he knows he belongs here. I have seen that transformation that he believes he belongs."
Since he was called up, Hedges said he believes he has been more more disciplined at the plate, giving him more consistent and quality at-bats. The rookie has eight hits, two home runs and six RBIs in 54 at-bats. He said he hopes to continue to improve with his overall consistency and preparation with the pitching staff.
"I think he is a guy that has to go to winter ball," Murphy said. "I think we have semi set that up. I think it's pretty close to being official. Going back to Triple-A? I am not sure about that one."
Worth noting
• Assistant general manager Josh Stein said that pitcher Josh Johnson, who is recovering from Tommy John surgery, started throwing Friday.
• Pitcher Brandon Morrow was scheduled to pitch Saturday night for Triple-A El Paso in Salt Lake City. Morrow will pitch three innings or 45 pitches. Tim Federowicz, who is recovering from right knee surgery, will be catching.
• Wil Myers swung a short bat again Saturday. He took 40 swings and said he felt good.
Beth Maiman is an associate reporter for MLB.com. This story was not subject to the approval of Major League Baseball or its clubs.