Burns enters late, feels 'great' after groin injury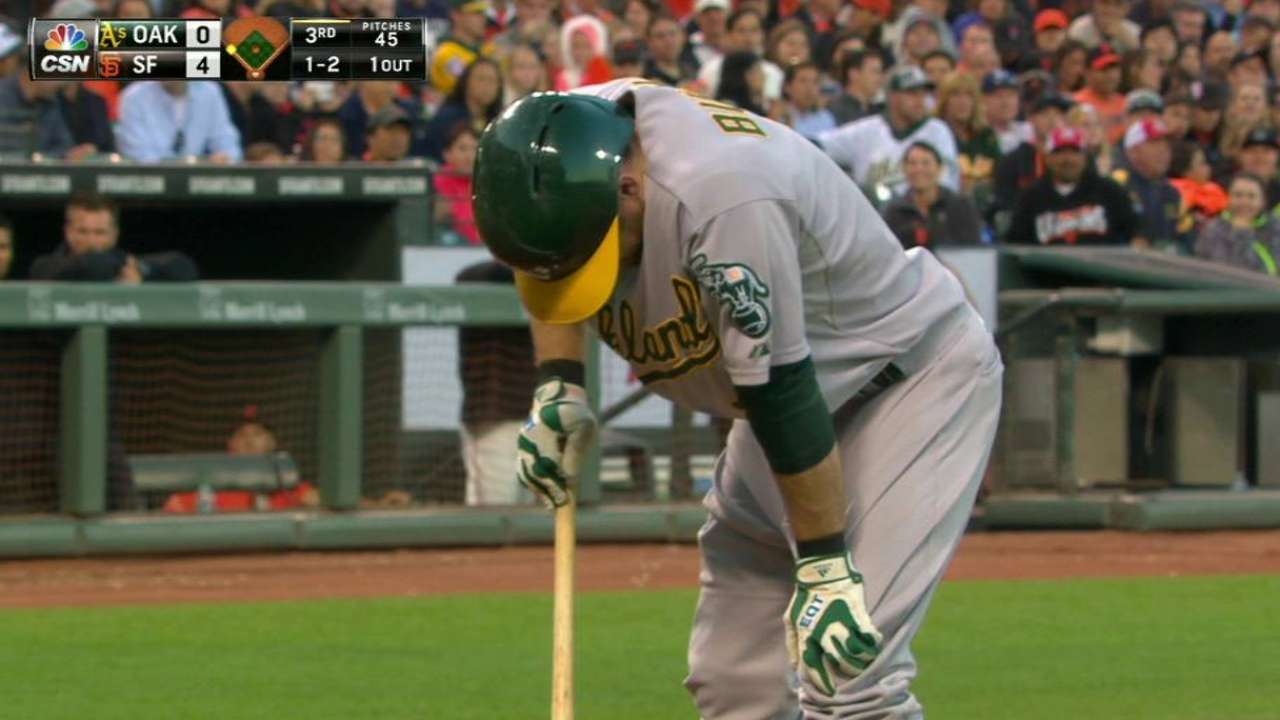 SAN FRANCISCO -- A day after fouling a ball that bounced up and hit his groin and caused a testicular contusion, A's center fielder Billy Burns entered Saturday's 2-1 loss to the Giants in the seventh inning.
Burns looked like his usual self in center, kept the game alive with a hit to left in the ninth and looked fine running the bases.
"I felt great," said Burns, who was 1-for-2. "I feel like I'm 100 percent, just a little sore in certain movements, but I'm good."
Before the game, Burns revealed he doesn't wear a protective cup and doesn't plan on wearing one in the future.
After the injury, it appeared as though Burns would miss at least a day or two. Instead, he returned a day later and expects to start Sunday in the series finale.
"He actually felt really good," A's manager Bob Melvin said. "I was surprised come game time how good he felt, so I was going to use him the best opportunity I could, and we got down to the pitcher's spot and he was definitely good enough to stay in the game."
Burns said the biggest test was running sprints before the game. He felt good at that point, and after and he and Melvin established that Burns was ready to go, Burns stayed ready in case his name was called.
When it was, he looked like the Burns fans have grown accustomed to all season, slapping a ball the other way and flying down to first.
"I'm happy that we can work toward tomorrow and just getting a good night's sleep and probably feeling even better," Burns said.
Trevor Hass is an associate reporter for MLB.com. This story was not subject to the approval of Major League Baseball or its clubs.