Twins set Buxton's timeline; 1 month 'a stretch'
Club believes rookie outfielder's rehab stint won't be brief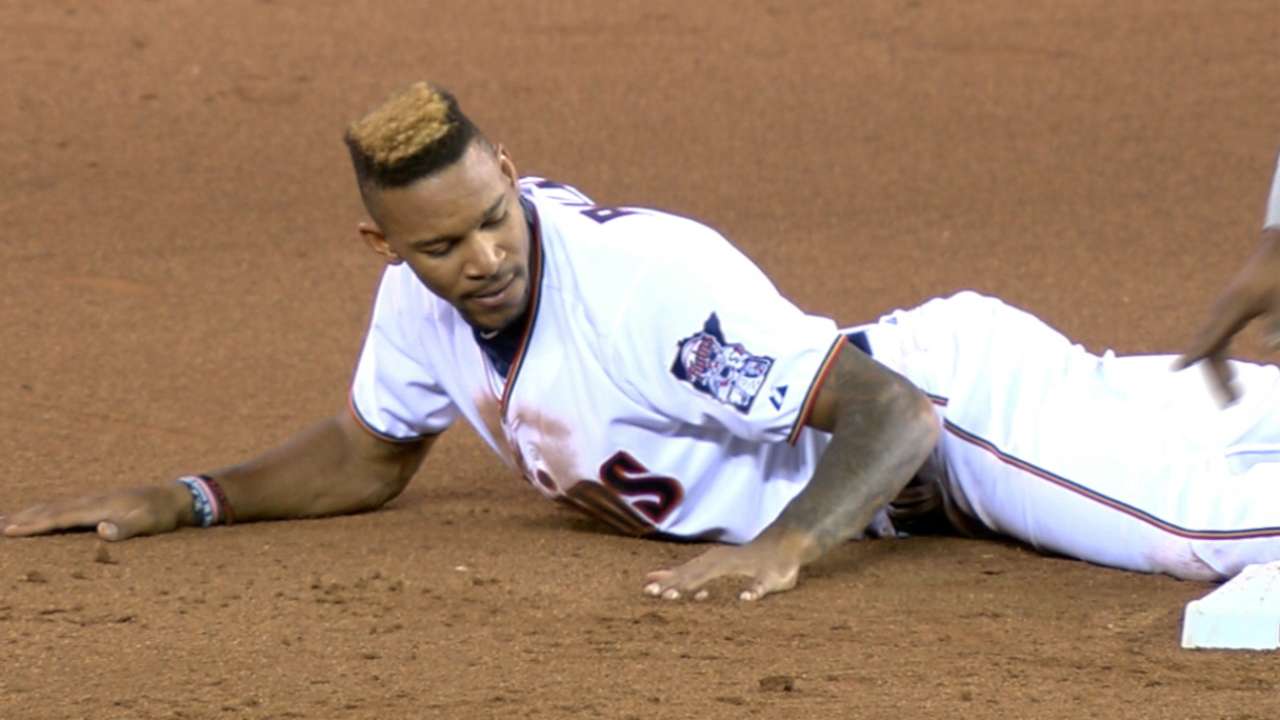 MINNEAPOLIS -- Just shy of a month after placing Byron Buxton on the 15-day disabled list with a sprained left thumb, the Twins have developed a plan for the rookie outfielder's return. Twins manager Paul Molitor said the "preliminary foundation," for the return was a bit drawn out.
On Friday, Buxton, who entered this season as the No. 1 overall prospect on MLBPipeline.com's Top 200 list, fielded some balls in the outfield, both on the ground and in the air. He also took some swings underwater, a practice that general manager Terry Ryan indicated is not uncommon.
On Saturday, Molitor said Buxton would start doing tee work and flip drills in the next couple of days. After that -- by Thursday or Friday, Molitor hoped -- Buxton will take batting practice.
"We'll just see how he responds," Molitor said. "I think there's been some talk about him, potentially -- when he's ready, after the hitting is no longer an issue day to day, as far as pain -- getting down to Florida and getting involved with maybe some live BP situations down there. They have a lot of people that are involved with those types of things, as opposed to game situations. He can get a few days down there before we get him out to actually playing some rehab games."
Ryan said the Twins want Buxton to see pitching in Florida before they send him on a rehab assignment, but that the rookie's stay there wouldn't be very long. Though the club hasn't determined which affiliate Buxton would join for a rehab stint after that, Ryan said it's likely to be a lengthy assignment because Buxton hasn't played in so long.
"He needs to be challenged, so we're not going to send him to Class A Cedar Rapids or something like that," Ryan said.
Ryan said recently Buxton's pain had subsided, adding that the outfielder had seen an increase in flexibility and that Buxton, as a result of strengthening exercises, could be less than a month away from returning. Ryan said a return one month from now might be a "stretch."
"He's going to have to go down and get some hits and at-bats and play the game," Ryan said. "He's been out for, what, right now? One month. That's pretty lengthy, so we're going to have to ramp him up again and see how he does. "
Worth noting
• Molitor gave Joe Mauer a routine day of rest on Saturday. Mauer entered the day having played in 95 of the Twins' 96 games this season.
"Last year, in transition to first base [from catcher], he kind of had to learn a little bit about playing more," Molitor said. "This year, it's even gone to another level. Like anybody else, especially the veteran guys, you try and be mindful of recharging the batteries every now and then."
The timing of Mauer's break coincides with the Twins facing Yankees veteran CC Sabathia. Righties entered the day hitting .330 with 18 home runs off the big lefty, and Aaron Hicks hit No. 19 in the bottom of the first, so the left-handed-hitting Mauer sat in favor of a lineup stacked with only righties and switch-hitters.
Betsy Helfand is an associate reporter for MLB.com. This story was not subject to the approval of Major League Baseball or its clubs.