Big Unit expects speech to become emotional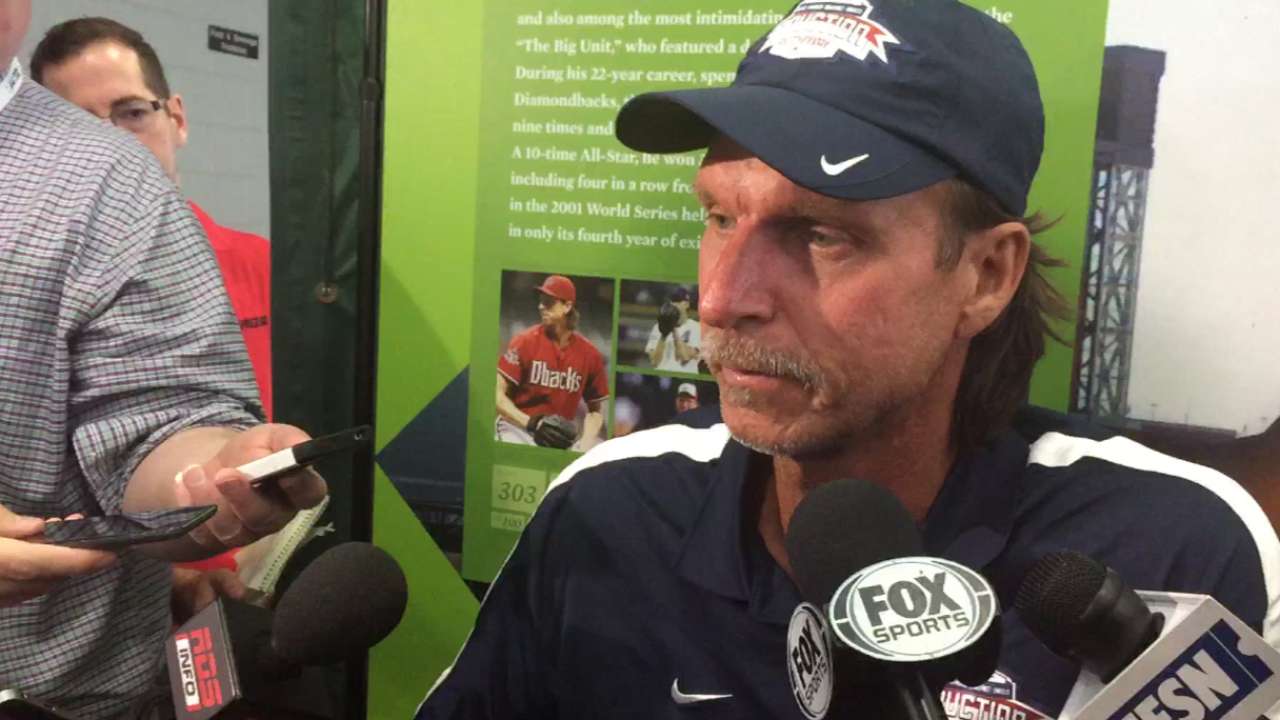 COOPERSTOWN, N.Y. -- Randy Johnson never shied away from showing emotion when he was on the mound, as he has admitted, and not just intensity, but anger as well.
Sunday, during his Hall of Fame induction speech, when he gives thanks to all those who helped him to get to this point, he will likely display a different end of the emotional spectrum.
"I'm very calm right now," Johnson said Saturday afternoon in Cooperstown. "But tomorrow I think it will be very hard to reel all this in. I feel like I'm getting kind of emotional right now."
Hall of Fame Class of 2015
Johnson will be inducted Sunday along with fellow pitchers John Smoltz and Pedro Martinez and second baseman Craig Biggio.
It's been a busy few days for Johnson, who initially switched rooms at the Otsega Hotel due to paranormal concerns.
"It's been brought to my attention by a couple of my children that my bedroom is haunted," Johnson said with a smile. "I kid you not. Google it. Supposedly there have been ghosts in the hotel, and they hired whatever they call it, a ghost chaser, and supposedly -- I'm not going to say my room [number] -- but supposedly it was in the room that I was in. It's me and my son, and I don't want a ghost in my room, too."
Friday night, Johnson had dinner with friends and family at the hotel and relished the experience of running into Hall of Famers like Whitey Ford, Robin Yount, George Brett, Tom Seaver, Nolan Ryan, Gaylord Perry and Wade Boggs.
It helped reinforce to Johnson the elite company he is joining in baseball's most exclusive club.
"Last night was very special for me, to see my kids interacting with Pedro's kids, and then me and Pedro took pictures -- the two of us with our moms," Johnson said. "It was just a really great evening. Having Nolan come up and talk to him and his wife Ruth, meeting my mom, and then I spent a lot of time with Whitey Ford and his wife. I can't say enough about it. It's just been very overwhelming. I'm getting goose bumps now."
Johnson also got to spend some time with former D-backs managing general partner Jerry Colangelo, who was responsible for bringing Major League Baseball to Phoenix. It was Colangelo who convinced Johnson to join the D-backs in 1999, after they lost 97 games in their inaugural season.
"It means a lot to me," Johnson said of Colangelo flying in for the induction. "I bought into his game plan about coming to Arizona, and everything turned out great, and I'm very appreciative that he's here to be a part of my special moment. He was part of making so many special things happen for me in Arizona."
On Saturday, Johnson got to stand on the stage from which he'll give his induction speech. He did not want to give away too much of the content, but you can expect it to be less about him and more about the people who helped a wild left-hander become a polished Hall of Famer.
"I had my opportunity to kind of bask in the sun or the glory, or whatever," Johnson said. "And now I think it's really important, on the grandest stage of all, to let the people -- my friends that have come a long way -- it will be about them. It won't be about me. I will have a few surprises tomorrow as well."
Steve Gilbert is a reporter for MLB.com. Read his blog, Inside the D-backs, and follow him on Twitter @SteveGilbertMLB. This story was not subject to the approval of Major League Baseball or its clubs.