Aramis thrilled to come full circle
Veteran Bucs 3B goes 0-for-4 in return to original club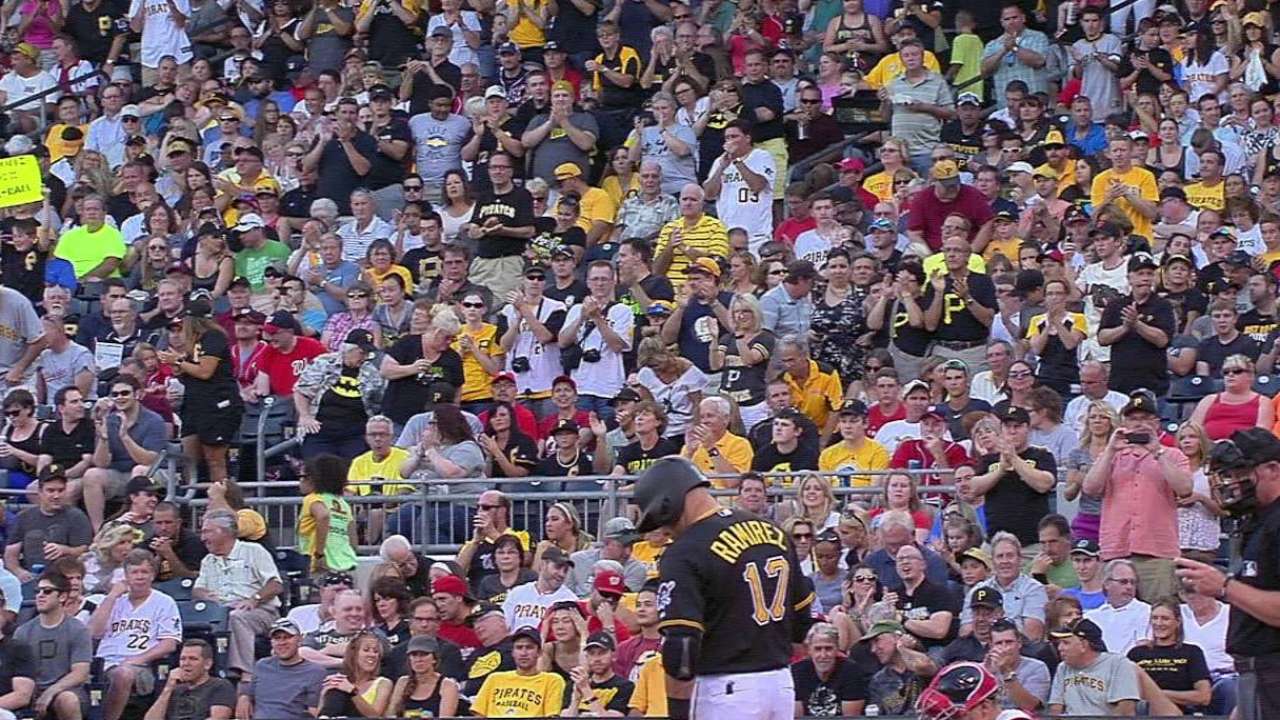 PITTSBURGH -- Aramis Ramirez is officially back with the Pirates.
Acquired Thursday in a trade with the Brewers, Ramirez joined the active roster Saturday afternoon. The Bucs immediately plugged Ramirez into the starting lineup in Saturday night's 9-3 loss to the Nationals at PNC Park, giving him the start at third base, batting cleanup.
Ramirez went 0-for-4 in his return, but swatted two hard-hit outs to center field in his first two at-bats. He grounded into a double play in the sixth inning, when the Pirates rallied to score their only three runs of the game.
Before his first at-bat, Ramirez received a small ovation and a generous round of applause from the sold-out crowd of 38,185.
"Everybody was happy to see him back," Pirates manager Clint Hurdle said. "He squared a couple balls up early."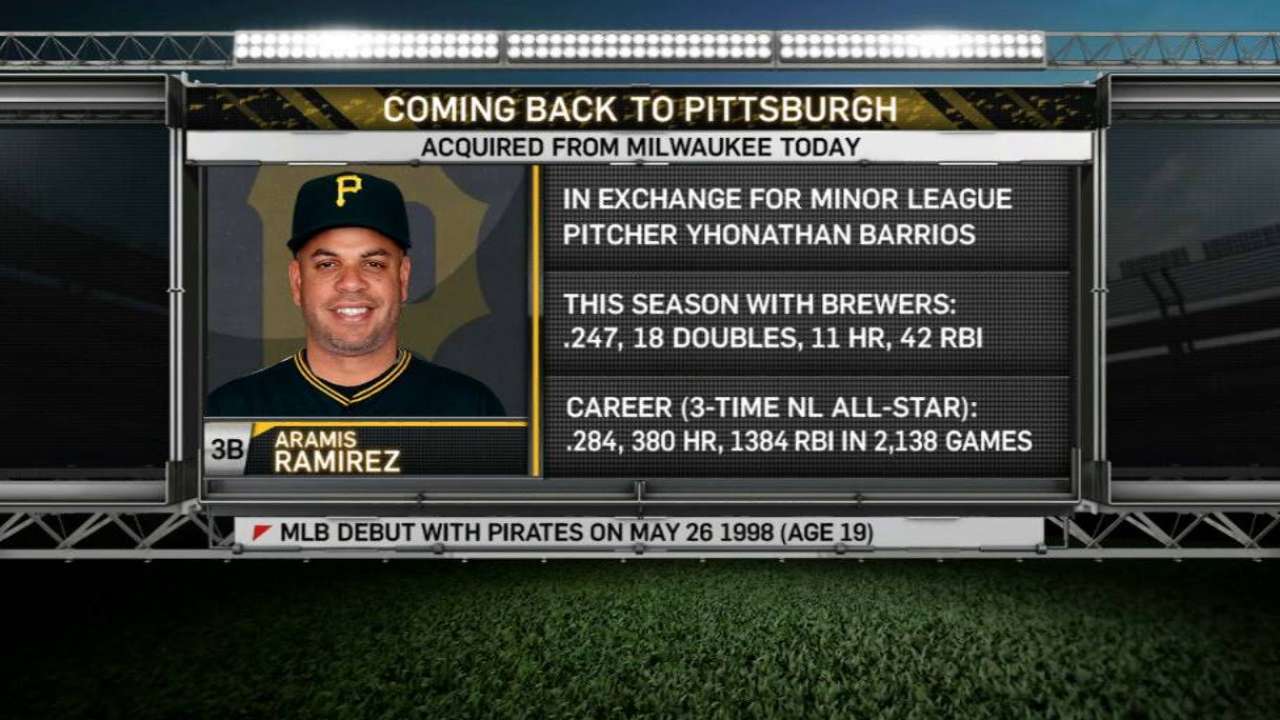 Ramirez was thrilled to be back in Pittsburgh, settling in to his new locker between Neil Walker and Corey Hart.
"It's fun, especially being in the pennant race. That's all you can ask for," Ramirez said. "I get back where I started. This was the team that gave me an opportunity to become whatever I am today, so I'm glad to be back."
In a way, Ramirez's journey is coming full circle. He signed with the Pirates in 1994 and plans to retire at the end of the season, something he reiterated Saturday afternoon.
Hurdle is excited to have Ramirez's proven bat in the cleanup spot and his experience in the clubhouse. And he believes that sense of career finality could positively impact Ramirez as well.
"Whatever time he's got left in the Major Leagues is going to be in a Pirate uniform," Hurdle said. "And I like that. I like having that in the middle of the lineup."
The Pirates acquired Ramirez, 37, in exchange for Triple-A reliever Yhonathan Barrios on Thursday to shore up the left side of their infield. To make room for Ramirez, the Pirates designated infielder Brent Morel for assignment on Saturday.
Ramirez hit .247/.295/.430 with 11 home runs and 42 RBIs in 81 games for the Brewers but heated up in the weeks leading up to the trade.
Ramirez made his big league debut for Pittsburgh in 1998, at the age of 19. Five years later, on July 22, 2003, the Pirates traded Ramirez and Kenny Lofton to the Cubs for Matt Bruback, Jose Hernandez and Bobby Hill.
Ramirez hit cleanup for the Pirates that day and found out afterward he'd been traded. A little more than 12 years later, Ramirez picked up right where he left off.
"I was happy. We were in last place in Milwaukee, and now we have a lead in the Wild Card with a chance to win the division," Ramirez said. "I couldn't ask for anything better."
Adam Berry is a reporter for MLB.com. Follow him on Twitter at @adamdberry. This story was not subject to the approval of Major League Baseball or its clubs.