Collins puts lineup on notice following trade
With Uribe and Johnson on board, Mets manager to start players swinging hot bats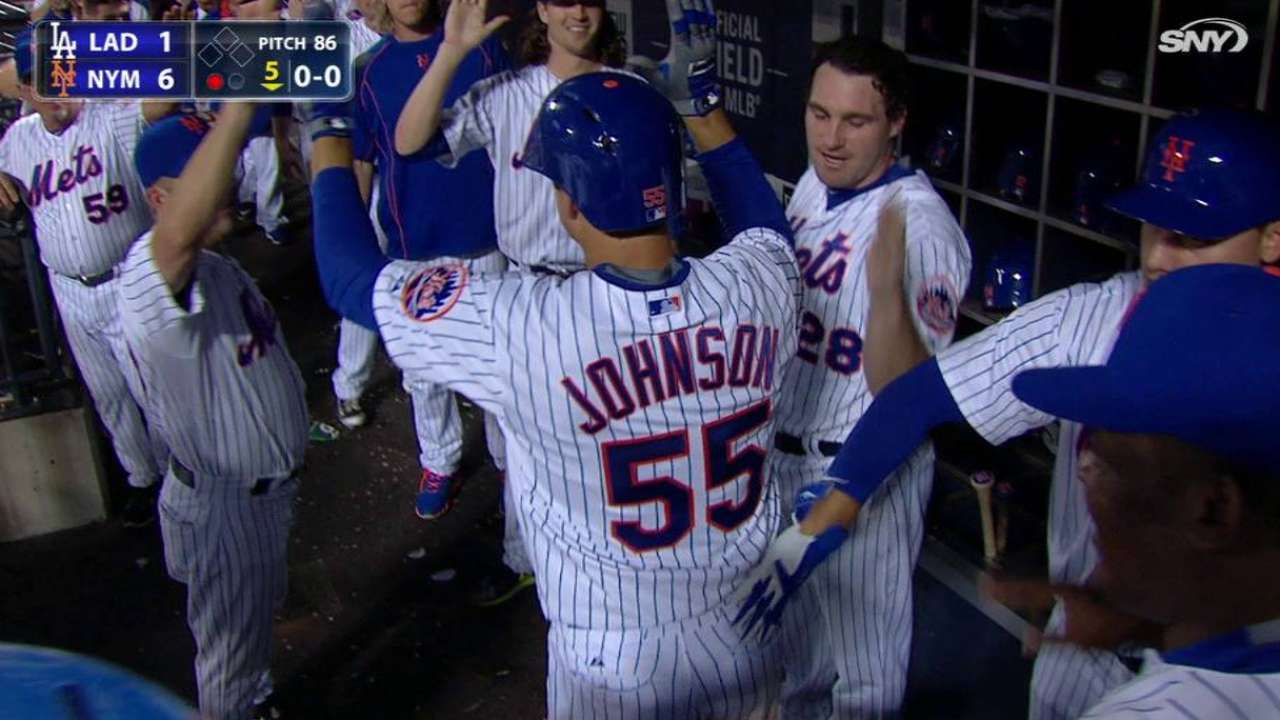 NEW YORK -- Mets manager Terry Collins walked into Citi Field before Saturday's 15-2 win against the Dodgers, sought out the underperforming members of his offense and told them they are all officially "on notice."
With trade acquisitions Kelly Johnson and Juan Uribe officially active for duty, Collins said, the Mets' lineup is now a meritocracy. Play well and continue playing. Play poorly and hit the bench.
"Whoever's swinging the bat's going to play," Collins said. "It's about scoring runs right now. The message has been sent: 'Listen, we've got to start scoring.'"
The Mets did so immediately, plating a season-high 15 runs and a season-high 21 hits in the win over the Dodgers. In the first game of this new era, Collins started Johnson at second base and batted him cleanup, where he finished 2-for-6 with a home run, while Uribe came off the bench to go 1-for-2 and Wilmer Flores sat idle the whole night. But Collins said he will not hesitate to use Johnson in the outfield or at third base in the future, Daniel Murphy at second, Flores at short and so on and so forth. Nor are the Mets afraid to shuffle their defense to put the best offense possible on the field, or to bench any of their so-called starters.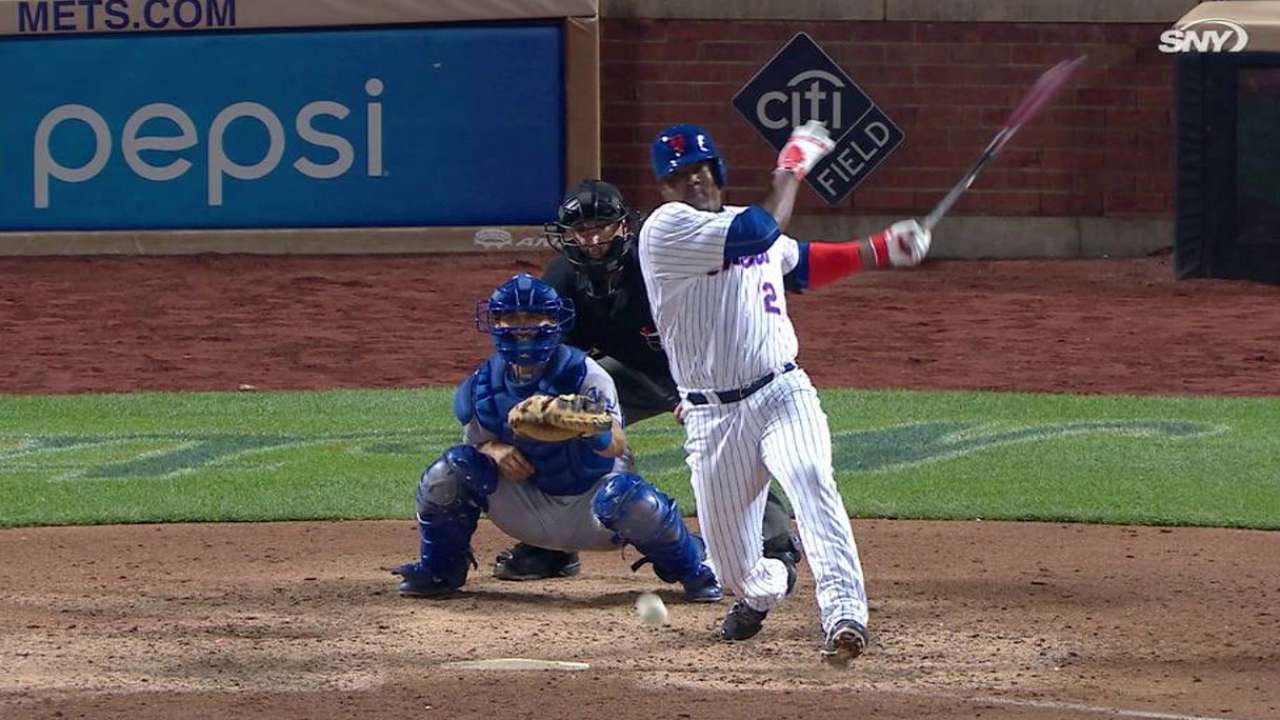 "They've been put on notice," Collins said. "It's time to pick it up."
Johnson, for one, is embracing his role in the new Mets offense after feeling "a little bit surprised" by the trade that sent him to New York. Accustomed to hitting cleanup with the Braves, Johnson said he is comfortable at any of the numerous defensive positions he has played this year: first, second and third base, as well as left and right field.
"Hopefully this creates some depth, creates some different opportunities and different matchups," Johnson said. "Obviously [Uribe and I] have both been in the league a little while, both swinging the bats pretty good this year, so that's going to help."
Already traded once this season, Uribe was less surprised by the deal that sent him and Johnson to New York in exchange for two pitching prospects. Collins said he may not ask Uribe to stray much from third base, opening the door for Murphy to receive significant playing time at second. Uribe showed why in the ninth inning, making a diving stop and long throw on a Yasmani Grandal grounder.
"I want to help the team and help us make it to the playoffs," Uribe said. "I'm just here to do my job. If I do good, I'm going to play. If I'm not doing good, maybe I won't play."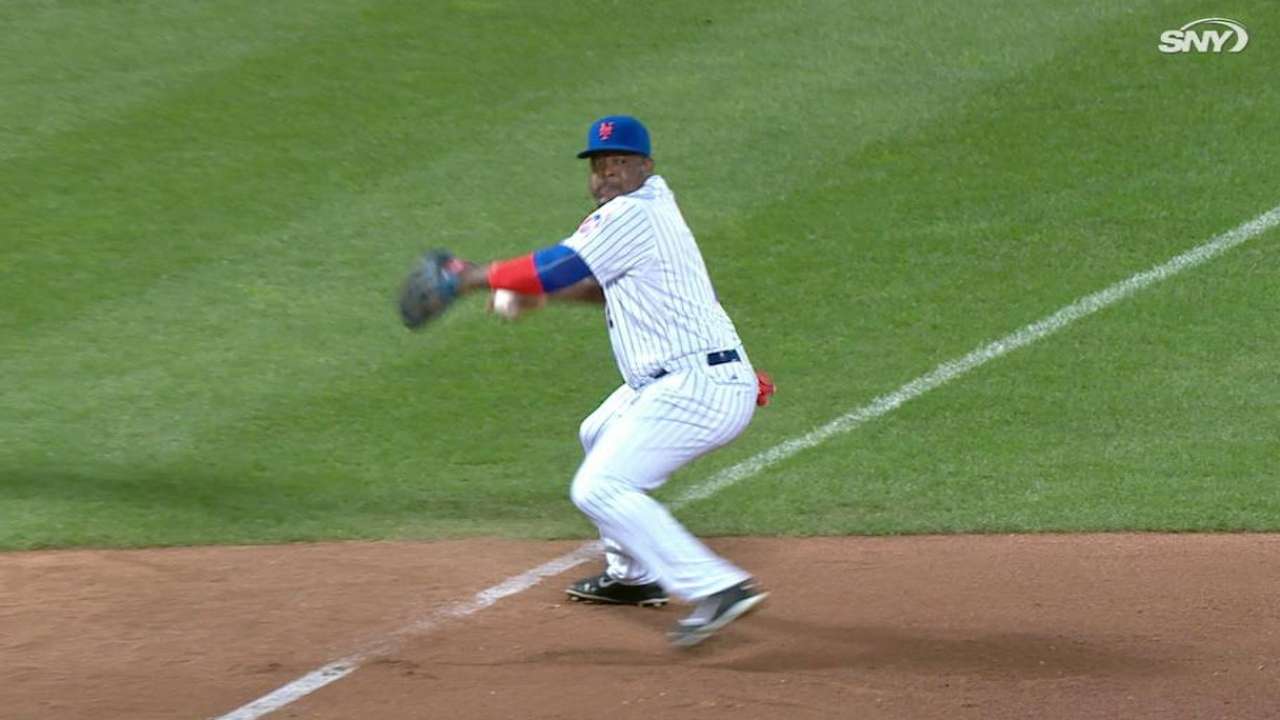 Flores, meanwhile, has already begun taking ground balls at short, where Ruben Tejada has been playing well enough lately -- he was 3-for-6 Saturday -- to state a case for significant time.
Anthony DiComo is a reporter for MLB.com. Follow him on Twitter @AnthonyDiComo and Facebook, and listen to his podcast. This story was not subject to the approval of Major League Baseball or its clubs.