Teammates outline Butler's falls with chalk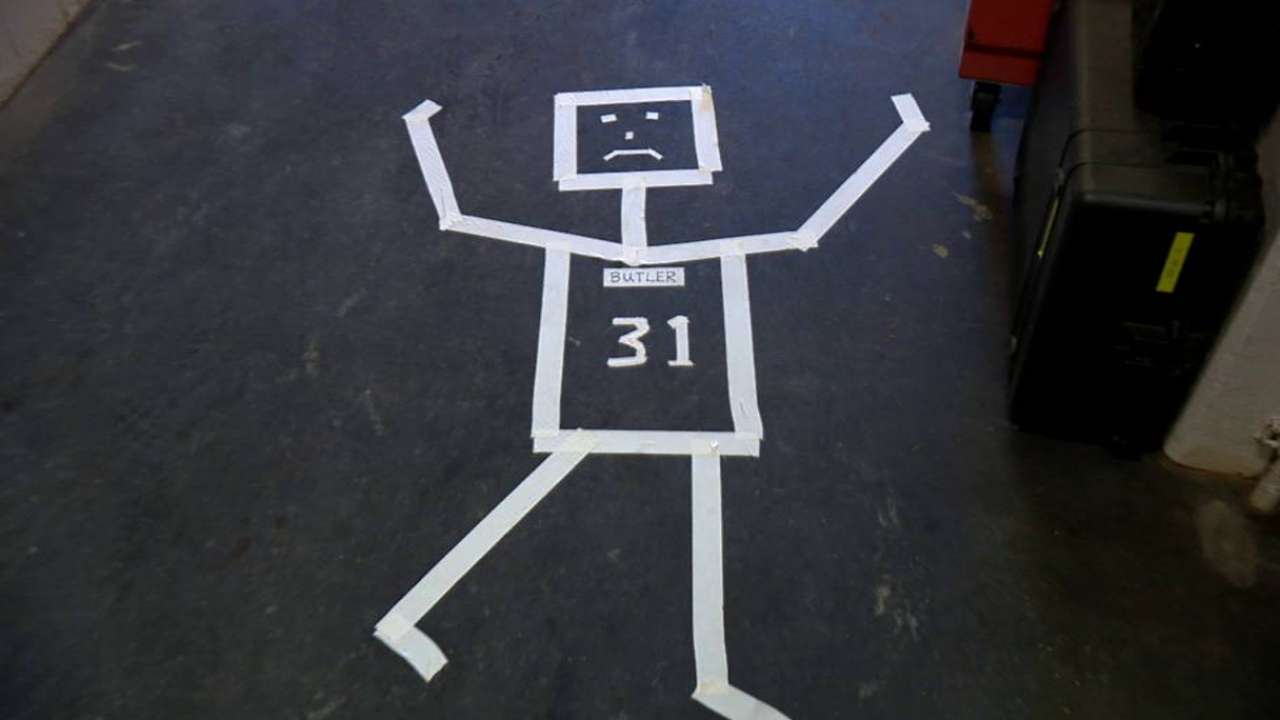 DENVER -- Eddie Butler's trip around the bases on Friday night was certainly an adventurous one. Now, there's even more visual documentation.
When Butler arrived at Coors Field on Saturday afternoon, there was a pair of chalk outlines drawn on infield, which marked his two falls while trying to round third base during the fifth inning of Friday's 6-5 win over the Reds.
For good measure, there was also a tape outline of Butler just below the stairs that lead from the clubhouse to the dugout -- just in case the TV cameras missed, perhaps, a third fall.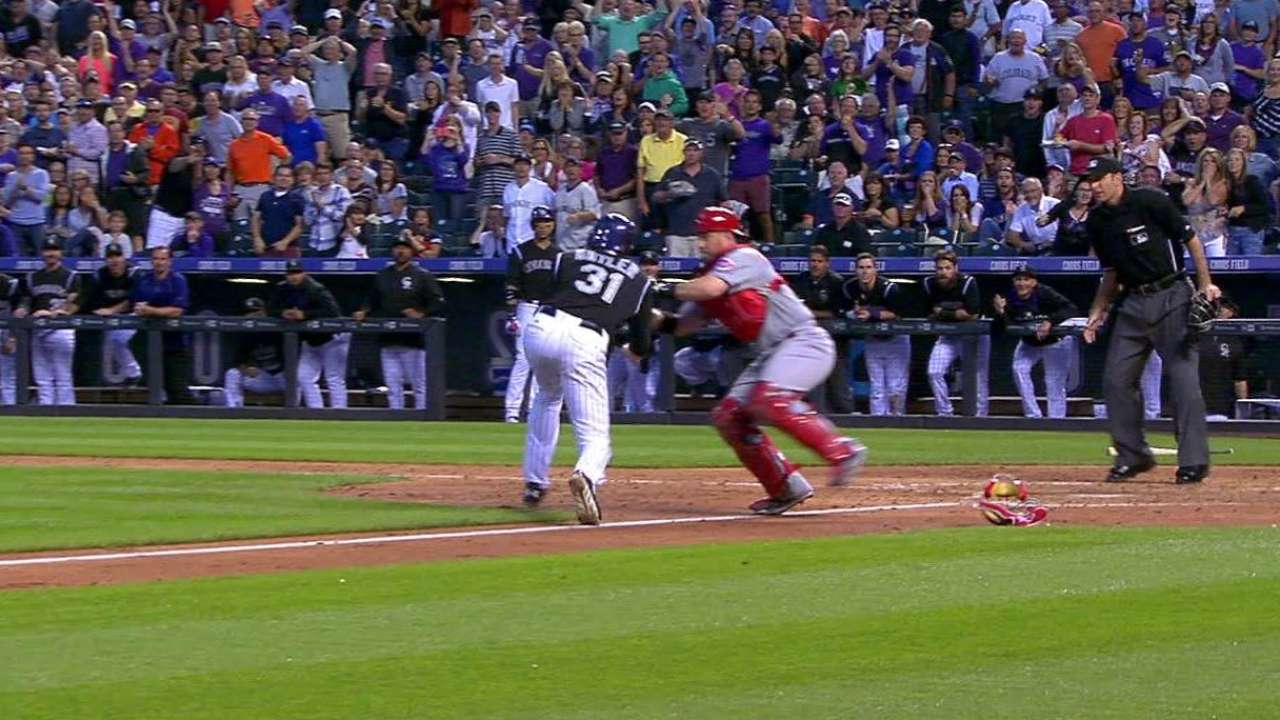 "We have a couple good pranksters here in the clubhouse," Butler said. "[Brandon] Barnes could be a culprit. It could be [LaTroy] Hawkins that told them to go out there and do it. We had good fun with it last night, though.
"That was the big thing. We ended up winning the game, so we could have fun with it."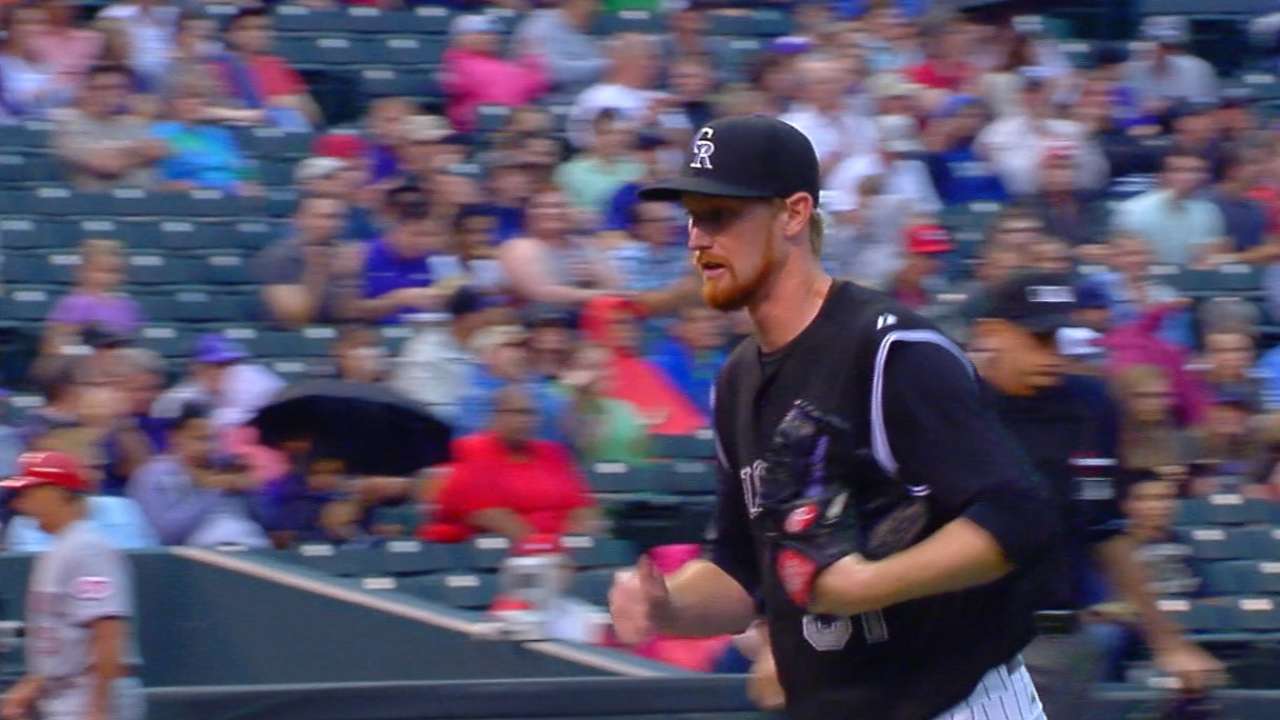 Butler's trouble began after securing his first Major League hit. He then moved to second on Charlie Blackmon's single and was seemingly in scoring position as DJ LeMahieu headed to the plate. The Rockies second basemen did his part, crushing one deep into the right-field corner.
Blackmon was in full stride, but Butler -- who had just two Minor League hits, zero walks and no official offensive experience at Radford University due to a torn meniscus during the fall of his sophomore year -- kept his eyes on Bruce. With Blackmon bearing down behind him, Butler slipped over third base.
He then tripped again between third and home. With Blackmon standing on third, he had nowhere to go but into the waiting tag of Reds catcher Tucker Barnhart.
"Like guys were saying, you've just got to own it," said Butler, who added that he's watched the replay of his fall for close to 10 minutes straight. "It is what is. It happens.
"I got texts from my roommates back in college talking about the turf monster and the snipers and all that."
Worth noting
• Reliever Christian Bergman (right shoulder inflammation) threw 35 pitches to hitters on Saturday, and Rockies manager Walt Weiss said there were "no issues." Bergman's first of two rehab appearances will come on Tuesday at Triple-A Albuquerque, where he'll throw approximately three innings and 45 pitches. He'll up that to approximately four innings and 60 pitches in his second outing.
• Michael McKenry had some fluid in his right knee prior to the weekend, but Weiss said the catcher is better and "in play" as both a pinch-hitter and on defense.
Dargan Southard is an associate reporter for MLB.com. This story was not subject to the approval of Major League Baseball or its clubs.