Doby statue embodies spirit of pioneer
Indians honor contributions of franchise legend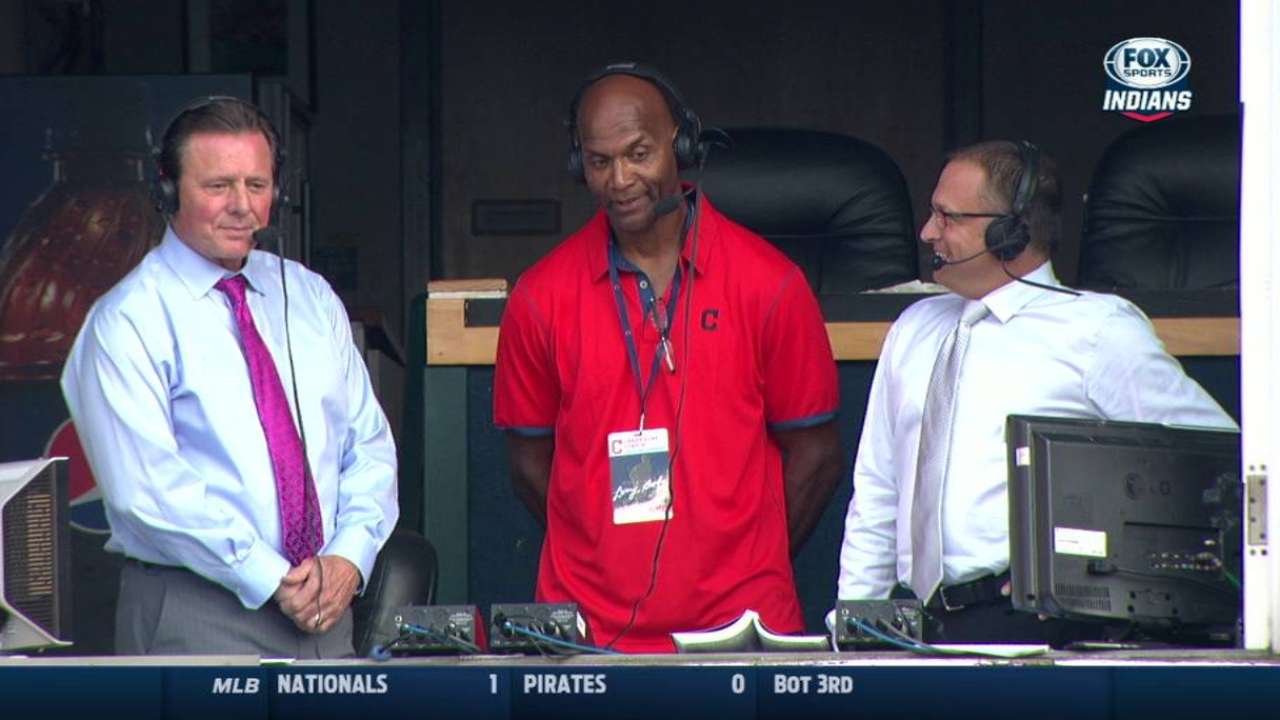 CLEVELAND -- Larry Doby was never booed in Cleveland.
Pitchers threw at his head. Some teammates refused to play catch with him. Visiting fans yelled racial slurs from the stands.
But in Cleveland, he was welcomed with open arms.
"He always remembered that," Doby's son, Larry Jr., said at his father's statue unveiling at Progressive Field on Saturday.
Doby broke the American League color barrier when he made his Major League debut with the Indians on July 5, 1947. Sixty-eight years later, four of Doby's children -- son Larry and daughters Susan, Christina and Kimberly -- as well as granddaughter Nicole were present for the event in his honor.
Doby's debut came 81 days after the debut of Jackie Robinson, who famously broke Major League Baseball's color barrier for the Brooklyn Dodgers in the National League. Yet, the recognition Doby receives for his courageous feat pales in comparison to Robinson's. Indians owner Paul Dolan compared Doby's legacy in baseball as the Buzz Aldrin to the moon landing's Neil Armstrong.
"History can be cruel that way," Dolan said. "It has a way of celebrating the first person to do something significant, and then discounting or ignoring all that follows afterward, as if doing it for the second time is routine."
Not only was Doby's debut significant in its own right, but it paved the way for additional breakthroughs in years to come. If it weren't for Doby in 1947, Satchel Paige wouldn't have followed him to Cleveland a year later. By 1951, the Indians had five men of color on the roster, at a time when 10 of 16 franchises had yet to integrate. In 1975, the Indians became the first organization to hire an African-American manager when they appointed Frank Robinson to the position.
"Larry had established the Cleveland Indians as a progressive franchise in our baseball world," Dolan said.
Doby is remembered for his strength, both physical and mental, for his confidence, for his dignity and for his courage.
"Oh, he could get angry a little bit every now and then," Doby's former teammate and roommate Jim "Mudcat" Grant said. "But if pitchers threw at your head as many times as they threw at Larry's head when he first came in, you would be a little angry, too."
Doby played 10 of his 13 seasons with the Indians, twice leading the league in home runs and driving in more than 100 runs four times.
Longtime Indians radio play-by-play man Tom Hamilton emceed the unveiling of Doby's statue outside the center-field gate, with Indians staff, coaches and the entire active 25-man roster on hand.
"We are extremely proud and humbled by this showing," Doby Jr. said. "I know if my father was here, he'd be overjoyed because his peers would be here. To see fellow players would make him very happy."
Dolan admitted that a statue in Doby's honor was perhaps overdue, but that he hopes the significance of the statue makes up for the tardiness.
"When we unveil this statue, we have Larry Doby standing at our new front door, greeting fans to this ballpark for generations," Dolan said. "We are saying to the world: 'Here is Larry Doby.' A man we are greatly proud of. Because not only is he one of the greatest Cleveland Indians of all time, but he was an even greater man. A man who was second to none. And it's time the world got to know him."
August Fagerstrom is an associate reporter for MLB.com. This story was not subject to the approval of Major League Baseball or its clubs.