Simon, Tigers think groin strain isn't serious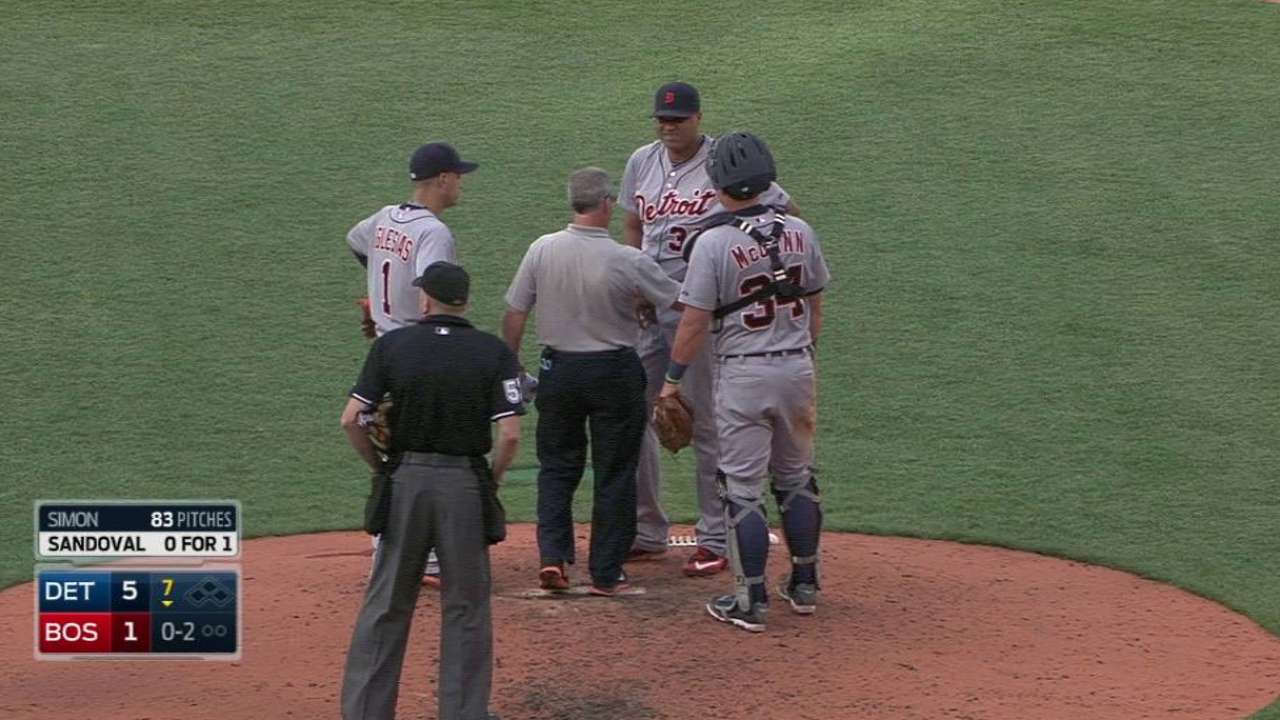 BOSTON -- When right-hander Alfredo Simon left the seventh inning of Saturday's 5-1 win over the Red Sox with a groin strain, the initial outlook appeared grim for a Tigers rotation that could ill-afford to lose one of its arms.
But something which could have cast a shadow over Simon's strong performance turned out to be little more than an injury scare. The team believes Simon will not need a stint on the disabled list, and he'll be evaluated on Sunday to help determine whether he could even make his next scheduled start.
"At this point, we don't think it's going to be a DL assignment," Tigers manager Brad Ausmus said. "Both [head athletic trainer] Kevin Rand and Alfredo have said that they don't think it'll be an issue going forward."
For Detroit, that news is especially welcome -- considering Simon held the Red Sox to one run over six innings for his first quality start since June 7. The veteran scattered five hits and retired seven of the last eight batters he faced en route to his ninth win of the season.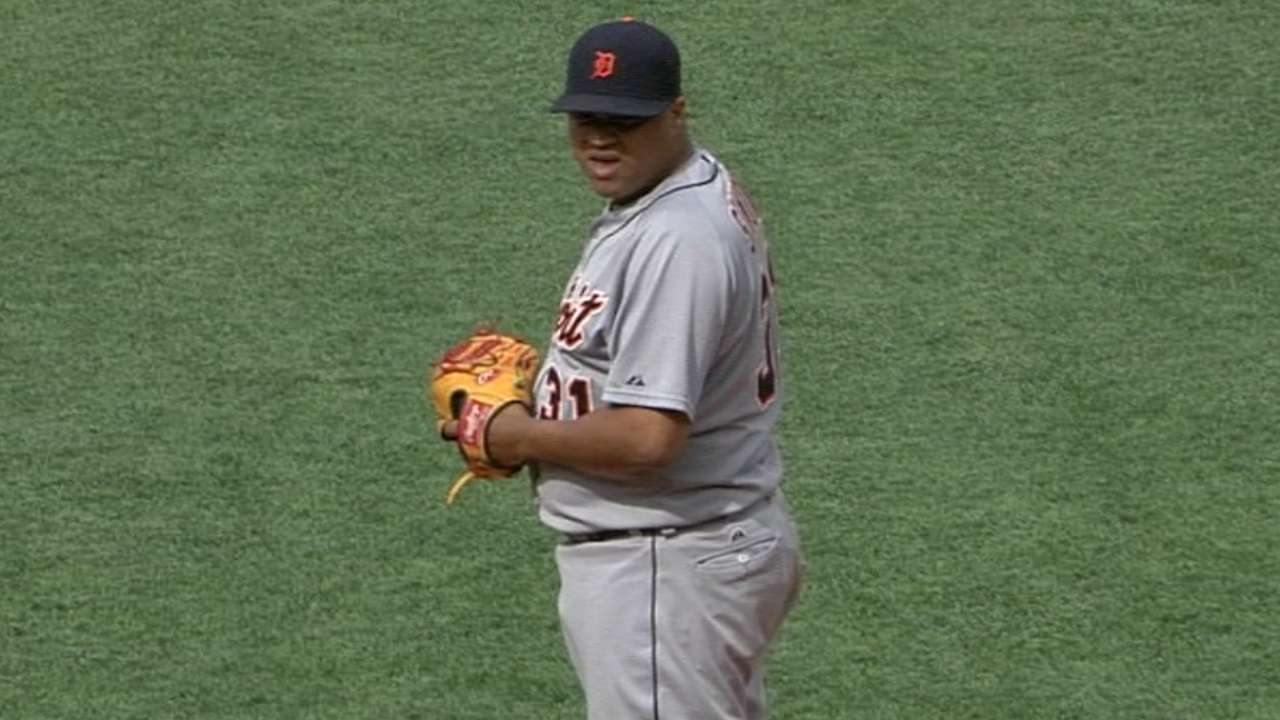 Simon had pitched to a 10.16 ERA over his previous outing, making Saturday his most well-rounded performance in weeks.
"I just tried to look at my video back three months ago, two months ago," Simon said. "Every time I throw the ball down and my two-seam [fastball] works and my split, everything is coming through. I feel happy today. I'm back the way I was, so I'm really happy."
Leading up to his early exit, Simon pitched his way around baserunners in a couple of instances. But none proved more pivotal than during the fourth inning, when he escaped a bases-loaded jam by coaxing a weak grounder out of Mike Napoli on an inside 2-1 fastball.
The Tigers had taken a four-run lead earlier that inning, thanks to a two-run double by Nick Castellanos.
"You don't want to let them back in the game," said Ausmus. "That was probably the biggest pitch of the game for us."
Detroit has now received three consecutive quality starts from its rotation, with Simon's effort following a pair of impressive eight-inning starts by David Price and Justin Verlander.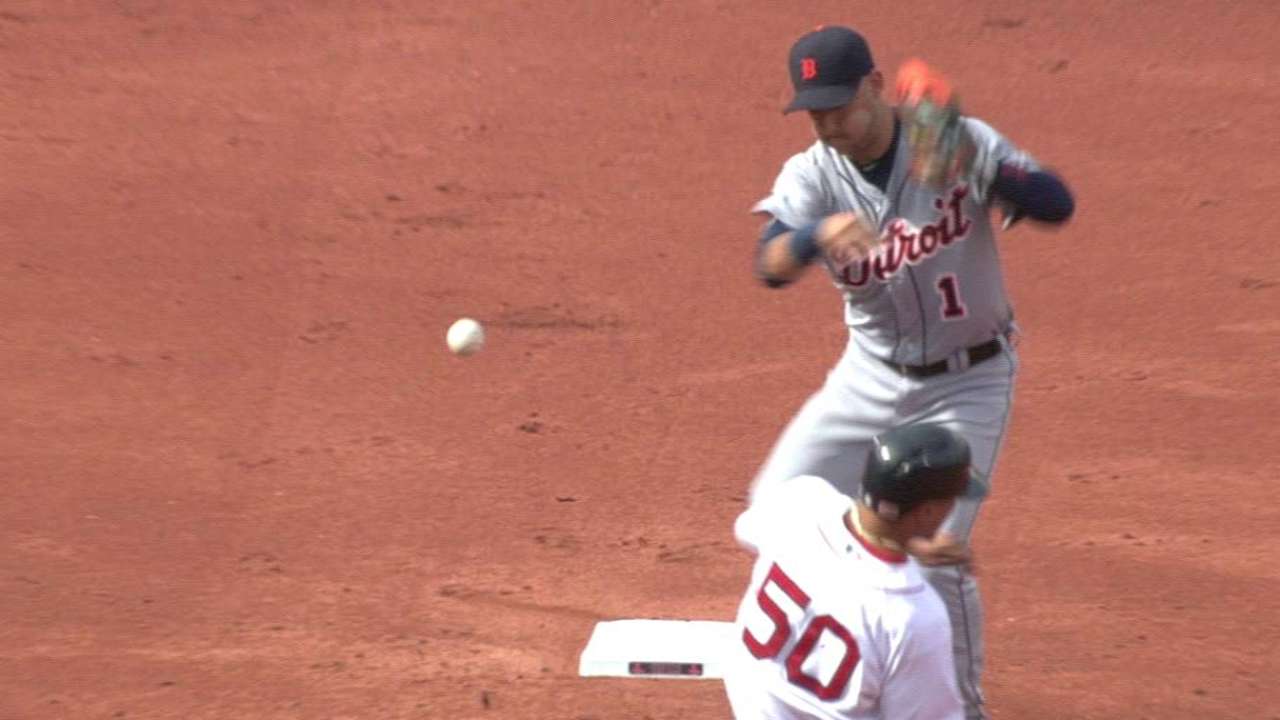 "It's the starting rotation that we know we have," said Castellanos, who went 2-for-4 with three RBIs. "It makes our job easier as a lineup to know that, 'Let's just put together some good [at-bats], get a couple of runs and then we'll come out with a victory.' Obviously, it didn't happen the past two days, but hats off to the starting rotation. They're doing a great job."
As for the injury, Simon said the initial groin pull occurred in the sixth inning, while fielding a David Ortiz comebacker. But it wasn't until Ausmus and Rand examined Simon on the mound in the seventh that he exited the game.
For now, the Tigers will wait to see what Sunday's examination shows before determining if Simon can take his next turn in the rotation.
"As far as making the start or not, as of this second, we're planning on him making the start," Ausmus said. "We'll know more tomorrow on it. He seemed to think he was OK in talking to him after the game. Or he thinks he'll be OK. Kevin Rand agreed. He didn't think it was anything major, as well."
Alec Shirkey is an associate reporter for MLB.com. This story was not subject to the approval of Major League Baseball or its clubs.