Royals map winning record in Guthrie's starts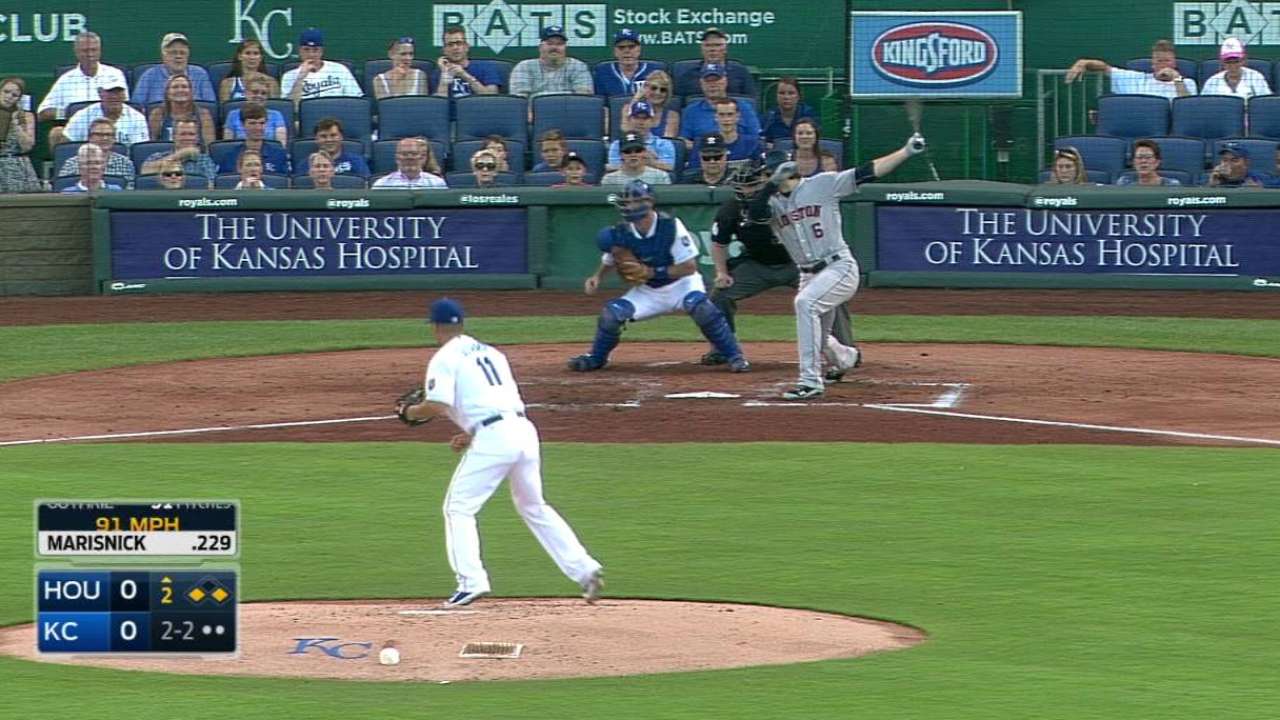 KANSAS CITY -- In many ways, right-hander Jeremy Guthrie's start on Friday night was typical of many he has had in a Royals uniform.
Guthrie struggled through four innings, but limited the damage, then he turned in three scoreless innings to keep the Royals within 4-0 in a loss to the Astros. The final line wasn't pretty: seven innings, 11 hits, four runs, two walks, three strikeouts.
But it is the type of start that managers and coaches can live with, at least far more than fans can. And in this case Royals fans, who have been turning to Twitter to express their dissatisfaction with Guthrie for awhile.
But manager Ned Yost has faith in Guthrie. Always has.
That faith stems from the Royals' record in Guthrie's starts since he came to Kansas City in 2012: They are an astounding 60-38 in those starts.
"Since he's been here, we win games in his starts," Yost said. "It's that simple. He keeps us in ballgames and that allows us to win."
Yost also points to Guthrie's performance in the clutch last season down the stretch. From Aug. 1 through the end of the season, Guthrie was 7-2 with a 3.06 ERA. Many of his victories came in seemingly must-win games, including the playoff clincher against the White Sox in Chicago.
"Every time any starter has three or four bad starts, we go through this," Yost said of the criticism of Guthrie. "He keeps us in games, he gets us through games. It's what he does. He's durable, he's a veteran, he knows how to make pitches.
"Does he give up a lot of hits? Yeah. But he always knows how to make a pitch to limit the damage for the most part."
Guthrie indeed is durable. He hasn't been on the disabled list since he has been with the Royals. He takes the ball every fifth day and bulldogs his way through five, six or seven innings. Only once this season has he had a start shorter than five innings -- the infamous blowout at Yankee Stadium on Memorial Day.
Yost appreciates the consistency and the reliability of Guthrie, especially for a rotation ravaged by injuries this season. And especially by a No. 5 starter, which is what Guthrie is.
"Very seldom does he go out and not keep you in the game," Yost said "It was just really that one start in New York where that didn't happen. We need that [consistency]."
Jeffrey Flanagan is a reporter for MLB.com. Follow him on Twitter at @FlannyMLB. This story was not subject to the approval of Major League Baseball or its clubs.