Escobar's hit gives Royals walk-off win in 10th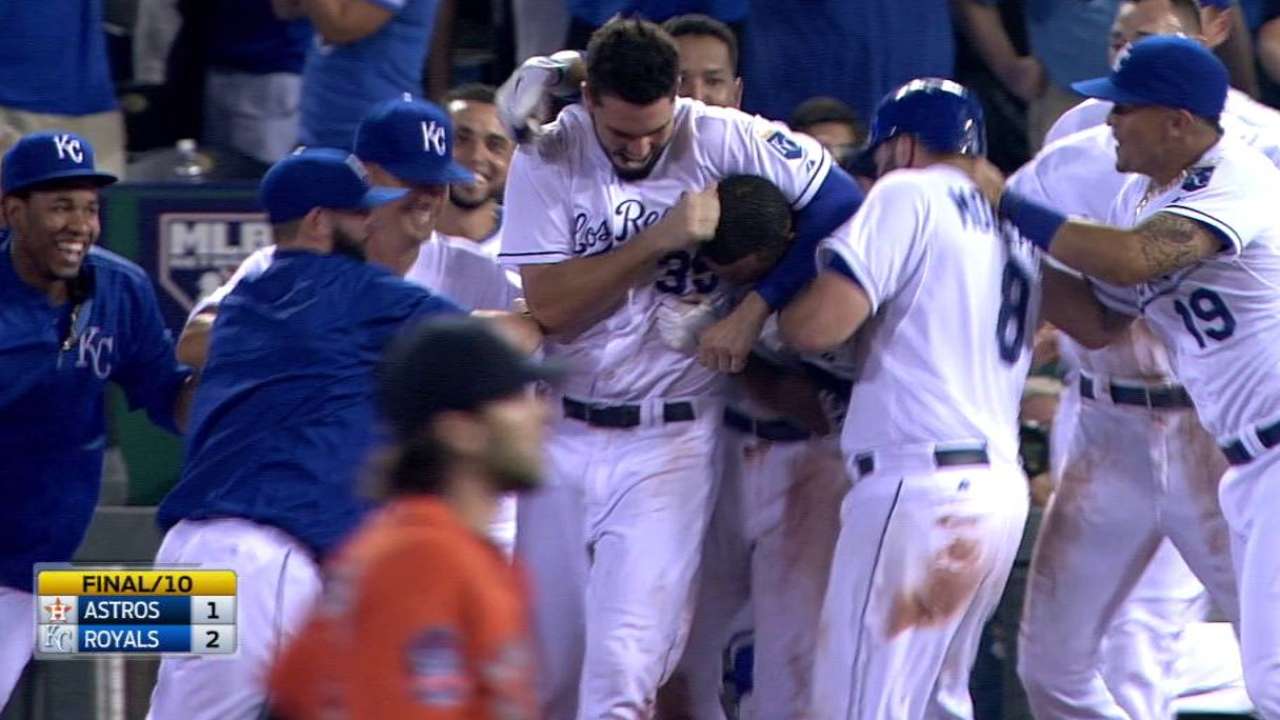 KANSAS CITY -- Alcides Escobar blooped a single to short right with two out in the bottom of the 10th inning to give the Royals a 2-1 walk-off win over the Astros on Saturday night at Kauffman Stadium.
Escobar flipped a flare just past the infield off Houston reliever Will Harris that fell just in front of right fielder Colby Rasmus, who was playing extremely shallow. The hit scored Paulo Orlando, who had singled and stolen second base.
Escobar thought it was a single right away.
"I hit it and I thought, 'Game over,'" he said, "because the right fielder was so close to the line and [second baseman Jose] Altuve was up the middle."
The winning run was set up by Orlando's delayed steal.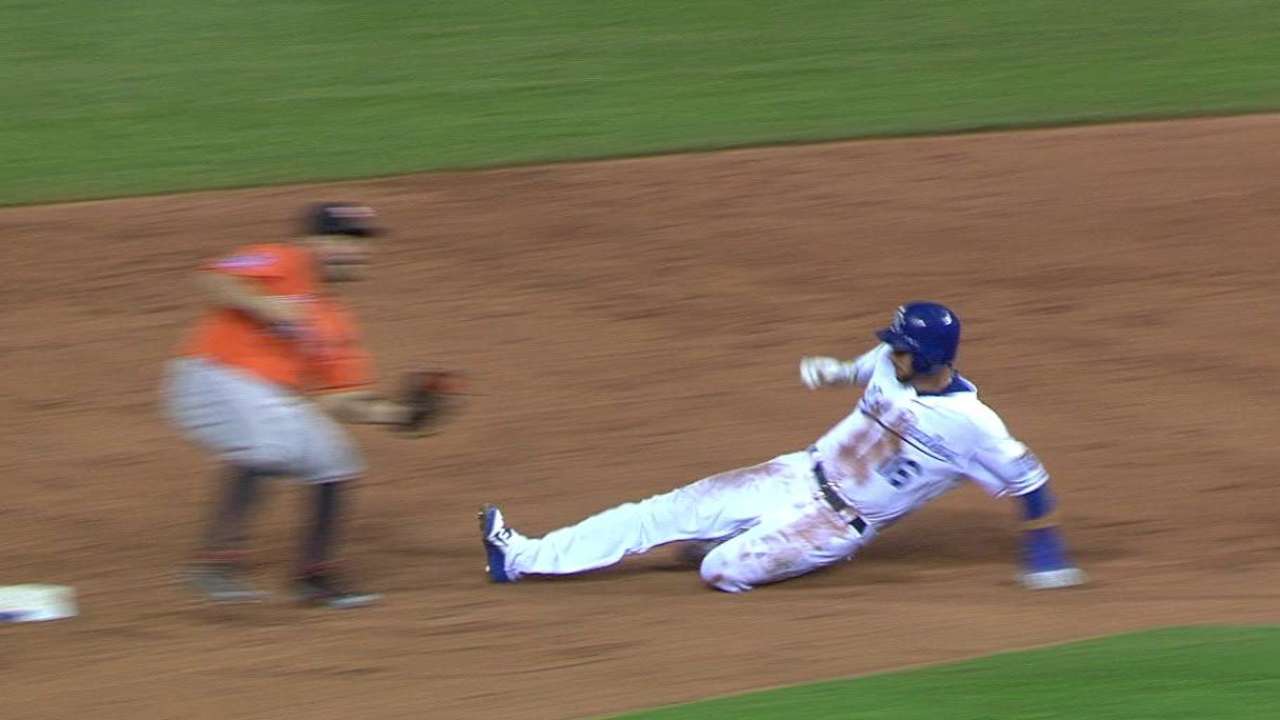 "That's something I do pretty well," Orlando said. "I had about 34 steals in the Minors last year and about 15 or 20 were on delayed steals."
Houston right-hander Scott Feldman entered the game with a 4.93 ERA, but he breezed through the Royals order for 7 2/3 innings. Feldman gave up just four hits and walked one, while giving up one run.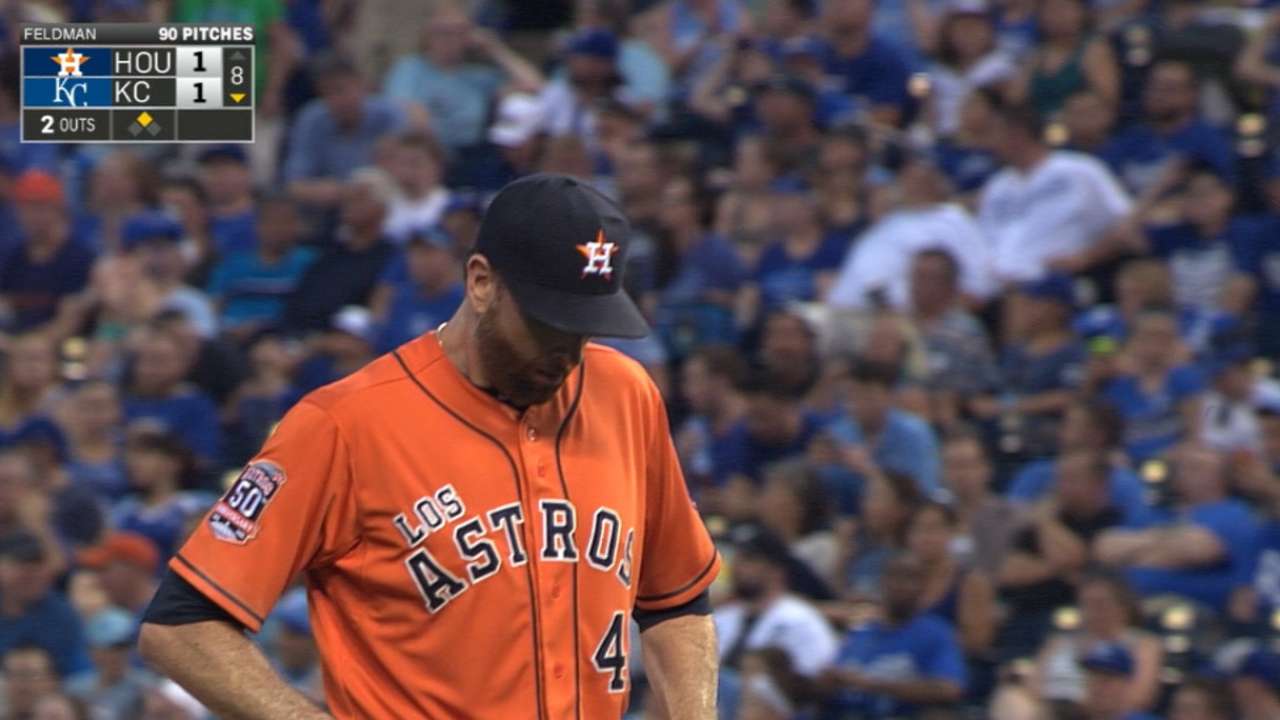 Royals starter Danny Duffy continued his dominance since returning from the disabled list on July 5. Duffy gave up three hits and one run over six innings while walking one and striking out three. He now has a 2.15 ERA since returning from the DL.
"That was a fun game, but a tough one to be on the losing end," Astros manager A.J. Hinch said. "Our guys fought hard. And then to get beat on a little bleeder."
The Astros had a five-game winning streak snapped and lost to the Royals for the first time this year after four consecutive victories.
"It's elite pitching from the defending American League champions," Hinch said. "It's exciting to be in the middle of it. I just wish we had scratched out an extra run."
MOMENTS THAT MATTERED
Correa's gem: Astros shortstop Carlos Correa sent the game into extra innings by taking away what looked like a game-winning hit by Alex Rios with a Derek Jeter-like play. With runners at first and third and two out, Rios hit a grounder deep into the hole. Correa gloved it, leaped into the air and fired a strike to get Rios.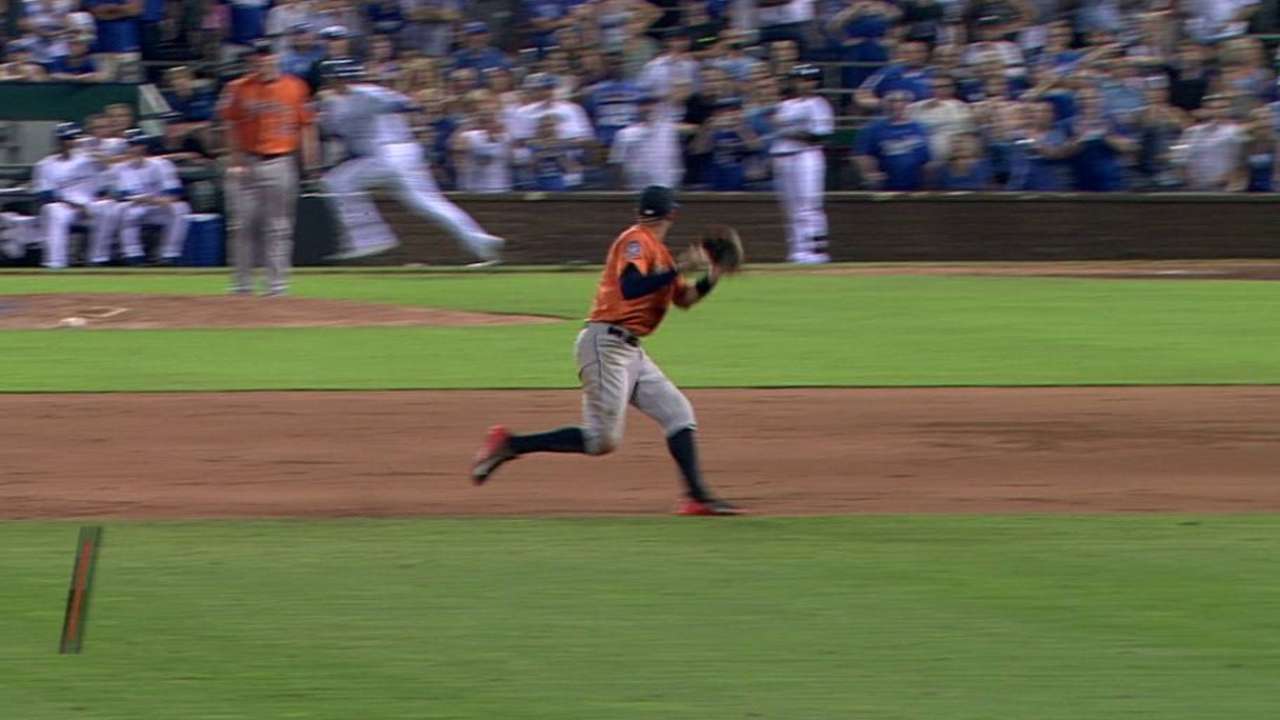 "Both sides made some pretty good defensive plays and that was probably the best one of the night," Hinch said.
Correa said he chose to go to first instead of second because his momentum was taking him toward the third-base line.
"I didn't feel like stopping and going to second, so I just went to first," Correa said. "I was able to make a good throw. I've been practicing that play so many times and I felt confident I could make it."
Salvy's sac fly: The Royals tied the score in the seventh after Escobar reached on a single to deep short. With one out, Kendry Morales tomahawked a pitch at his shoulders and drove one to deep right-center that one-hopped over the wall for a double. After an intentional walk, Salvador Perez lifted a foul down the left-field line that was caught, but Escobar sped home safely and it was 1-1.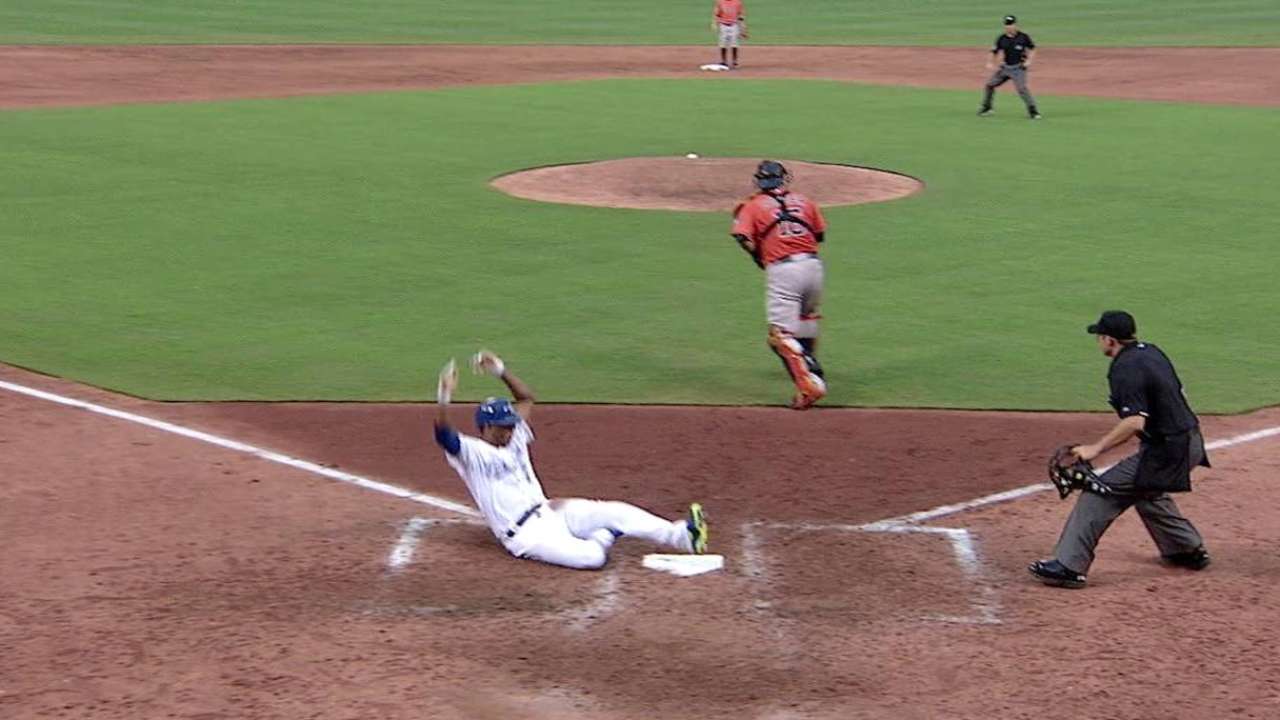 The Royals' victory came on a night the team honored Latin American heritage and wore "Los Reales" uniforms, so it was fitting that Perez, Orlando and Escobar all had a hand in the win.
"Yes, that made it a special night," Escobar said. "But just winning made it special."
At the top: The top of the Astros' lineup handled the bat extremely well in the sixth inning as Houston took a 1-0 lead. Leadoff hitter Altuve was able to solve a Duffy pitch that was low and away, dunking a hit into left-center. Marwin Gonzalez drove a two-strike pitch for a double to left and Correa battled with two strikes before lifting a sacrifice fly to center.
UPON FURTHER REVIEW
With a runner at first and none out in the 10th, Chris Carter lined to second and Preston Tucker was called out trying to get back to first. The Astros asked for a review and the call was ruled as stands for a double play.
WHAT'S NEXT
Astros: All-Star lefty Dallas Keuchel (12-4, 2.12 ERA) will start the finale of this three-game road set on Sunday at 1:10 p.m. CT. Keuchel worked eight scoreless innings when he faced the Royals on June 30 at Minute Maid Park in a 4-0 Houston win.
Royals: Right-hander Yordano Ventura gets the ball for Sunday's finale at Kauffman Stadium. Ventura is making his first start since being demoted to Triple-A Omaha earlier in the week, though he was recalled the next day after the Jason Vargas injury and actually never left Kansas City. Ventura gave up a season-high six runs on Monday to Pittsburgh.
Watch every out-of-market regular-season game live on MLB.TV.
Jeffrey Flanagan is a reporter for MLB.com. Follow him on Twitter at @FlannyMLB. Robert Falkoff is a contributor to MLB.com. This story was not subject to the approval of Major League Baseball or its clubs.