Miggy does light fielding drills during BP
BOSTON -- The eventual return of injured Tigers first baseman Miguel Cabrera may still be several weeks away, but the slugger has begun taking his first set of steps toward playing again.
Cabrera took ground balls at first base during batting practice before Saturday's 5-1 win over Boston. Detroit manager Brad Ausmus also revealed Cabrera has been taking batting practice in the cage for the past few days.
Cabrera, expected to miss a total of six to eight weeks with a Grade 3 left calf strain, has been on the 15-day disabled list since July 4.
"I haven't asked him how he felt today after yesterday," Ausmus said. "But I wouldn't be shocked if he hit today. He did the treadmill yesterday at 70-percent [effort] for, I think, seven or eight minutes. So he's kind of building up. He did say he was tired at the end of the [treadmill] session."
These are the activities Cabrera has been cleared to resume, as he tries to keep himself fresh during recovery. The real question about Cabrera's rehab is how his calf responds to sudden pressure and movement, such as when he runs to first base or fields a ground ball.
"[While] he's a ways from getting into the game, it's really kind of the first step. [Moving] out of the batter's box [and trying to] get a good jump on a ground ball is more the issue," Ausmus said. "First move from a dead stop is probably more risky. Hitting wasn't really bothering him in the cage."
While Cabrera expressed concerns about returning too quickly or trying to play through the injury, as he has done previously during his career, Ausmus still wouldn't put it past his star to endure some pain for the team.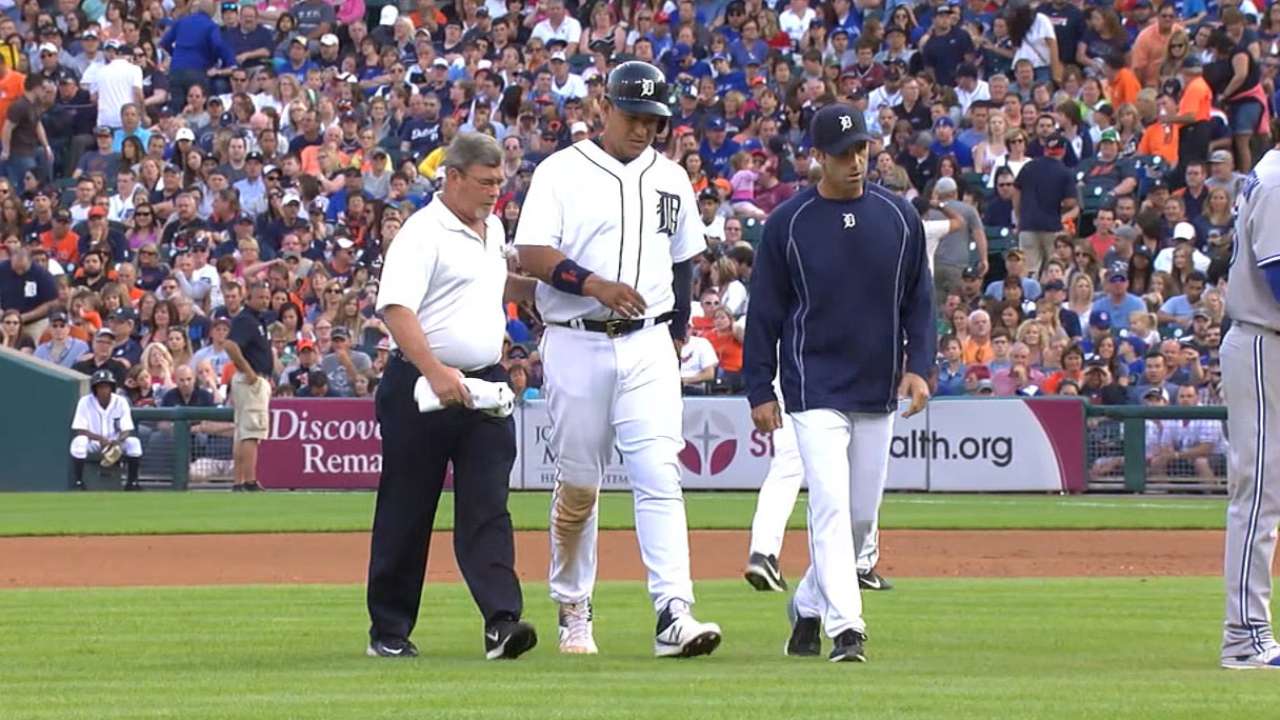 Cabrera hit .379 with eight home runs last September and won American League Player of the Month while nursing a sore right ankle.
"It wouldn't surprise me," Ausmus said. "He's tough, he's tougher than the average Major League baseball player."
Meanwhile, the Tigers have explored a couple of options to shore up first base in Cabrera's absence. But the results have been mixed.
Marc Krauss has gone 5-for-33 (.152) with one extra-base hit since being claimed off waivers from the Rays on July 6. Infielder Jefry Marte had only played 10 professional games at first prior to this season. Ausmus gave catcher Alex Avila his fifth start of the season at first base on Saturday, with James McCann playing behind the plate.
Designated hitter Victor Martinez has not played first at all this season, and Ausmus doubts the team would put him there in order to DH Cabrera when he first returns.
"I think if Miggy's to the point where he's going to be in a game and we're worried about that first step coming out of the box," said Ausmus, "he probably could handle that first step on a ground ball, as well."
Alec Shirkey is an associate reporter for MLB.com. This story was not subject to the approval of Major League Baseball or its clubs.