Brown still getting a look during rough stretch
Phillies giving outfielder a chance with Altherr waiting in Minor Leagues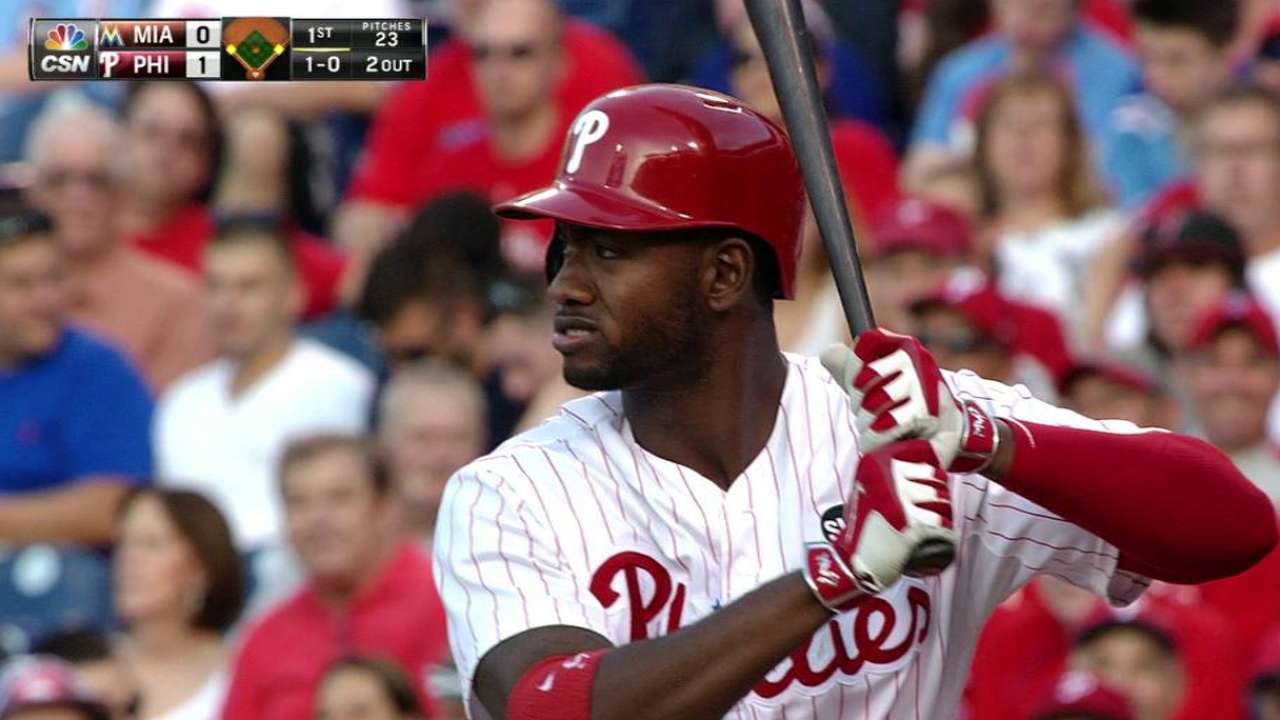 CHICAGO -- The Domonic Brown assessment continued Saturday afternoon at Wrigley Field.
Brown was in the lineup in right field and at the No. 8 spot in Cole Hamels' no-hitter against the Cubs, a 5-0 Phillies victory. He went 1-for-4 with a single in the fourth inning.
He entered Saturday batting .229 (24-for-105) with four doubles, eight RBIs and a .550 OPS in 33 games this season. His .618 OPS since Aug. 14, 2013, when he hit his final home run of the year, ranked 273rd out of 290 qualified hitters in baseball and 113th out of 119 outfielders.
"His leash isn't as long as it used to be," Phillies general manager Ruben Amaro Jr. said earlier this month. "That's been communicated to him."
It remains to be seen how much more of a chance Brown will get. Aaron Altherr is hitting a combined .294 (101-for-343) with 25 doubles, four triples, 11 home runs, 51 RBIs and an .851 OPS with Double-A Reading and Triple-A Lehigh Valley. Some view Altherr as a fourth or fifth outfielder, but he might be worth a look the final two months of the season, especially if Brown continues at his current pace.
"I don't want to say or do anything to upset his approach right now because he's getting his hits, but we're looking for some pop off the bat," Phillies interim manager Pete Mackanin said about Brown, who was 11-for-36 with one double in his past 12 games entering Saturday. "Domonic is not a run scorer. He's a run producer. We want to see power. He hasn't shown that power all year, including Triple-A."
Brown hit two home runs in 210 at-bats this season in Triple-A. He hit one in 17 at-bats with Class A Advanced Clearwater. That is 13 homers in 896 at-bats (one every 68.9 at-bats) since Aug. 14, 2013, including his 227 at-bats in the Minor Leagues.
"I don't mean for him to hit 40 home runs, although it would be nice, but we would like to see him in that groove where he was a few years ago," Mackanin said.
Mackanin said he has not followed Altherr too closely, which only makes sense. The front office has asked for the long look at Brown, and his time will be up only when it decides that is the case.
"I've got enough outfielders to try to get playing time," Mackanin said. "I know Altherr has been having a lot of success, and that's good, because he's an above-average defender. But I don't concern myself with that right now, because there's so much in the near term and long term to iron out. That's the least of my concerns right now.
"It's important for us to give [Brown] every chance that we can to prove either that he's going to be in our future or not."
Todd Zolecki is a reporter for MLB.com. Read his Phillies blog The Zo Zone, follow him on Twitter and listen to his podcast. This story was not subject to the approval of Major League Baseball or its clubs.