Trip stirs fond memories of family for Semien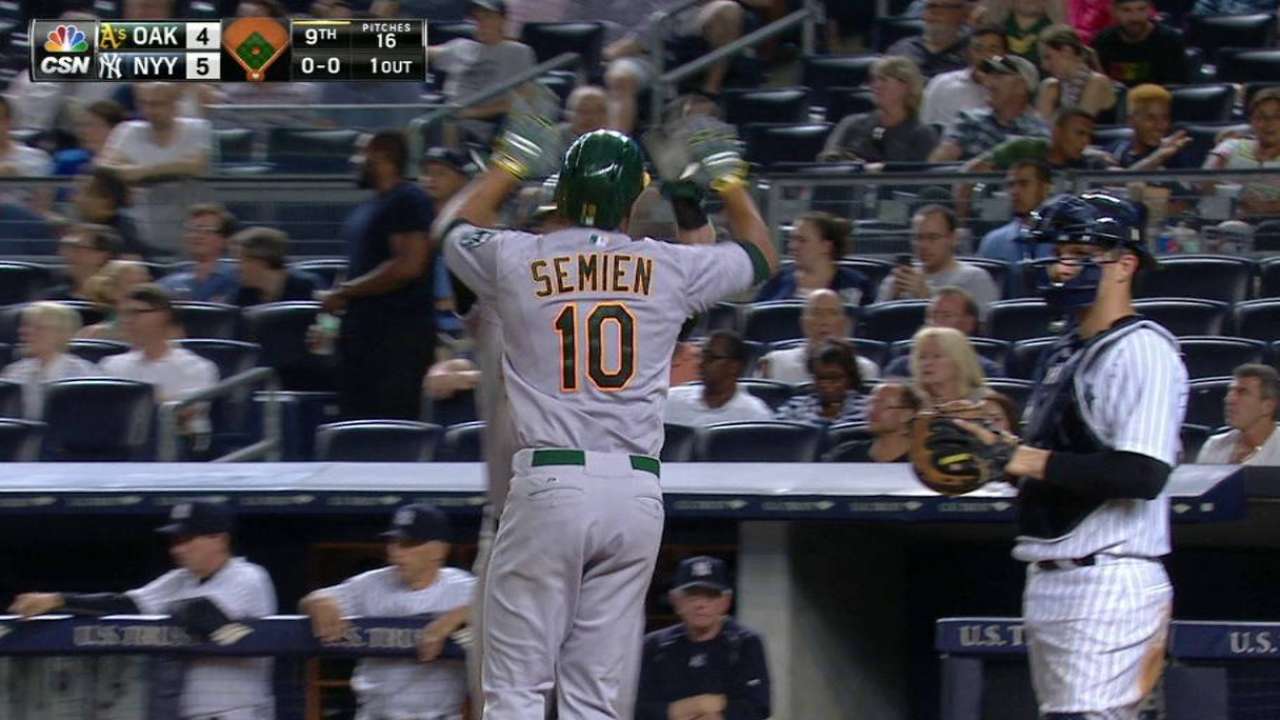 SAN FRANCISCO -- As a kid, Marcus Semien often came to Giants games with his grandmother, Carol Phillips, and dreamed of one day playing a Major League game inside the stadium.
On Saturday, the A's shortstop got that chance, making his first professional start at AT&T Park and batting leadoff. He went 0-for-5 in the A's 2-1 loss, striking out with two men on to end the game.
"There's nothing like being on the field as a player," Semien said before the game. "You couldn't ask for anything more."'
His fondest memories aren't ones that happened on the field. They're the memories he has with his grandmother, who passed away in 2013.
Carol Phillips worked for Webcor Builders, a public utilities company based in San Francisco, and she often got tickets as a perk from work.
Phillips never hesitated to take Semien, whose love for the game and potential to play it at a high level grew year by year.
"She loved to take me to games," Semien said. "She introduced me to the big league game. Being able to watch big league baseball in person was awesome, and she made that happen."
• Left-hander Sean Doolittle (strained left shoulder) threw from flat ground Saturday morning and is scheduled to throw a bullpen session on Thursday before the A's face the Indians at the Coliseum.
• Outfielder Coco Crisp (neck strain) will likely make a rehab assignment, but A's manager Bob Melvin is not sure when and where the assignment will be. Melvin said he doesn't expect Crisp to play any less aggressively than he usually would in those games.
"To an extent that might even lead to more injuries if you're trying to think about things that are instinctive," Melvin said.
Trevor Hass is an associate reporter for MLB.com. This story was not subject to the approval of Major League Baseball or its clubs.