MLB.com Columnist
Hal Bodley
July slide not deterring Buck, Orioles
After losing 15 of 20, Duquette says Baltimore will still be buyers at Deadline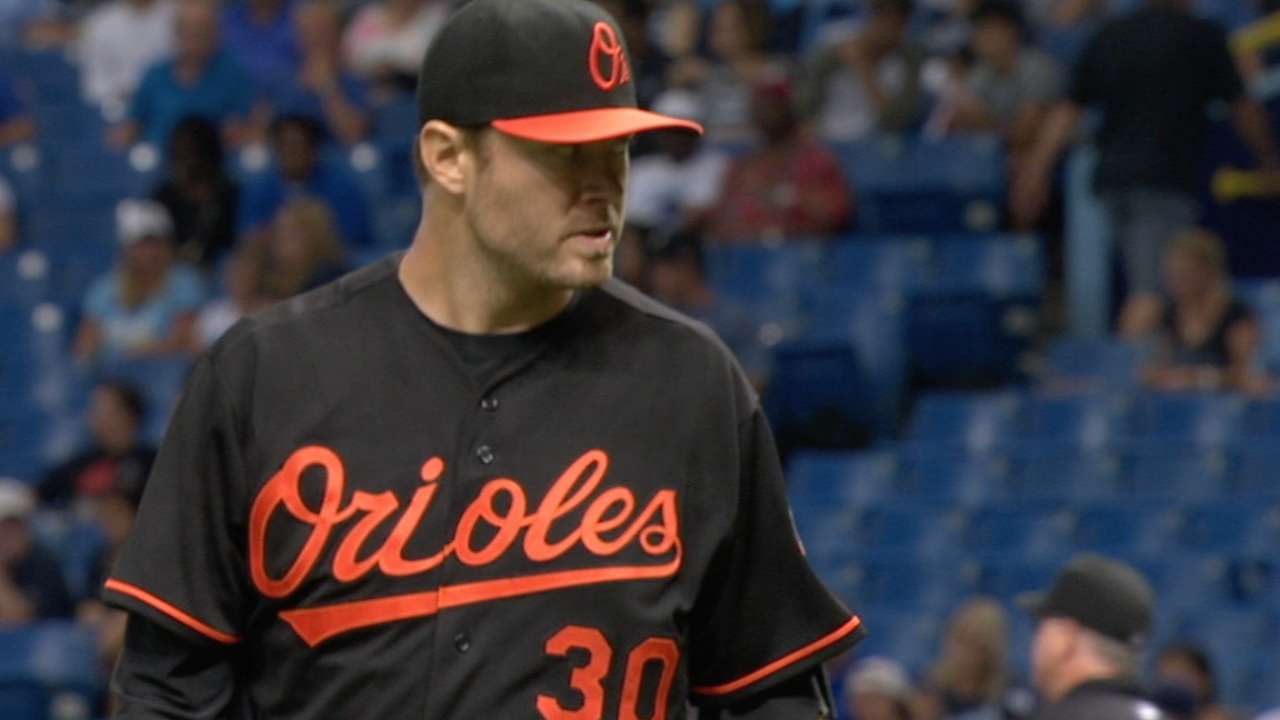 ST. PETERSBURG -- The Orioles are struggling, which is putting it mildly.
Baltimore began July a half-game up in the American League East, the lofty position it held most of 2014 as it won the division title for the first time since 1997.
Now, three weeks later, after a 3-1 loss to the Rays on Friday night, the Orioles are in the midst of a slide that has left them in fourth place, three games under .500 (46-49) and seven behind the first-place Yankees.
If you're an Orioles fan, it was tough to watch the Birds walk a 1-0 tightrope for most of Friday night, then blow the lead when the Rays awoke for an eighth-inning rally.
The Orioles need help. Pronto!
With Friday's non-waiver Trade Deadline less than a week away, pressure is on executive vice president Dan Duquette to wave his magic wand. Or better yet, pull a Nelson Cruz out of his hat.
The Orioles certainly miss Cruz. It was the bargain-priced slugger who led the Majors in homers last year with 40 and finished third in the American League with 108 runs batted in. Then, as a free agent, he landed a four-year, $57 million contract with Seattle.
And even though the recast Mariners are not living up to expectations, Cruz has hit 24 homers and driven in 57 runs. The Orioles sure could use those numbers.
Duquette, who has a solid track record when it comes to deal making, insists that the Orioles will be buyers at the Deadline. He's looking for an outfield bat and pitching depth.
"We're still contenders for the playoffs, and we're going to approach our season as though we're going to advance to the playoffs," he told reporters in the midst of being swept by the Yankees earlier this week. "So, we're going to continue to build and add to our team where we can."
As they prepared for Saturday night's game, the O's had lost four in a row and 15 of their last 20.
"We need more offensive production from our outfield, there's no question about that," said Duquette.
If anyone can pull the Orioles out of their doldrums, it's Buck Showalter, the AL Manager of the Year in 2014.
Reporters grilled him after Friday's loss, asking about wasting a stellar pitching performance by Chris Tillman, and a poor outing by the usually reliable reliever Darren O'Day, who had a 1.04 ERA before he allowed two crucial eighth-inning runs and took the loss.
"They story is, we just didn't score any runs," Showalter said. "I'm not going to sit here and critique pitching. We've got to give our pitchers some margin of error. The bottom line is, we've got to score more runs."
Of the difference between this season and 2014, Showalter said: "I'm not going to get into personnel and stuff like that. I think the answer is here. We have a lot of players who've competed in pressure and playoff situations and the postseason. I trust that.
"I think our best baseball is always ahead of us; I think our best moments are ahead of us. There's so much negativity that can creep in, because people are always pounding on it. And also on the flip side, [players] get a little too positive when things are going real well."
As the manager, Showalter says, he tries to keep everybody in the reality of the moment.
"The hardest thing to do in team sports is to win when you're expected to win," he said. "A lot of people didn't expect us to win this year, but that's not the expectation we had. We're trying to defend a title."
Showalter declined to discuss personnel, but Cruz's bat, the relief pitching of left-hander Andrew Miller, who held opposing hitters to a .119 average and posted 1.35 ERA, and Nick Markakis' 14 homers and 50 RBIs have been missed.
Showalter shrugs off the notion that players can forget what it takes to find success.
"They don't forget that," he said. "If they do, they have plenty of teammates to remind them. It's got to come from them, the entire atmosphere.
"One thing that really bothers me is when guys say, 'My numbers will be there at the end of the year.' Don't say that around me. I had a guy who had 102 RBIs one year and I can't remember one big run he ever drove in."
Tillman, who shut down the Rays for seven innings on two hits, said the skid has not affected clubhouse morale.
"The clubhouse if fine," Tillman said. "Win or lose, rain or shine, it's always the same. We have a lot of veteran guys in there. We're playing pretty good baseball, but we just have to get timely hits and timely pitching."
Since the All-Star break, the Orioles are 10-for-45 with runners in scoring positon, an anemic .143 average.
'We're just a couple hits away, a couple runs away, but it's all part of the grind," said O's third baseman Manny Machado, who's batting .301. "We have to go out there and do better with runners in scoring position. We have to do our part."
Showalter put it this way: "It's always a week away from the sky opening up and then everything's sunny."
And then added: "But you have to make it happen."
Hal Bodley is the senior correspondent for MLB.com. Follow him @halbodley on Twitter. This story was not subject to the approval of Major League Baseball or its clubs.