Nelson's 8th win extends streak of strong starts
Brewers starter delivers 7 shutout innings vs. D-backs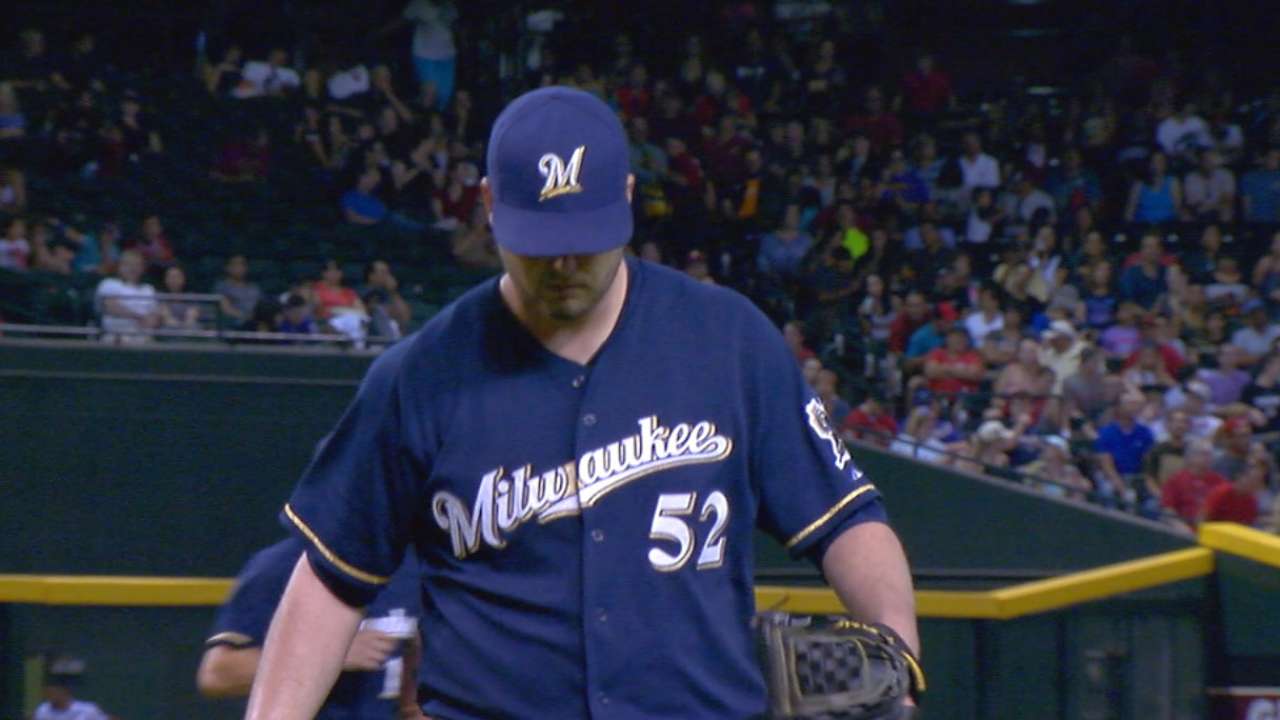 PHOENIX -- This was another glimpse into what the Brewers hope is Jimmy Nelson's future. The 26-year-old grinded through a 31-pitch first inning without allowing a run, then continued to keep the D-backs off the scoreboard through the end of the seventh in what became a 2-1 win at Chase Field.
Nelson improved to 8-9 overall but 5-1 with a 2.54 ERA over his last six starts, a stretch that has roughly coincided with a similar run for 25-year-old rookie Taylor Jungmann, who will follow Nelson to the mound when the series continues on Saturday.
"Over the last month, we've played really good baseball and we have a bunch of young starting pitchers who are really throwing the ball well," said right fielder Ryan Braun, whose 18th home run helped fuel Friday's win. "We've got four young guys [Mike Fiers, Wily Peralta, Nelson and Jungmann] who are basically making the minimum, none of them are eligible for arbitration for a while, and they're all at least No. 2 or 3 starters, with the potential to be better than that.
"I think it's exciting and encouraging for all of us."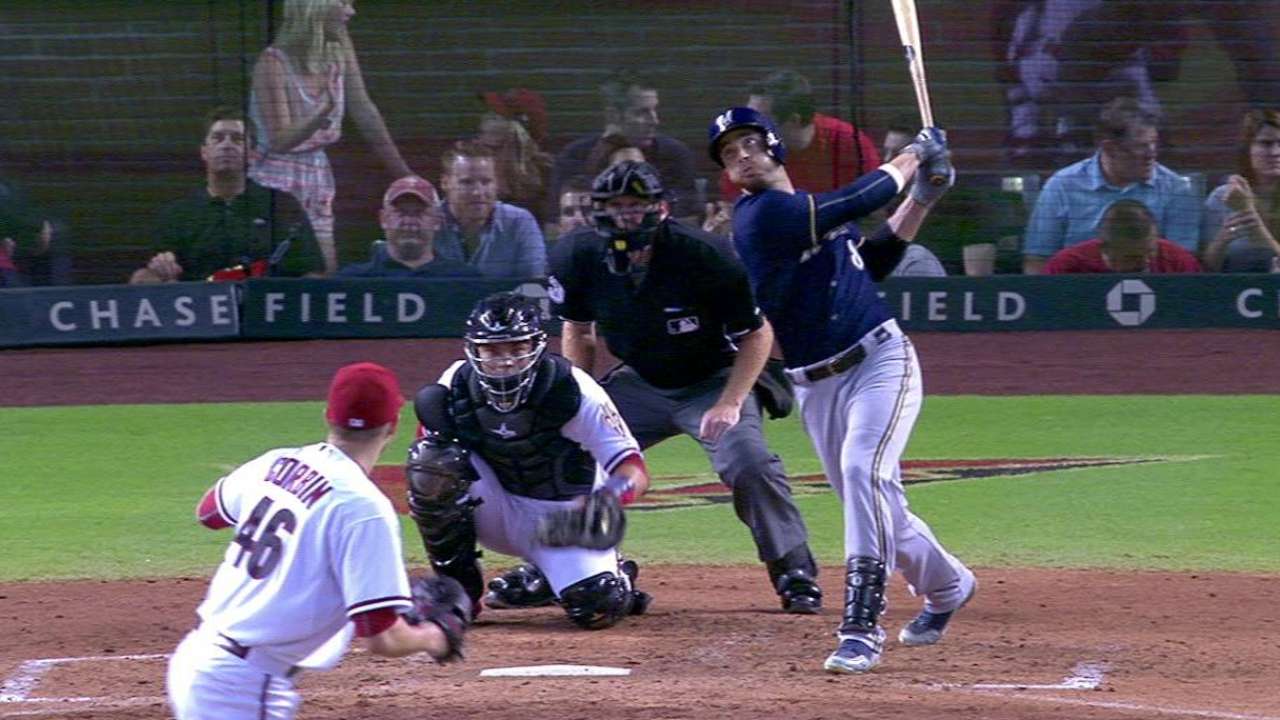 Nelson has been encouraging in short bursts all season. There was an eight-inning, one-run, three-hit effort in Cincinnati on April 22, and a nearly identical outing in Detroit on May 19. On June 24 against the Mets, Nelson did it in front of the home fans, allowing a run on two hits in eight innings to begin his strong six-start run.
"I'm not letting the stuff that happened before affect me," Nelson said. "Not trying to do too much. Not trying to go out there and paint corners and strike everybody out, just throwing to my strengths and letting the defense work."
Two escapes saved Nelson's latest gem. In the first inning, a wild pitch put runners on second and third base with one out, but Nelson struck out David Peralta and Chris Owings.
In the third, Nelson intentionally walked the dangerous Paul Goldschmidt following a double steal to load the bases for Peralta, who hit a comebacker to Nelson for a 1-2-3 double play.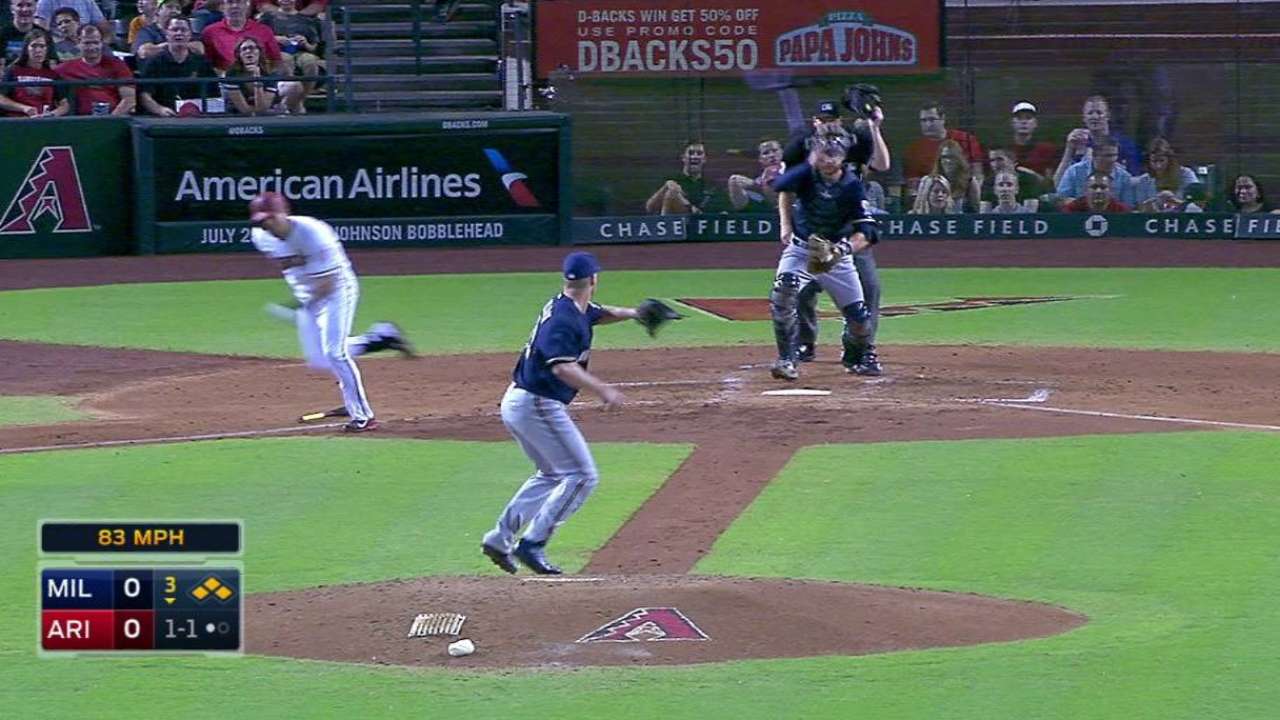 "That was nice," Nelson said. "We practice those in Spring Training, and that was the first one of those I've gotten in a while. It's always kind of weird as a pitcher, because you're pitching at whatever your effort level is, and all of a sudden you get a comebacker. You don't want to throw it 100 mph at him, but at the same time you don't want to lob it, because you'll end up overthrowing him. It's actually a little tougher than it looks."
Like everything else he did Friday, Nelson executed.
Adam McCalvy is a reporter for MLB.com. Follow him on Twitter @AdamMcCalvy, like him on Facebook and listen to his podcast. This story was not subject to the approval of Major League Baseball or its clubs.