Braun packing power on road this season
Brewers slugger has hit 14 of 18 homers away from Miller Park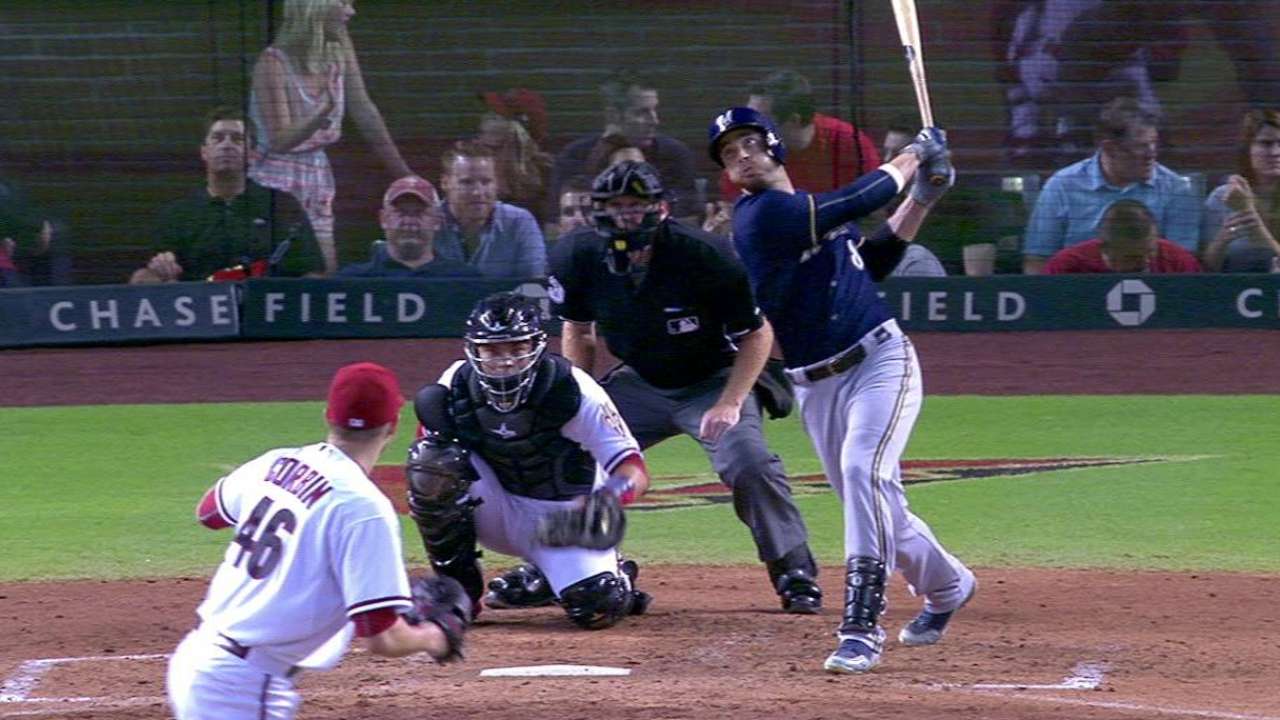 PHOENIX -- After hitting three home runs in front of a particularly opinionated crowd at Citizens Bank Park last season, Ryan Braun suggested he was fueled by the boos that precede all of his at-bats on the road since returning from a 2013 suspension. This season, the numbers are bearing out that assertion.
After homering for the second straight night in the Brewers' 2-1 win over the D-backs on Friday night, Braun has played precisely the same number of games on the road this season (46) as on the road. And despite playing those home games at cozy Miller Park, where Braun has traditionally done the bulk of his damage, he's been a far more dangerous hitter while brushing off those boos. On the road, Braun has 14 home runs and 41 RBIs. At home, he has four home runs and 20 RBIs.
"And Miller Park is such a pitchers' park, you know?" Braun joked.
He shrugged and added, "I'm sure it's a statistical anomaly. Over the course of my career, I'm sure my numbers are pretty similar home and road. If anything, better at home. I feel like I've always hit the ball pretty well there."
He was right; the rest of Braun's career has been more balanced, with a slight power edge in home games. Entering the year, Braun had a slightly better home run rate (one per 17 at-bats) and slugging percentage (.567) at home than on the road (one home run per 20 at-bats and a .534 slugging percentage).
This season, Braun is slugging .360 at home and .602 on the road. He leads the Brewers with 18 home runs this season, two more than runner-up Adam Lind, and one shy of Braun's total from all of 2014.
"Hopefully I have a lot of homers left at home throughout the course of the year," Braun said. "We have about 20 games at home in August."
Adam McCalvy is a reporter for MLB.com. Follow him on Twitter @AdamMcCalvy, like him on Facebook and listen to his podcast. This story was not subject to the approval of Major League Baseball or its clubs.