Clutch CarGo: Gonzalez sparks Rockies
Right fielder launches two game-tying home runs in exciting win over Reds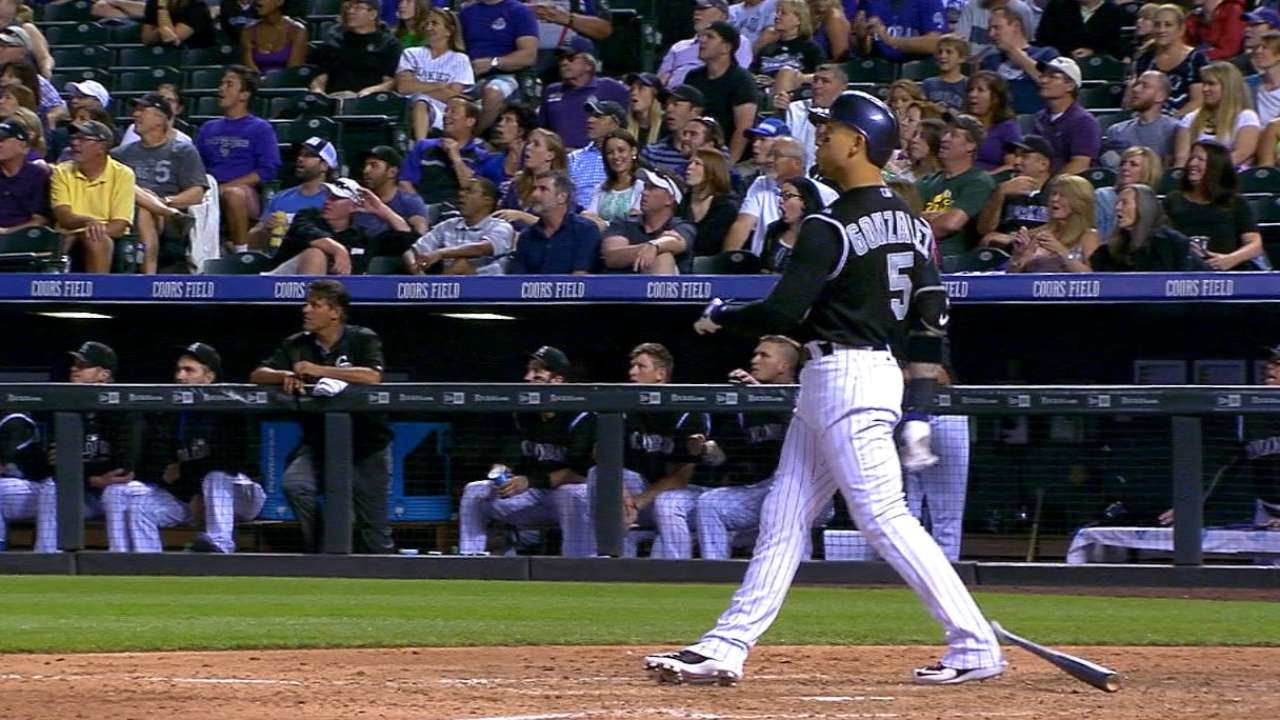 DENVER -- The Rockies' Carlos Gonzalez gently and stylishly released the bat as his first homer on Friday night sailed to the second deck of Coors Field and down an entry tunnel. His second he celebrated with a double-fist pump before a graceful trot.
The homers, which lifted Gonzalez's homer total to 15 this season, six this month and three in the last two games, were key moments in the Rockies' 6-5 victory over the Reds.
The ability to watch every inch of his homers -- Friday's were projected by Statcast™ to travel a combined distance of 873 feet from home plate -- sustained Gonzalez through a rough start to the season in which the right fielder hit .200 with four home runs and 12 RBIs through May 21. After missing much of the last two seasons with injuries, Gonzalez repeatedly said the timing and power would return, even as whispers abounded that at just 29 he was a declining player.
But in the 43 games since May 22, he is hitting .304 with 12 homers and 29 RBIs on a team that occupies last place in the National League West. Gonzalez said his left knee that was surgically repaired last August has been healthy, but he needed time to regain timing and rebuild strength in his legs.
He describes the knee as improving, rather than all the way back. But a look at the video from Friday shows that his smile is back.
"This is exactly the moment that I was talking about," Gonzalez said. "It's just a good feeling when you're able to hit and help this club. It's kind of hard to believe we have 41 wins. Guys want to win so bad, but for some reason things are not happening. But whenever we have a big win like that, it motivates everybody. You can see the smiles."
Gonzalez is one reason for Rockies manager Walt Weiss to smile through the team's problems.
"It just looks like he's starting to sustain something," Weiss said. "It looks like he's in one of those zones right now."
Because this is happening in July with the Rockies last in the National League West, Gonzalez's hot streak raises the specter of him possibly being traded to another club.
Gonzalez's name hasn't come up in any concrete trade rumors, and the $37 million he is owed in 2016 and 2017 could complicate any deal. But with the Rockies in position to use players as assets to acquire building blocks for the future, they're forced to explore trade options.
It's an uncertain time for Gonzalez's career, but the way he is playing makes this a happy time.
"I just put the uniform on and I go out there and represent the Rockies as long as they want me to," Gonzalez said. "I love playing here. I love playing anywhere, because it's baseball, and that's something we can't control."
Thomas Harding is a reporter for MLB.com. Follow him on Twitter @harding_at_mlb, and like his Facebook page. This story was not subject to the approval of Major League Baseball or its clubs.