Hernandez among 10 top prospect performers Friday
Astros No. 7 prospect rips 2 homers and has swatted 5 jacks in his past 5 games for the Hooks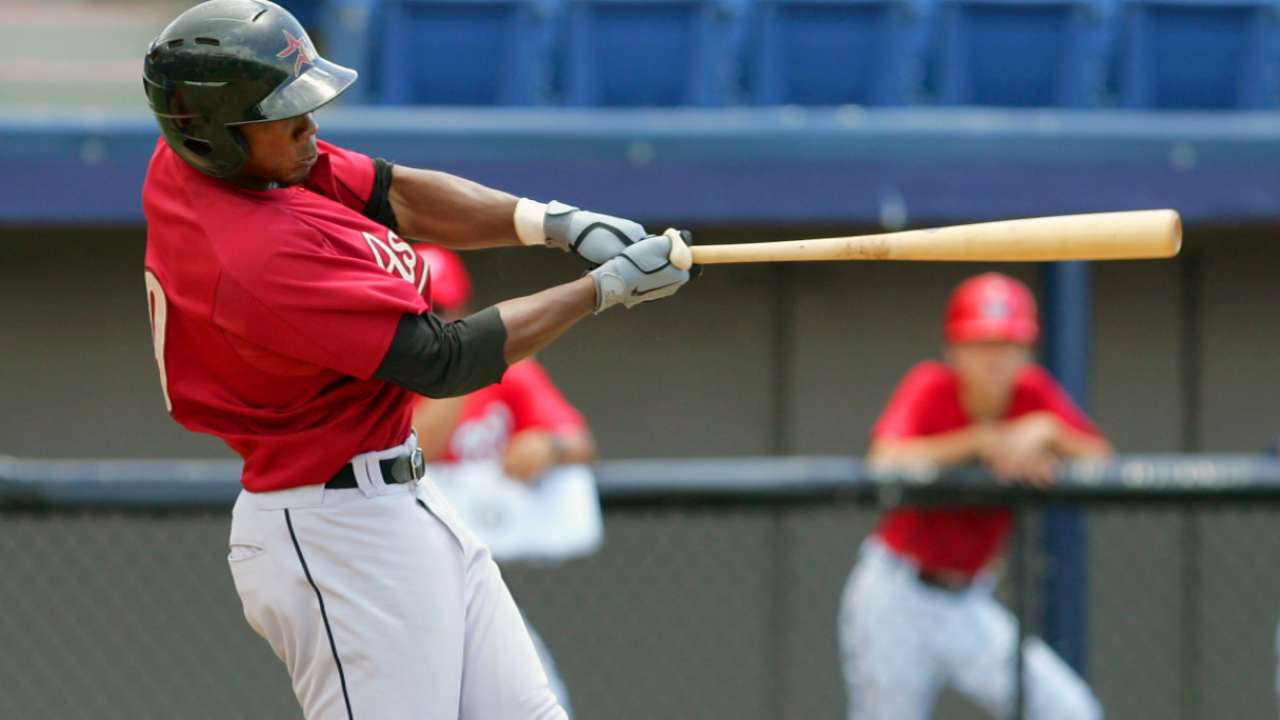 Double-A Corpus Christi coasted to a 9-3 win over Frisco thanks to three homers from top prospects.
Astros No. 7 Teoscar Hernandez did most of the damage, swatting two deep balls and finishing 2-for-5 with four RBIs. The outfielder has at least one homer in his past three games and five total in his past five contests. His .206 average is the highest it's been since July 5 and Hernandez now has 13 jacks and 33 RBIs on the year.
Helping him out was No. 10 prospect A.J. Reed, who launched his 25th home run of the season -- good for second in the Minors -- and collected his 82nd and 83rd RBIs in a 1-for-5 night. He's done most of his damage with Class A Advanced Lancaster this year, but already has 11 RBIs in 11 starts for Corpus Christi.
Frisco couldn't manage much of an offensive rebuttal, but Rangers No. 7 prospect Nick Williams tried. The 21-year-old center fielder went 2-for-5 with a double and a solo homer for the RoughRiders.
He's been doing damage all year and now has a .302/.361/.489 line with 13 homers and 44 RBIs. Williams has hit in five straight games and his batting average is the highest it's been since May 18.
The rest of the 10 best performances from top Minor Leaguers
• Brewers No. 10 prospect Tyler Wagner notched a career high 11 strikeouts, a number that also marked a new franchise record for Double-A Biloxi. The 6-foot-3 right-hander allowed two runs on seven hits while walking one and picked up his first win since June 26. He stands at 7-5 with a 2.53 ERA. Before Friday's strong performance, Wagner had notched nine strikeouts in his most recent start, but did not collect more than seven punchouts in his previous 15 outings.
• Cubs No. 3 prospect (No. 44 overall) Albert Almora knocked in a run in three different plate appearances for Double-A Tennessee. The left fielder led off the second inning with a solo homer, recorded an RBI groundout in the sixth and cracked a sacrifice fly in the eighth inning of the Smokies' 8-3 win over Chattanooga. He finished 1-for-4 with three RBIs. Almora has four homers on the season, but two of them have come in his past seven games for Tennessee. He has a dinger and five RBIs since returning from the Pan-Am Games on July 21.
• Mets No. 26 prospect Eudor Garcia went 4-for-5 with three doubles, one homer and five RBIs for the Class A Savannah Sand Gnats. The latter number was a career high and Garcia is hitting .287/.322/.459 with 16 doubles, three triples, eight homers and 41 RBIs. Drafted in the fourth round last season, the third baseman hit .262 with two homers in 55 games for Rookie level Kingsport before he was promoted to Savannah in 2015.
• Padres No. 1 prospect (No. 37 overall) Hunter Renfroe is allergic to slumps. Entering Friday, he had failed to hit in three of four games for the first time since late May. By the end of the night, he had two homers for Double-A San Antonio in a 7-1 win over Midland. The outfielder finished 3-for-5 with three RBIs to put his 1-for-15 run in the past. He's hitting .267 with 12 homers and 44 RBIs on the season for the Missions. A first-round pick in 2013, Renfroe made huge strides last season for Class A Lake Elsinore and San Antonio. He hit .267/.342/.470 with 21 jacks and 75 RBIs, numbers that he has a chance to catch if he keeps hitting well in Texas.
• Pirates No. 3 prospect (No. 26 overall) Josh Bell homered for the fifth time this season, going yard in the eighth inning to draw Double-A Altoona a bit closer in a 5-4 loss to Akron. The designated hitter finished 2-for-4 with three RBIs in the losing effort and has four multi-hit games in his past seven contests. Bell has 59 RBIs on the strength of 16 doubles and six triples and has also swiped six bases this year.
• Red Sox No. 1 prospect (No. 6 overall) Yoan Moncada clubbed his fourth homer of the past 10 games for Class A Greenville. The 20-year-old finished 1-for-4 as the Drive fell to Augusta, 8-3. He's hit in nine of his past 10 games and boasts a season line of .270/.362/.423 with five homers, 22 RBIs and 18 stolen bases.
• Rockies No. 3 prospect (No. 47 overall) Kyle Freeland began his season a little later than his peers, but he already looks comfortable. The 22-year-old provided three hitless innings in his 2015 debut for Rookie-level Grand Junction on Friday night, striking out three while walking one. Drafted No. 8 overall by Colorado last year, Freeland went 3-0 with a 1.15 ERA in 10 starts for Grand Junction and Class A Asheville while piling up 33 strikeouts against six walks. He missed the first few months of this season after surgery to remove bone chips in his elbow, as well as shoulder fatigue.
Alex M. Smith is a reporter for MLB.com. This story was not subject to the approval of Major League Baseball or its clubs.