Felix limits powerful Blue Jays' lineup
Mariners ace allows one earned run in seven innings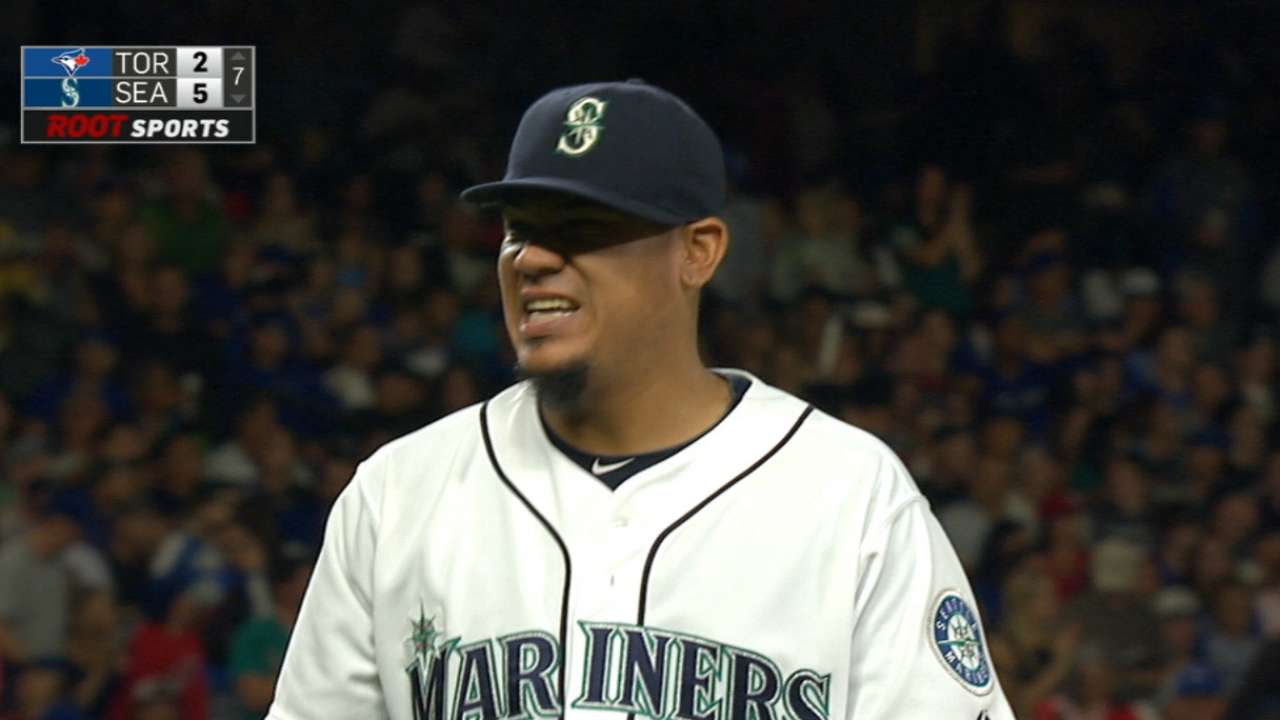 SEATTLE -- Felix Hernandez paid for two mistakes in the Mariners' 5-2 win over the Blue Jays on Friday night, one in the first inning and one in the sixth.
But over a seven-inning, two-run performance, one that tied Hernandez with the Astros' Dallas Keuchel for the American League lead with 12 victories, the AL's most prolific offense managed little else against Seattle's ace.
Jose Reyes entered Friday's game 4-for-8 against Hernandez and continued that success just three pitches into the game, chopping an infield single. Hernandez attempted to nail the speedy Reyes at first, but airmailed the throw. Reyes scored two batters later to give Toronto a 1-0 lead.
"I made the mistake. It was an error," said Hernandez, who entered the game with a 5.43 career ERA against Toronto. "I should've let it go. I'm trying to get an out, but like I said, I should've let it go."
From there, Hernandez settled in. He threw just seven pitches in the second -- all strikes -- to retire the Blue Jays in order, notching two of his seven strikeouts in the process.
Between the second and fifth innings, he allowed just one hit -- a Reyes single to center in the third -- and retired 10 straight before a Jose Bautista home run to left with two outs in the sixth.
"He's a tough hitter and you can't make any mistakes," Hernandez said of Bautista. "It was in the middle."
Hernandez's 100th and final pitch was one of his best, an 81-mph curveball to strike out Reyes and end the seventh with runners on first and third.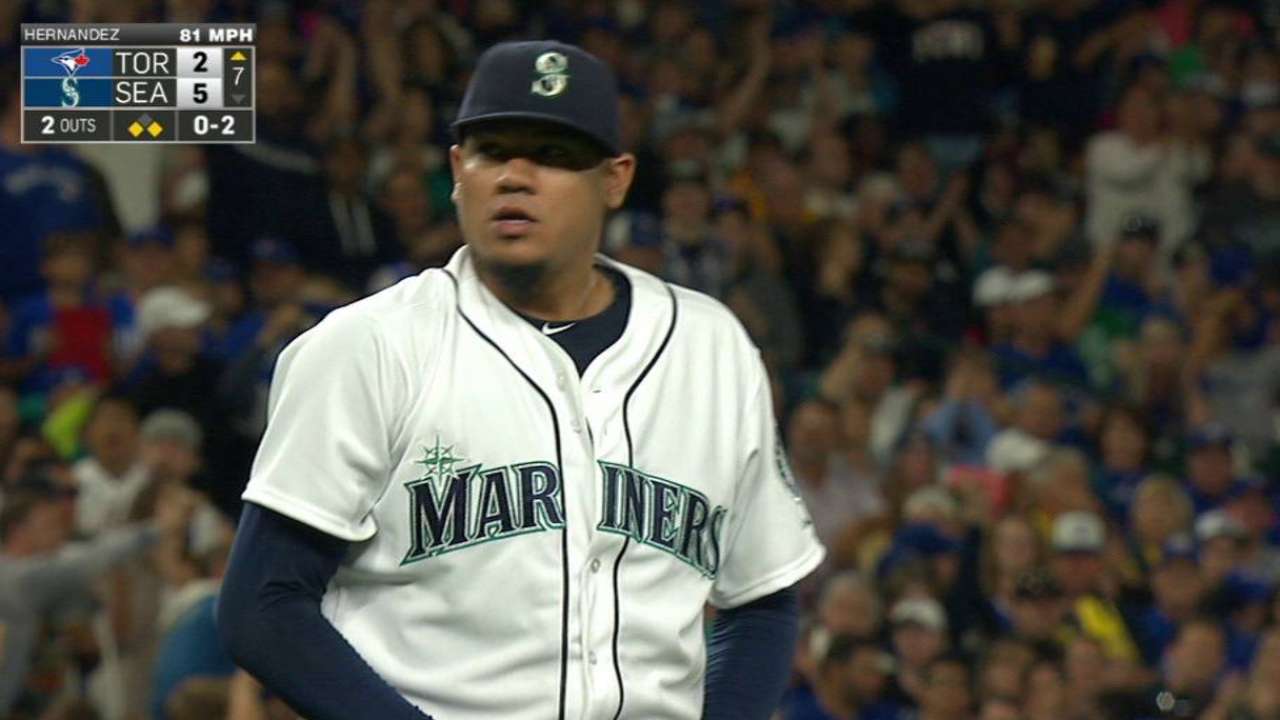 "I think he hit his spots a little bit more. He attacked the zone early, which allowed him to expand late," said Mariners manager Lloyd McClendon.
Hernandez -- who's 3-2 with a 1.51 ERA over his past seven starts -- has lasted six or more innings and allowed two earned runs or fewer in five consecutive starts. In all five of those starts, he gave his team a chance to win. The difference Friday, as it was in a July 9 victory over the Angels, was Seattle's offense gave him a lead with which to work.
It was a performance the Mariners have long expected and seldom been able to deliver -- three hits from Nelson Cruz, a two-run triple from Robinson Cano and an opposite-field two-run homer from Mark Trumbo -- but it started with yet another solid outing from Hernandez.
On a night Seattle posted a second straight win for the first time since June 30 and July 1, Hernandez's teammates were the first to highlight that point.
"You've got to give credit first to Felix," Cano said. "He's the kind of guy you want to score a lot of runs for."
Andrew Erickson is an associate reporter for MLB.com. This story was not subject to the approval of Major League Baseball or its clubs.