Haren loses what could be last start for Miami
Marlins starter trying not to let trade talk stress him out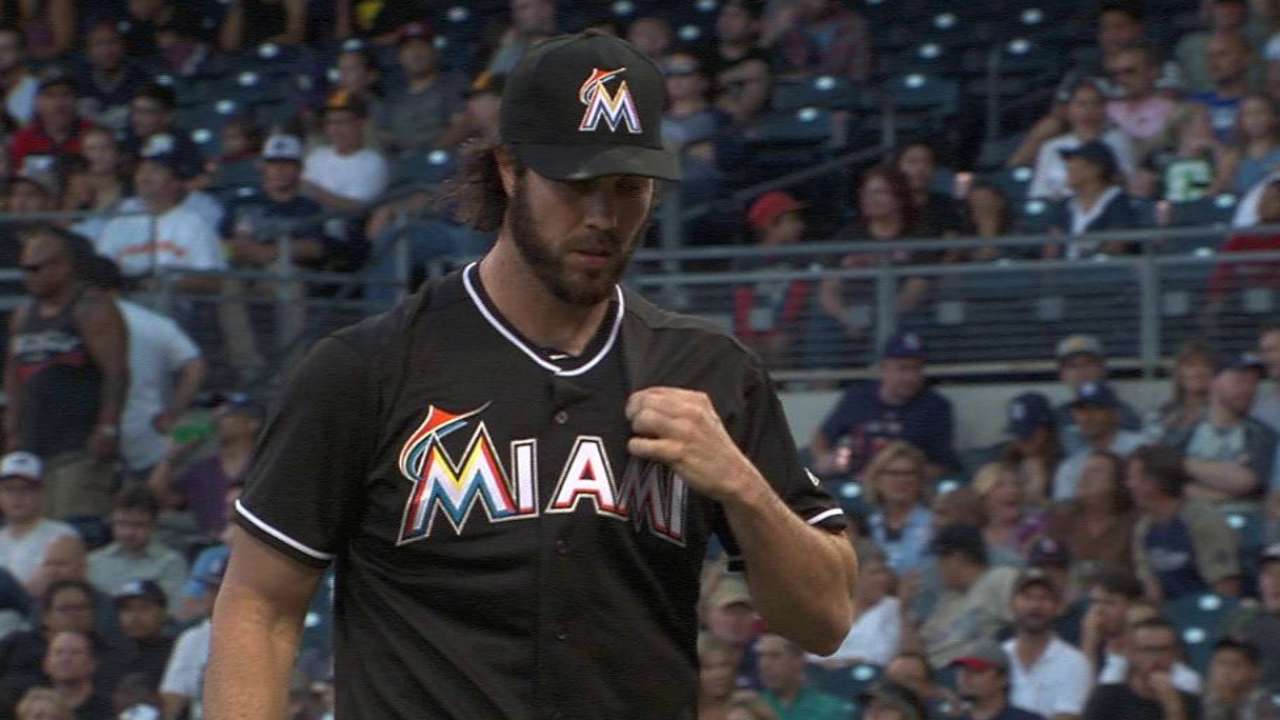 SAN DIEGO -- With his poise and composure, Dan Haren has a way of maintaining his focus, even in the most stressful of times. But in the Marlins' 3-1 loss to the Padres on Friday night at Petco Park, the 34-year-old was kicking himself over a lapse on the pitch Matt Kemp blasted for a home run the fifth inning.
Haren was tagged for three solo home runs that did enough damage to prevent him from collecting his 150th career victory. Aside from the game, the veteran also is dealing with the possibility of being traded.
The July 31 Trade Deadline is a week away, and Haren was being scouted by a number of teams Friday, including the Blue Jays and Orioles.
"It's not my first time I've gone through this," Haren said. "I keep up to date with some stuff. It's not fun for anybody, especially having a family and stuff. I've got like 10 people here. If something happened, that would [stink]. They'd be here and I'd be going somewhere else."
The Marlins made a move earlier in the day, dealing reliever Steve Cishek to the Cardinals for pitching prospect Kyle Barraclough.
• Cishek sent to Cardinals for Minor League pitcher
"That's baseball," Haren said. "I've always respected the game. We get paid a lot of money. If I've got to go somewhere else, I've got to go somewhere else. They've talked to me about it. I told them either way, I'm fine. I just want to keep pitching."
The Marlins are weighing their options regarding Haren, who is a free agent after the season. The Dodgers are covering all $10 million of Haren's salary, so Miami can decide if it is worth retaining him or making a trade.
"I don't really have any control over it," the right-hander said. "No use worrying. It's like turbulence on a plane. Nothing you can do about it."
What Haren could control on Friday was being on the mound. The long ball caught up to him, as he yielded a blast to Brett Wallace in the fourth inning. The Padres then claimed the lead for good with back-to-back, two-out homers by Yonder Alonso and Kemp.
"Very frustrating," Haren said. "The Alonso pitch, I'm actually OK with. It was a split, not my best pitch. He's struggled on changeups. So I threw one, and it was a bad one. He took it deep.
"The one I'm most upset about is the Kemp one. I lost my focus there for a second. I left one middle-up, over the plate. That's unlike me to kind of lose it there. I'm a little upset about that one."
Joe Frisaro is a reporter for MLB.com. He writes a blog, called The Fish Pond. Follow him on Twitter @JoeFrisaro and listen to his podcast. This story was not subject to the approval of Major League Baseball or its clubs.