Tropeano heads back to Triple-A after solid effort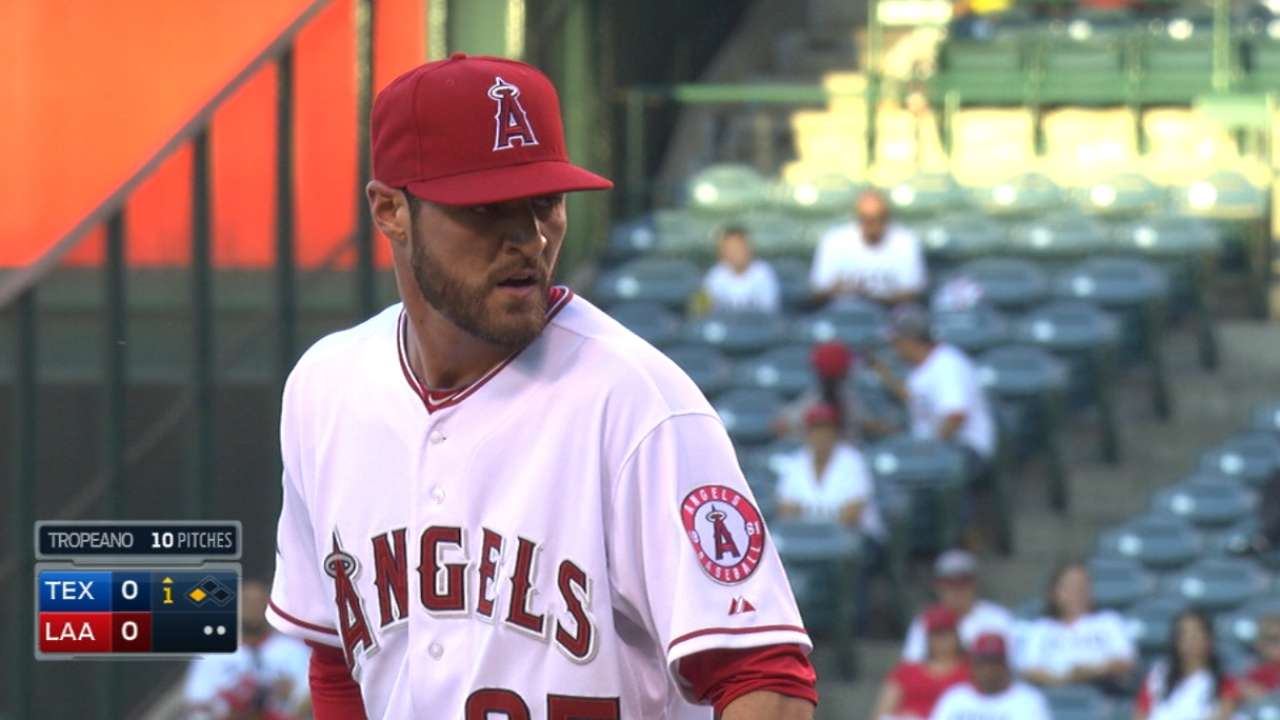 ANAHEIM -- Nick Tropeano came up, pitched a baseball game and is headed back to Triple-A Salt Lake. He knew that was the plan.
The 24-year-old right-hander, ranked as the Angels' No. 4 prospect by MLB.com, made his second start with the team on Friday -- allowing four runs on seven hits and striking out four over six-plus innings in the Angels' 4-2 loss to the Rangers. Like Tropeano's first start, on April 23, this was a spot start, necessitated by the first rainout in Anaheim in 20 years on Sunday.
After the game, the Angels optioned Tropeano back to Salt Lake. The team needed to make room for corner infielder Conor Gillaspie, acquired from the White Sox on Friday morning as the July 31 Trade Deadline approaches. Gillaspie will be added to the active roster Saturday and could start at third base.
"I had a pretty good idea of what was coming," Tropeano said. "You've just got to take it like any other start. It was my turn to throw, I took the ball and tried to give my team an opportunity to win."
Tropeano could be on the trade market himself, a solid right-handed pitching prospect the Angels could use as a chip to acquire another bat -- ideally a left-handed hitter who can play left field; either a leadoff type or a power bat to hit behind Albert Pujols.
On Friday, Tropeano was solid for the most part, except for a three-run fifth inning, when he left some pitches up in the strike zone and threw away a pickoff attempt with runners on first and third.
That inning also included a double by Josh Hamilton, who was returning to Anaheim for the first time since the Angels traded him in April. Hamilton was booed heavily for much of the night.
"First-pitch slider," Tropeano said of Hamilton's double. "It was a little up, probably should've bounced it, him being a free swinger and all. Like I handled him in the first AB -- kind of changeups down and he swung over it. I left it up and he took advantage."
Tropeano's outing wasn't as good as his first start with the Angels, when he threw six shutout innings to beat the A's, but it wasn't bad, either.
"For the most part, he gave us a chance to win and I think he showed his stuff here," manager Mike Scioscia said. "Good life on his fastball, really good changeup and threw some good breaking balls."
David Adler is an associate reporter for MLB.com. Follow him on Twitter @_dadler. This story was not subject to the approval of Major League Baseball or its clubs.