Hoover off his game in second straight outing
Reliever has allowed four earned runs over last two innings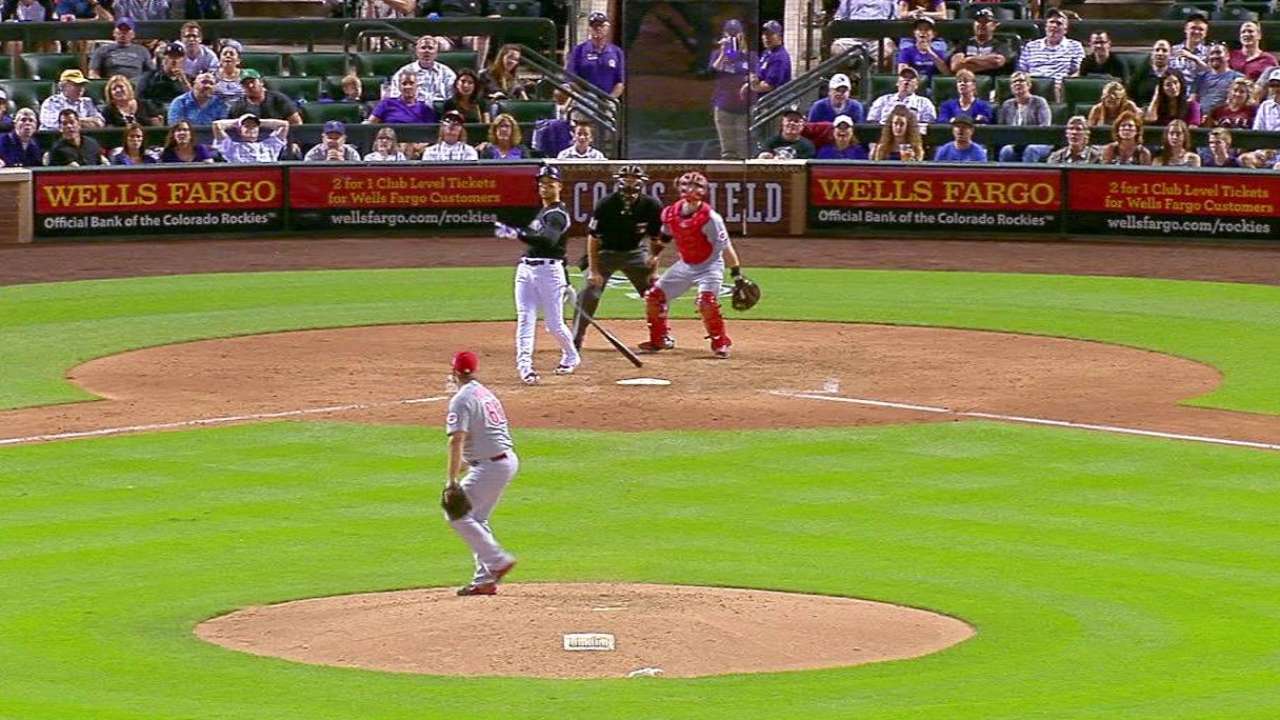 DENVER -- In his first 42 appearances of the 2015 season, Reds reliever J.J. Hoover allowed zero home runs. Over his last two games, Hoover has given up two homers and both were deflating in the late innings.
During their 6-5 loss to the Rockies on Friday, Hoover's second batter in the eighth -- Carlos Gonzalez -- crushed a 2-1 pitch to right-center field for the homer that made it a 4-4 game. Nolan Arenado followed with a triple and after Hoover misplayed a grounder by Corey Dickerson for a hit, a go-ahead run scored on Ben Paulsen's sacrifice fly.
On Tuesday, Hoover couldn't get a ninth-inning save in place of Aroldis Chapman and gave up the game-tying two-run homer to Kyle Schwarber before Cincinnati lost in 13 innings. Before that outing, he had a 1.31 ERA and has been easily one of the Reds' most dependable relievers.
"The other night I just made a bad pitch," Hoover said. "Tonight, I felt like I executed just about every pitch I could. I felt like I've had some of the best stuff I've had this year. I was keeping the fastball down. I made a good pitch to CarGo. He got it. Yeah, it's frustrating."
Coors Field was the scene of one of Hoover's roughest days last season on Aug. 17, when he and Chapman combined to give up five ninth-inning runs. The three-run walk-off homer by Drew Stubbs came off of Hoover.
Gonzalez's homer off of Hoover was his second of the game and third in two games.
"If a guy is on fire, he's on fire," Hoover said. "The best thing you can do is make your pitch and give yourself the best chance to succeed. I felt l executed my pitch. He just won that battle."
Hoover, who was 1-10 with a 4.88 ERA in 2014, has been vastly improved in 2015.
"It's a part of the game. It is for the best of them," Reds manager Bryan Price said. "We got to [John] Axford for a solo homer in a save situation right there. We got to [LaTroy] Hawkins, who has been real good for them. We did our stuff on their bullpen. It's just we've had so many of these games that seem to get sideways on us in these close losses. It certainly challenges all of us to pick it up and be better the next day."
The Reds' bullpen, ranked 13th out of 15 National League clubs in ERA, has been a weak link often this season. Coming out of Thursday's off-day, it was boosted by a decent seven-inning performance by starter Anthony DeSclafani. Skip Schumaker provided a lead with his RBI double in the top of the eighth. Joey Votto took Hoover off the hook in the ninth with a homer against Axford only to see the game lost in walk-off fashion by Reds reliever Ryan Mattheus on a run-scoring wild pitch.
"A lot of regrettable moments in tonight's game," Price said.
Mark Sheldon is a reporter for MLB.com. Read his blog, Mark My Word, follow him on Twitter @m_sheldon and Facebook and listen to his podcast. This story was not subject to the approval of Major League Baseball or its clubs.