Great Scott! Kazmir sizzles in K.C. heat
Left-hander tosses seven shutout innings in Astros debut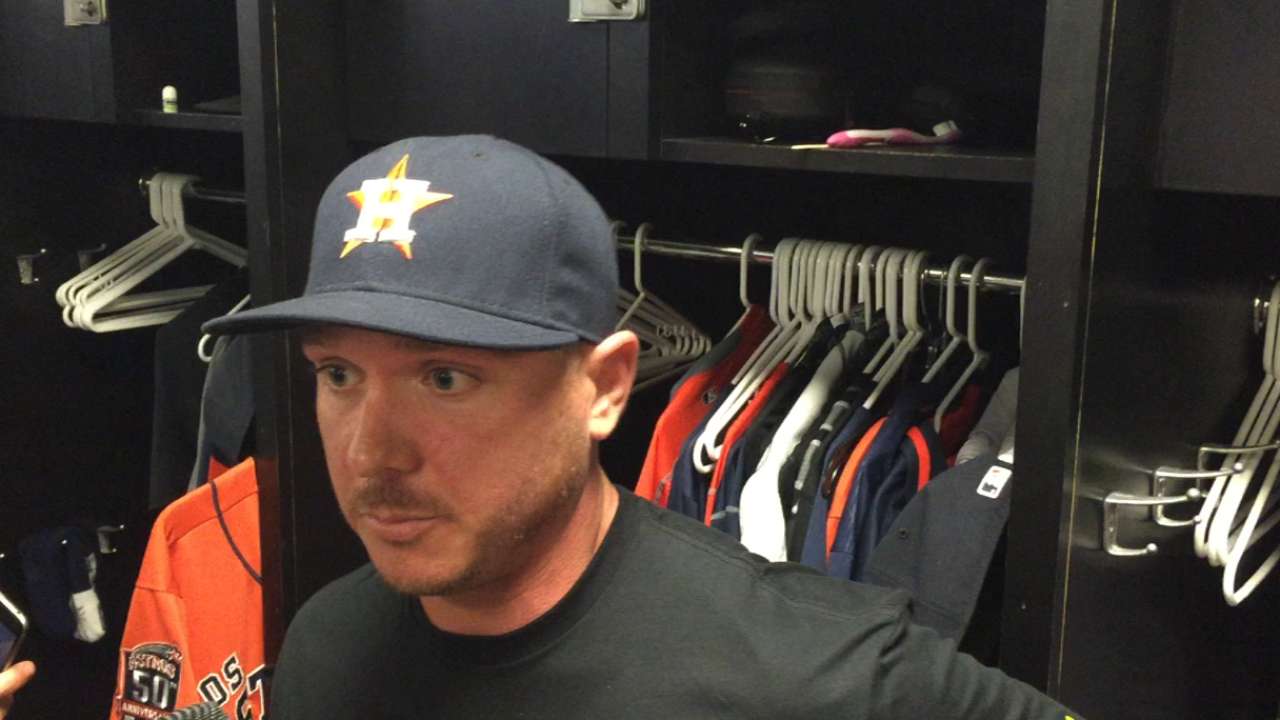 KANSAS CITY -- If he were to be graded on his first impression, Scott Kazmir would certainly receive an "A" from his admiring new Astros' teammates.
One day after being acquired from Oakland, the stylish left-hander showed up at Kauffman Stadium, did an impromptu meet-and-greet and then proceeded to deliver seven scoreless innings on three hits in Houston's 4-0 victory over the Royals. The win helped the Astros move into a virtual tie for first place in the American League West with the Angels, who lost to the Rangers, 4-2, on Friday night.
"He came as advertised," Astros manager A.J. Hinch said. "That was an excellent outing. He had all his stuff working."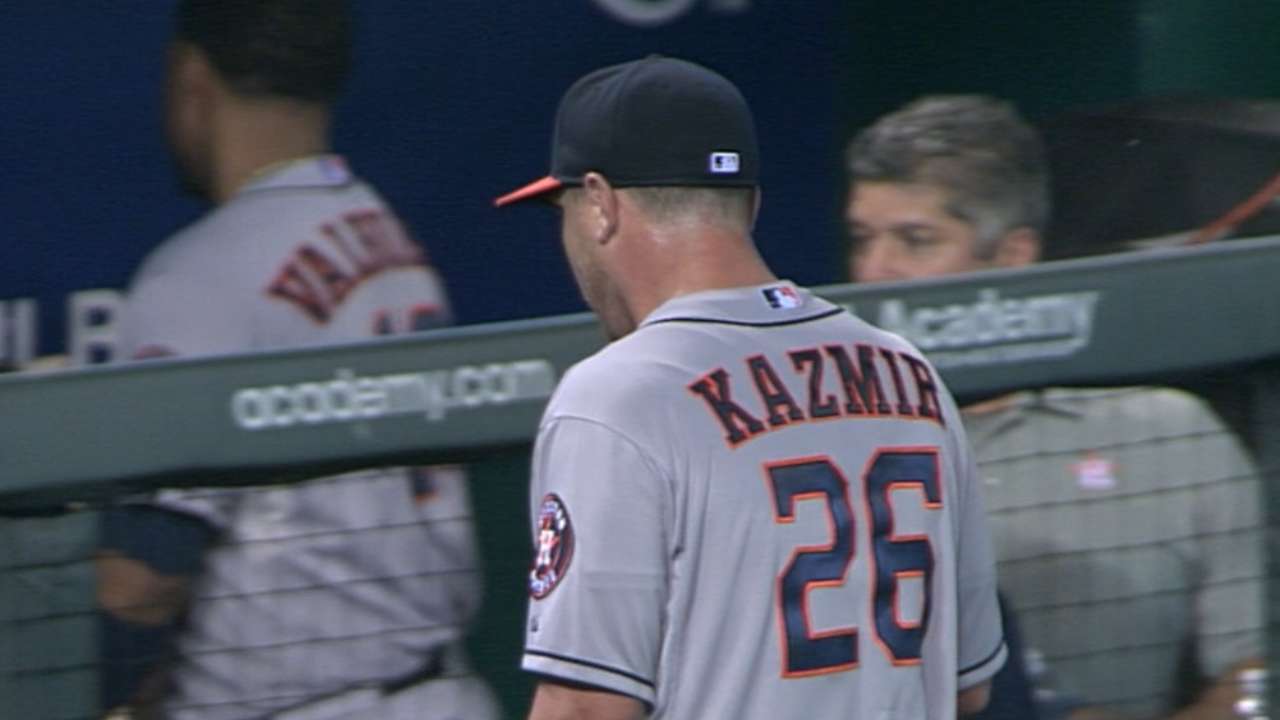 Late Friday afternoon, reliever Luke Gregerson walked into the Astros' clubhouse and spotted Kazmir, who had been his teammate in Oakland last year.
"What's up Kaz!" Gregerson shouted. Then came a big hug and Kazmir was on his way. He had faced the Royals in two starts for the A's earlier this year and thus had a good idea what he wanted to accomplish against the aggressive Royals' hitters.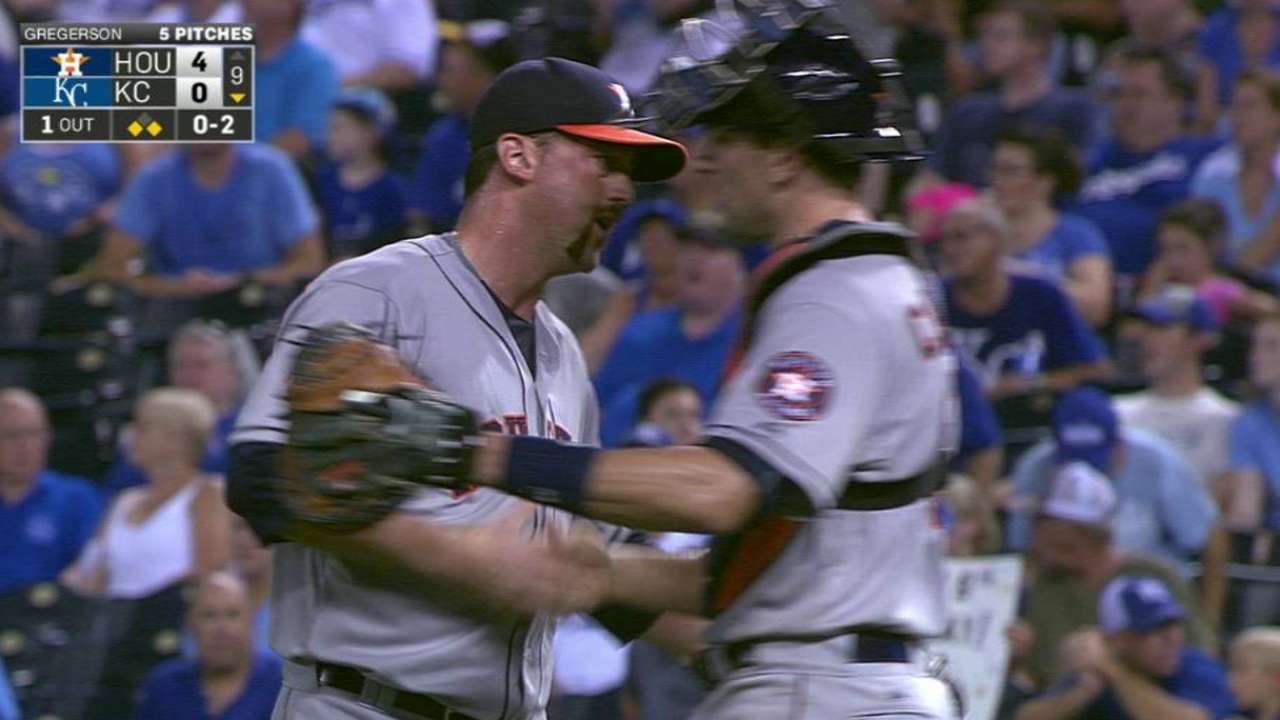 Alcides Escobar led off the first with a single against Kazmir, but for the next seven innings there was weak contact and only two other hits -- a Mike Moustakas single in the fourth and an Omar Infante single in the fifth.
"He kept making pitches," Hinch said. "What more can you ask of him?"
Kazmir departed after throwing 91 pitches. He focused on conserving his energy early so that he could go deep into the game on a brutally hot night.
"When you have a defense behind you like I had, you just want to pitch to contact," Kazmir said.
After a whirlwind 36-hour span which culminated with Kazmir making a big splash with his hometown team, the lefty is looking forward to getting back to Houston and settling in for a pennant race.
"I haven't had time to reflect on all this yet," Kazmir said.
The Astros put up four runs through four innings and that enabled Kazmir the opportunity to work ultra aggressively.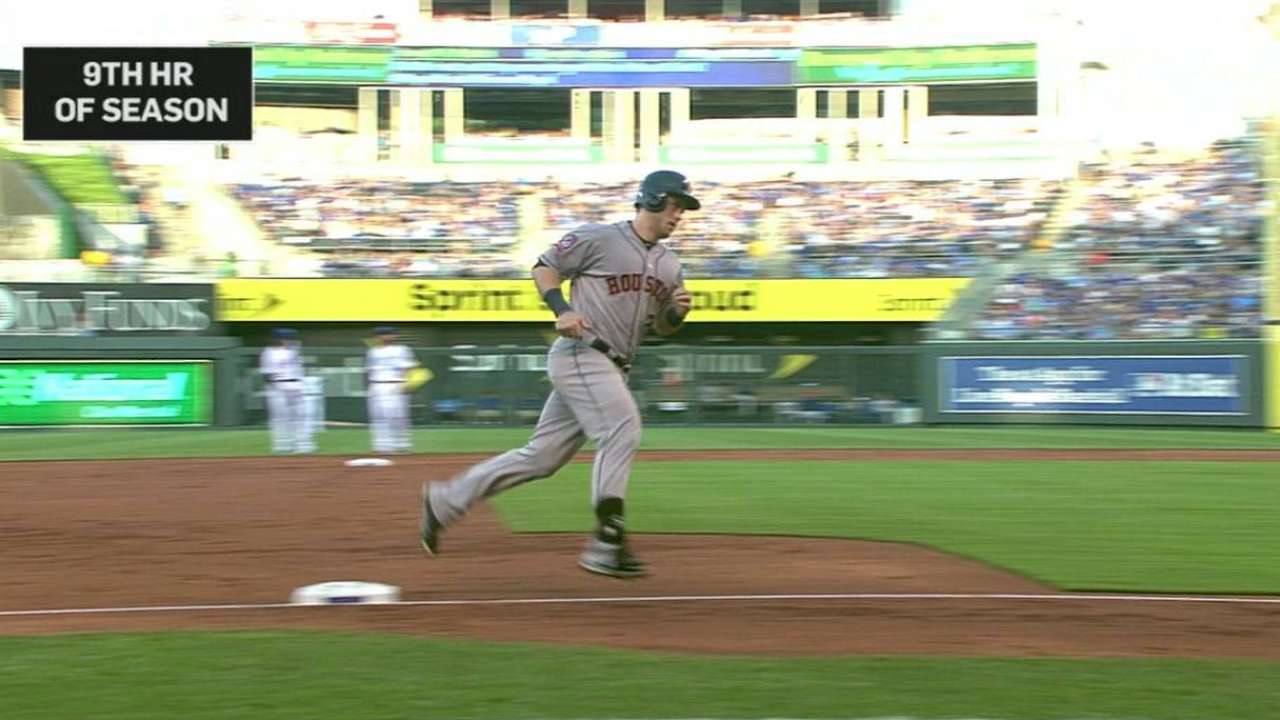 "It's awesome to be able to get runs like that early in the game," Kazmir said. "And when you have that defense, it makes you very confident to throw strikes."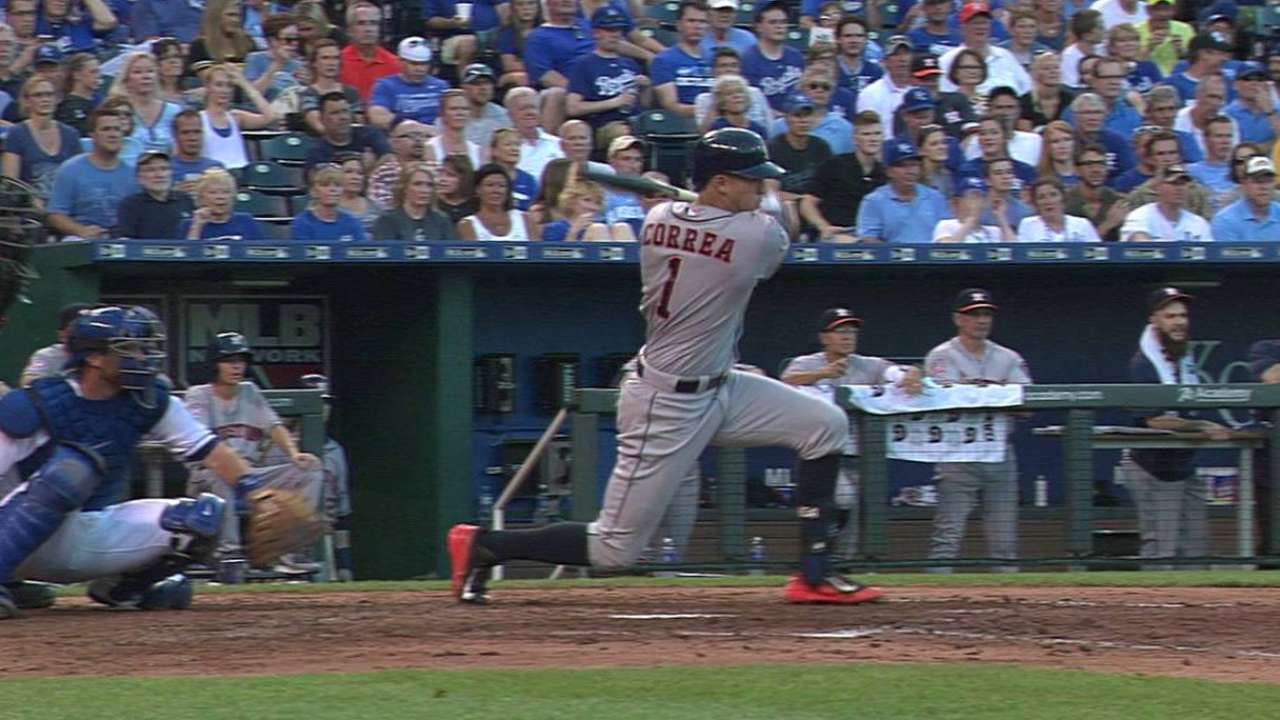 Catcher Jason Castro was thrilled by what he saw from Kazmir.
"He did a great job of filling up the strike zone and keeping guys guessing with his changeup," Castro said. "He knows what he wants to do and that makes my job a lot easier."
Asked what Kazmir could mean for the Astros, Castro replied; "He's going to be huge for us. We can't expect a shutout every time, although that would be nice. To have another arm like that in our rotation is big."
Robert Falkoff is a contributor to MLB.com. This story was not subject to the approval of Major League Baseball or its clubs.