Hughes mixes up looks to baffle ex-club
Righty holds Yankees to 7 singles over 7 shutout innings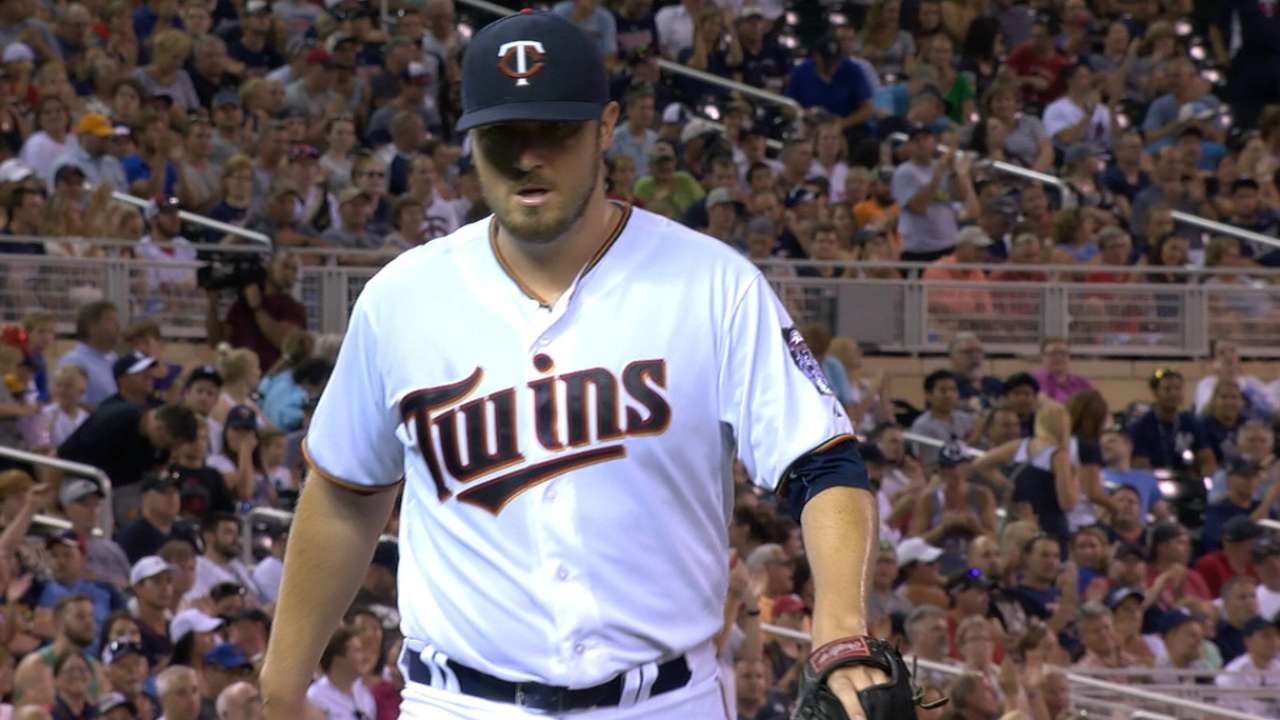 MINNEAPOLIS -- Twins starter Phil Hughes entered Friday leading the American League in home runs surrendered. And facing the Yankees, the team that sat third in the Majors with 123 home runs, Hughes giving up a home run or two probably wouldn't've been surprising.
Instead, Hughes locked down against his former team, giving up just seven scattered singles across seven innings in a 10-1 victory and making necessary adjustments after the Yankees came out hitting him hard. It was his first start since June 3 without giving up a home run and his first scoreless outing of the season.
"Anytime you're giving up homers, you're obviously giving up runs and that's not the object of this game, so it was nice to go out there and stay away from that," Hughes said. "I made some adjustments early, tried to mix in some more off-speed pitches. Got a couple of breaks and it was a recipe for a good game."
Hughes went to his curveball and changeup more, at one point striking out two straight batters with the latter pitch, something manager Paul Molitor said he doesn't remember ever seeing Hughes do.
"[Pitching coach] Neil [Allen] talked to me and he's like … 'These guys know you and they know you're going to be aggressive with your fastball and go after guys.' So I tried to incorporate more curveballs, changeups, cutters, just anything I could to kind of get them off-balance," Hughes said. "As the innings progressed, that seemed to be working pretty well."
That is, until the seventh, when after two strikeouts, the Yankees got three straight hits against him, prompting a visit from Molitor. Hughes then got Jacoby Ellsbury to line out to left on the next pitch.
"[Molitor] asked how I was doing, I said 'Good.' He's like 'Are you sure?' I said 'Yeah, I can get one more guy out.' And he left me in," Hughes said. "I think obviously if the game's a little closer, it might be a different story, but it was nice to finish that inning."
It was just the second time all year Hughes had loaded the bases. The last time resulted in a grand slam to Stephen Vogt, and Hughes was asked after the game if he would have left himself in, given the option.
"That would have been weird, right? Player-manager," Hughes joked, before pausing to think about the question. "Odds are I'm probably not going to give up another one, right? The odds of two bases loaded, two grand slams. I would have left me in. Why not? We'd still be winning if he had hit a homer."
The cushion Hughes had -- a 5-0 lead at that point -- also let Hughes toy around with the development of his changeup on his way to his ninth victory of the season.
"Anytime you know you're not going to get beat with it, it gives you a little more confidence to use it. It's a learning process. It's not a pitch I've thrown that often, but I'd like for it to be more representative in my game. So tonight was a good game to kind of bring it out a little bit, and I had some success with it."
Betsy Helfand is an associate reporter for MLB.com. This story was not subject to the approval of Major League Baseball or its clubs.