Complete game breaks in Quintana's favor
Tosses first shutout with 7-hit gem over Indians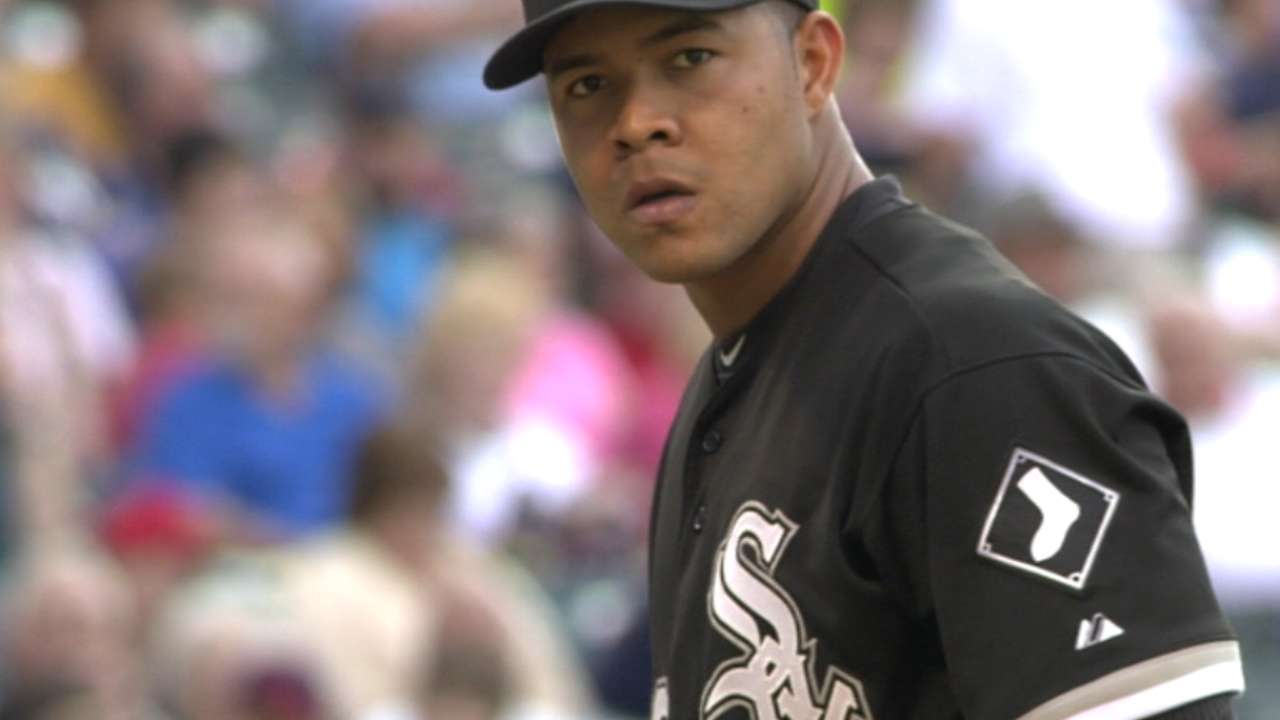 CLEVELAND -- The first complete game of Jose Quintana's career also just happened to be Quintana's first shutout. They came Friday night at Progressive Field during a 6-0 White Sox victory over the Indians.
Quintana entered the ninth with 104 pitches, but a talk with White Sox manager Robin Ventura between the eighth and ninth innings allowed the southpaw an opportunity to complete what he started.
"He talked with me and I said, 'I feel good,'" Quintana said. "I feel good, man. My first shutout. It's an amazing feeling when you walk off the field when the game is over. I feel good in my heart. I try to get that win, and keep going and go for more wins."
"There was something about what he's had to endure, run support and everything else," said Ventura. "He felt good. He felt like he could go back out there. I thought we were playing good defense, and the defense helped him out tonight."
Going into Friday's start, Quintana was tied with the Mets' Bartolo Colon for the lowest run support in the Majors at 2.63 runs per game. The White Sox all but tripled that total against the Indians, and did it against defending Cy Young winner Corey Kluber.
It was fairly smooth sailing for Quintana with that cushion, as he struck out eight, walked none and finished the night having thrown 120 pitches. He allowed a leadoff single to Francisco Lindor in the ninth, but Jose Abreu, who homered, started a double play on a hard-hit ball by Michael Brantley.
"Yeah, because if I lose that hitter, that's it for me, that's it for the game," a smiling Quintana said. "I try to get a ground ball. A hard ground ball and it's a double play."
This four-year run of success for Quintana began on May 7, 2012, as a 26th man for a doubleheader in Cleveland. He improved to 5-1 with a 2.58 lifetime against the Indians after Friday's effort, and 2-0 with a 0.93 ERA at Progressive Field.
Friday's game ball went to Quintana, who joked that he planned to lay in bed and just throw it up in the air and play catch with it.
"He's earned everything he's got. You are just happy for him. He's an extremely hard worker," Ventura said. "It would be easy for some people just to be down on kind of the situation he's been handed as far as not getting a lot of run support over his time, but he doesn't let that ever affect him. He goes back out there and he grinds and everything else. You are really happy for him with tonight."
Scott Merkin is a reporter for MLB.com. Read his blog, Merk's Works, follow him on Twitter @scottmerkin and listen to his podcast. This story was not subject to the approval of Major League Baseball or its clubs.