Dick Enberg: Hall of Famer ... and good sport
Cooperstown just one of many honors for multi-talented legend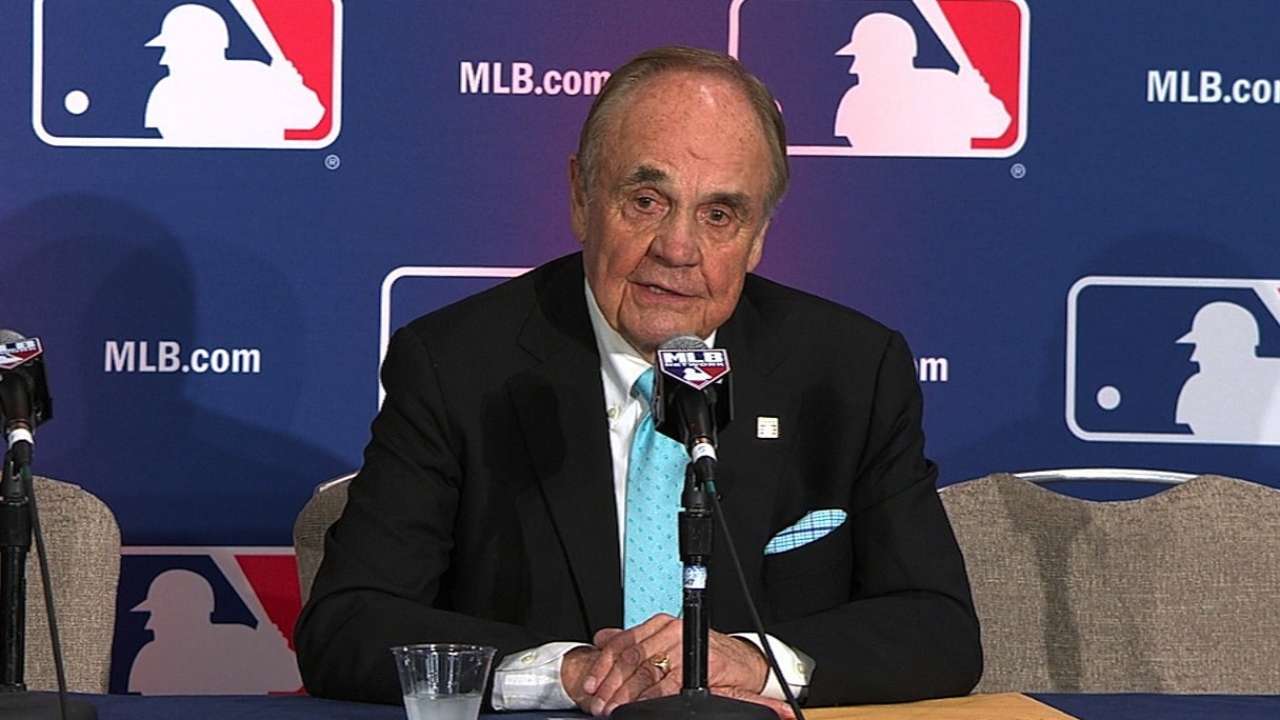 Bill Center, longtime sportswriter for U-T San Diego, is an employee of the Padres.
Minutes after Dick Enberg was named the play-by-play voice of Padres telecasts in 2010, I approached the Hall of Fame announcer with a simple question.
Hand out-stretched, I asked Enberg, "Dick, do you remember me?"
Enberg looked puzzled for a second, then broke into laughter. "You're my chauffeur," he said.
He remembered, which told me a lot about the man being honored by The National Baseball Hall of Fame this weekend.
To remember, he had to pick out a Sunday afternoon in the mid-1980s, when he was stranded at Anaheim Stadium after calling the play-by-play of an Angels game. The ride scheduled to return Enberg to his Rancho Santa Fe home had broken down.
I was covering the game for The San Diego Union when Angels publicist Tim Mead approached me with a question.
Mead: "Bill, are you driving back to San Diego after the game?"
Me: "Yes."
Mead: "Would you mind giving Dick Enberg a ride to his home ... his car didn't show up."
Me: "Ahhhhhhh."
For those who knew me back then, I didn't drive the most luxurious of vehicles. My car was a Jeep, and not just any Jeep. I used it to off-road. The shock absorbers were spring loaded. To say the ride was rough is being kind. Just crossing the Botts' Dots to change lane would send that Jeep bouncing.
I explained to Mead that my vehicle might not be suitable -- not to mention clean -- enough for a man of Enberg's stature. Mead understood and came back minutes later. "Dick said he'd love to go home in your Jeep," said Mead. "Oh, and can you take his friend and their luggage?"
Well, if you've ever seen the Jeep that is now known as the Wrangler, you know how uncomfortable the back can be -- and how little room there is for luggage much less a person.
Enberg even had to wait around for almost an hour while I finished writing. And when he spied my Jeep from across the parking lot, I think he had second thoughts. But he was a gamer. I positioned Dick and his friends in their seats and built the luggage around them. Then I had to fit Dick into the five-point harness that is an off-roader's seat belt.
And we were off ... bouncing down the I-5 on what had to be the roughest 75-minute ride of Enberg's life.
Here's the kicker. Enberg laughed all the way. He had to shout at times to communicate over the noise with the passenger in back. But he was this amazing sport ... and very thankful to be driven home. He talked about how this ride might be one of his favorite transportation stories. As we approached his home, he was hoping his neighbors might be outside to see his arrival.
I joked about giving Enberg that ride for more than two decades before our paths crossed again ... and I popped that, "Do you remember me?" question.
That Enberg did -- and fondly with a grin -- made more than my day. It seems he had also told his friends of his wild ride.
"I remember when you turned on the air conditioning and this wall of dust came out," said Enberg. Yep, he remembered.
The thing I took away from our reunion is that this giant in the broadcasting biz was really a good guy ... an opinion that hasn't changed a bit in the four seasons we've been around the Padres together.
Saturday afternoon in Cooperstown, N.Y., Dick Enberg will be honored by perhaps the greatest shrine in sports. Last December, Enberg was named the 2015 recipient of the Ford C. Frick Award for broadcasting excellence. With the award, Enberg joins a long list of broadcasters honored by the Hall of Fame.
Enberg becomes one of two broadcasters honored by each of the three major Halls of Fame -- Baseball, Football and Basketball.
But that's only a small sampling of the honors that have been bestowed upon Enberg during a five-decade career in the booth.
Enberg is in the National Sports Broadcasting Hall of Fame and the National Sportscaster and Sportswriters Hall of Fame. He is also in the Rose Bowl Hall of Fame and has a star on the Hollywood Walk of Fame.
When it comes to annual awards, Enberg has 14 Emmys, nine Sportscaster of the Year Awards and the Ronald Reagan Media Award. He holds the distinction of being the only person to win national Emmys as a sportscaster, a writer and a producer. In 2000, he was also honored with the Lifetime Achievement Emmy Award.
On top of all that, he's a good sport. At least from where I sat ... as his chauffeur for one memorable afternoon.