Zobrist 'just waiting' as trade mill heats up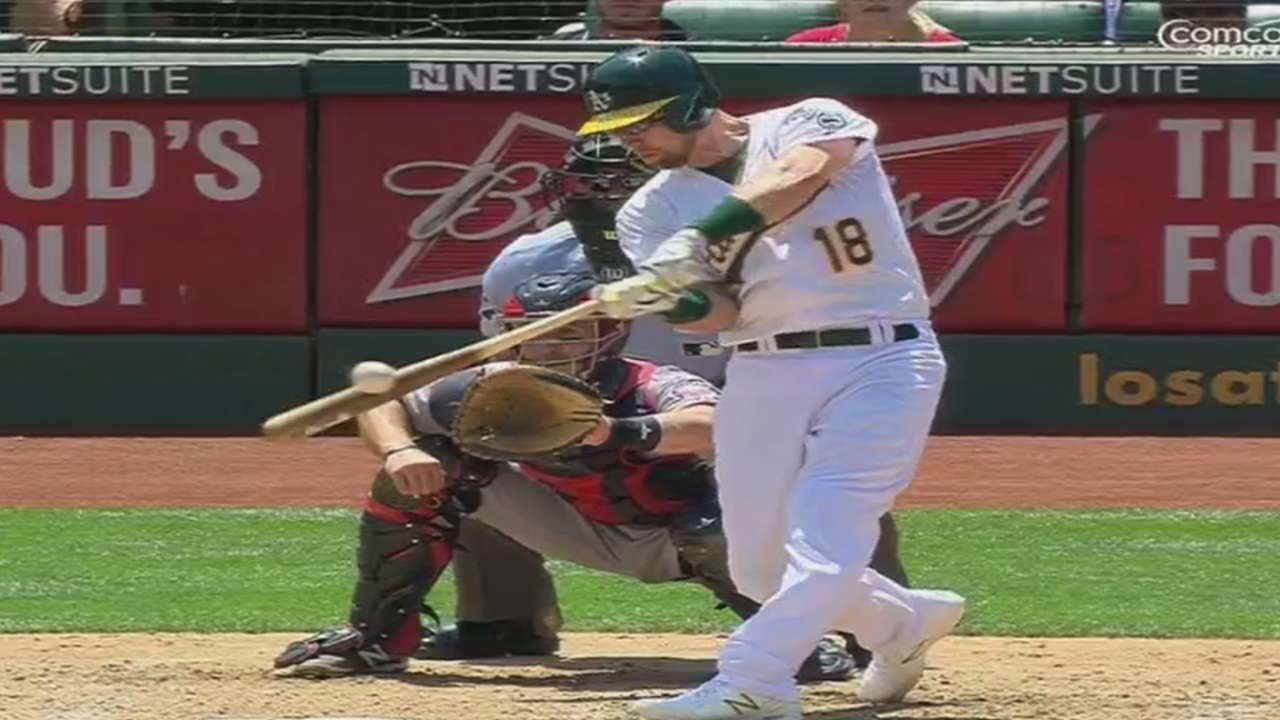 SAN FRANCISCO -- Thursday's trade of Scott Kazmir cast an unsettled feeling within the A's clubhouse, where players were left speculating who could be next to go before the July 31 non-waiver Trade Deadline.
Multiple sources say the A's are actively shopping infielder Ben Zobrist now that the left-handed Kazmir is out the door and with his hometown Houston club. The impending free agent, whose value lies in his versatility, is very much privy to such rumors and acknowledged Friday he wouldn't be surprised to be dealt.
"After yesterday, I think we're all kind of wondering what's going to happen in the next week," Zobrist said before hitting a solo homer in the A's 9-3 loss to the Giants. "I'm not outside of that, obviously, with my contract situation right now. I just try not to let it affect anything I'm doing and keep coming in and doing my work and supporting my teammates."
Zobrist noted he's felt "unsettled" nearly all season, after leaving a Rays organization he had been with for nine years with the knowledge he'll be a free agent at the end of this season, so the trade buzz "doesn't feel crazy awkward to me."
"You just don't know whether you're staying or going," he said. "I'm just waiting."
The A's have been fielding calls on Zobrist for weeks, mulling offers from several teams -- among them the Mets and Royals -- but are only committed to moving him for the right price.
Zobrist is batting .254 with six home runs and 33 RBIs in 65 games during a season interrupted by left knee surgery. He said Friday he told manager Bob Melvin he felt "a lot better than I did before the All-Star break."
"The break helped a lot," he said. "It let the inflammation kind of move out of there."
Zobrist was in Tampa at this time last year, when the Rays dealt David Price to Detroit just ahead of the deadline for non-waiver trades.
"We were the best team in the Major Leagues in July at the time," Zobrist said. "But I understand it's a tough decision for GMs, going, 'What can I get in return for some of these guys?' They're trying to give the organization the best chance to win going forward. But from a player's standpoint, you never want to feel like anyone's giving up."
Walking the line between contending and rebuilding is a difficult balance to strike, and the A's at least believe it best at this point, sitting at 44-53, to focus on bettering their future. Along with Zobrist, right-hander Tyler Clippard could be had in the right deal, though opposing clubs are believed to be backing off some after watching him blow his last two save opportunities.
"This is the first time since I've been here that we've been in this position, where we're a seller, but it shouldn't affect how we go about our business," Melvin said Friday. "It was tough to see Scotty go. I know everyone felt it a bit yesterday, and I think naturally, to an extent, guys will think about what shoe is going to drop next, but once we go between the lines, it's our job to go out there and expect to win on a particular day."
Jane Lee is a reporter for MLB.com. This story was not subject to the approval of Major League Baseball or its clubs.