Peralta likely to return to rotation soon
Brewers righty sidelined since May with left oblique strain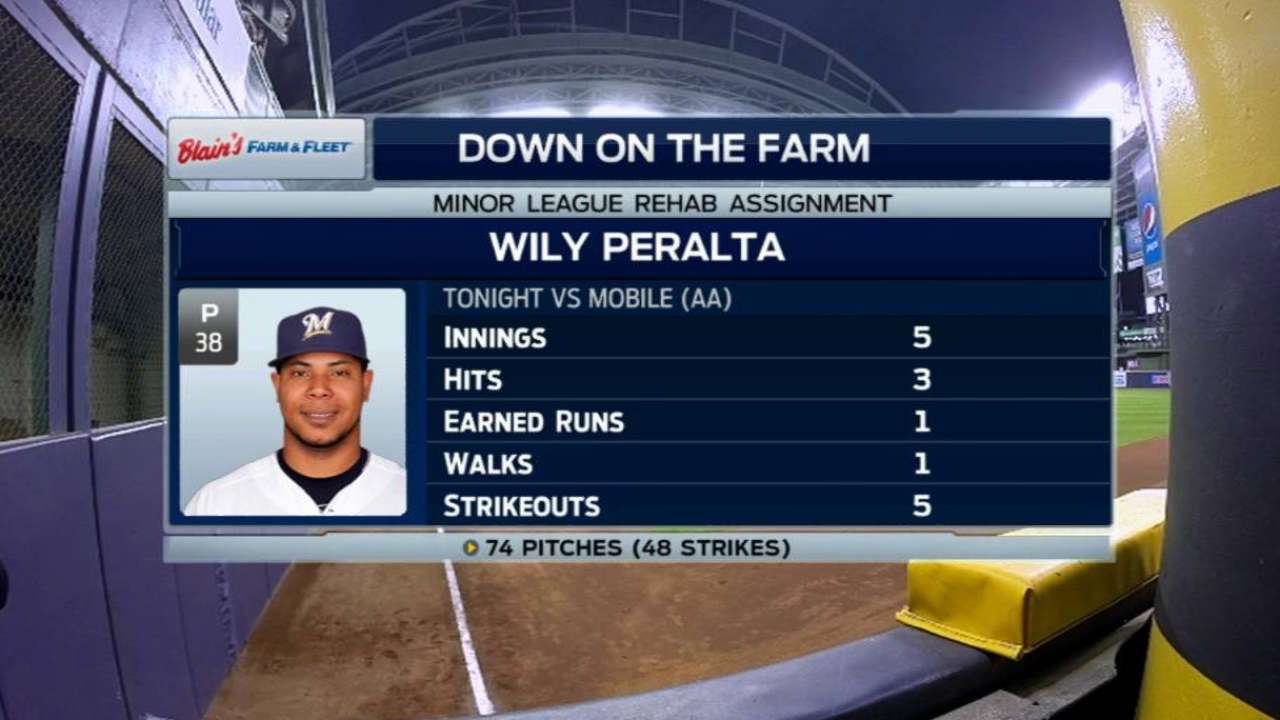 PHOENIX -- Wily Peralta's next start will most likely be in the Major Leagues, Brewers manager Craig Counsell said before Friday's 2-1 win without revealing how or where he would fit Peralta into a full pitching rotation.
Peralta has been on the disabled list since the final week of May, rehabbing a left oblique strain. He made three Minor League rehabilitation starts, the most recent on Tuesday at Double-A Biloxi, before rejoining the Brewers on Thursday. On Friday afternoon, Peralta threw his regular bullpen session with pitching coach Rick Kranitz and catcher Martin Maldonado.
"We're going to wait a little while to decide," Counsell said. "I don't believe he'll throw another rehab start. I'm not going to go 100 percent on that."
At the moment, the Brewers have probable starters listed for the remaining games of their four-game series at Chase Field, and for all three games of the subsequent series in San Francisco. Matt Garza is scheduled to pitch Sunday, which would be Peralta's regular day. Kyle Lohse is scheduled to pitch the next night at AT&T Park.
How will the Brewers open a spot?
Here are some of the possibilities:
An internal move. Lohse (5-11, 6.29 ERA) could be sent to the bullpen or released, which the Brewers have done in the past with struggling veterans like Jeff Suppan and Randy Wolf near the end of contracts. It's difficult to see the team optioning Taylor Jungmann back to the Minors considering his success since a promotion from Triple-A Colorado Springs, but such a move is an option.
A trade. Lohse is a free agent to be, and the Brewers anticipated being able to shop him to contenders. A trade isn't out of the question if another team views Lohse as a change-of-scenery candidate. Mike Fiers, who is scheduled to start Tuesday, has drawn some interest, and Garza has also been mentioned to a lesser degree.
A six-man rotation. The Brewers are currently working with an extra bullpen arm, so they could simply go back to the usual seven-man relief corps and use six starting pitchers for the time being. As of Friday, the Brewers were four games into a stretch of 20 games in as many days, and a six-man rotation would allow for some extra rest.
Adam McCalvy is a reporter for MLB.com. Follow him on Twitter @AdamMcCalvy, like him on Facebook and listen to his podcast. This story was not subject to the approval of Major League Baseball or its clubs.