How did Class of '15 fare vs. fellow HOFers?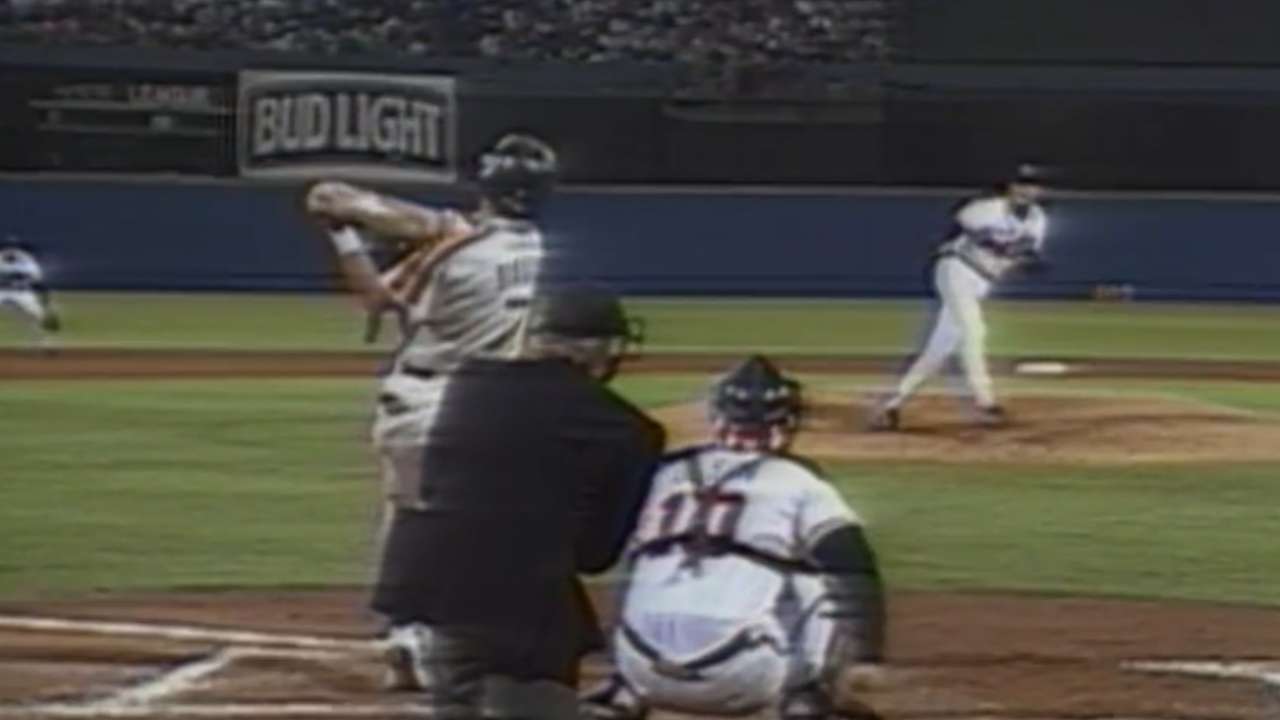 When the Expos and Braves squared off at Atlanta-Fulton County Stadium on July 25, 1994, nobody could have known just how impressive the game's pitching matchup would turn out to be.
On that night only a couple of weeks before the players went on strike, a 22-year-old Pedro Martinez started for Montreal in a 6-4 win over Atlanta and 27-year-old John Smoltz. Martinez, in his first year as a Major League starter, got the victory, while Smoltz took a no-decision, with both tossing six innings.
Hall of Fame Class of 2015
Almost exactly 21 years after that game, Martinez and Smoltz will be will be inducted into the National Baseball Hall of Fame in Cooperstown, N.Y., on Sunday afternoon. Randy Johnson and Craig Biggio will join them. Live coverage of Hall of Fame induction day begins at 11 a.m. ET Sunday on MLB Network, simulcast live on MLB.com.
These four superstars were contemporaries, as all but Martinez debuted in the Majors in 1988, and each finished his career from 2007-09. Despite that, the history of their head-to-head battles is spotty. Some pairs, such as Martinez and Smoltz, had their share of encounters. Others, such as Martinez and Johnson, were ships passing in the night. Here is a breakdown of each combination's history, plus a look at how they fared against some other Hall of Famers.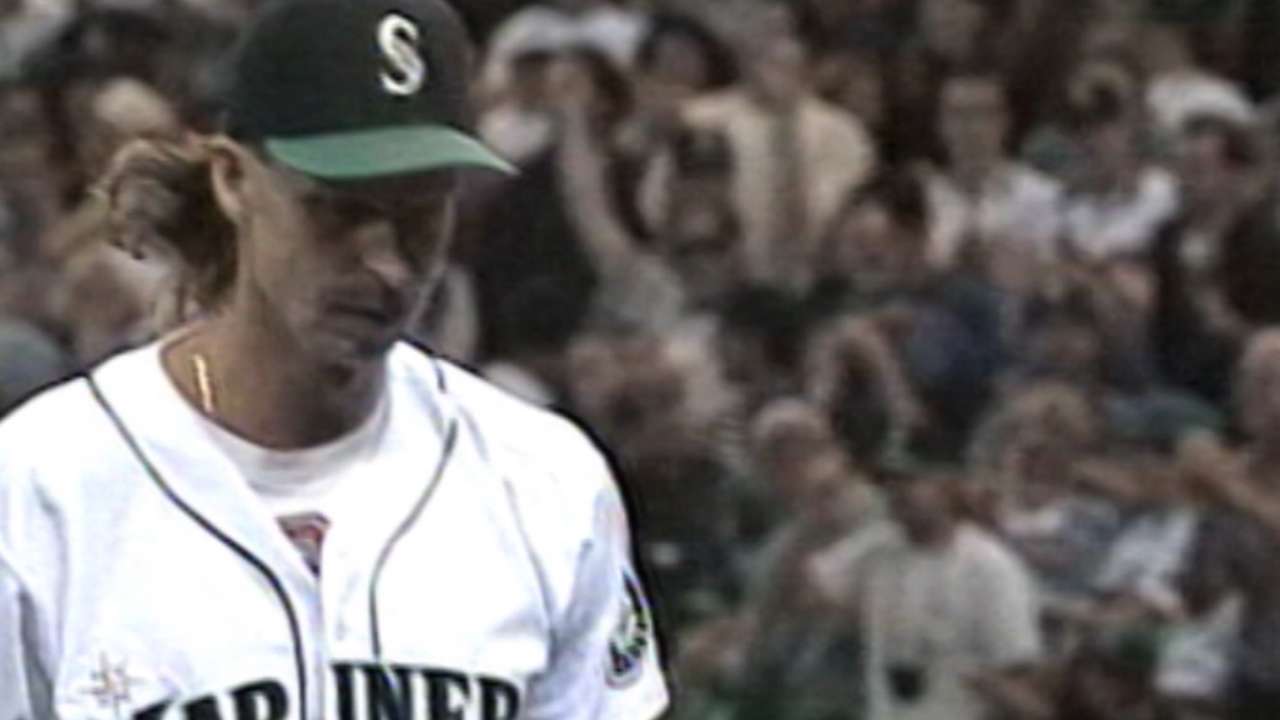 Martinez vs. Smoltz
These two right-handers started against each other six times, but after their meeting in 1994, there wasn't another one for more than 10 years. Then, in 2005, Martinez (Mets) and Smoltz (Braves) clashed four times as division rivals, with both going 2-2. Martinez's wins both were complete games, including a 10-strikeout shutout at Shea Stadium on Sept. 16. Smoltz's best performance actually came in a loss at Turner Field on April 10, when he gave up two runs over 7 1/3 innings but tied a career high with 15 strikeouts.
The two pitchers then met up one last time in 2006. Overall, they put up similar lines over those six games, with Martinez producing a 2.86 ERA and 40 strikeouts over 44 innings, and Smoltz posting a 3.07 ERA and 38 strikeouts over 41 innings. At the plate, Smoltz went 2-for-13 with a walk off Martinez while holding his fellow pitcher hitless in 13 at-bats.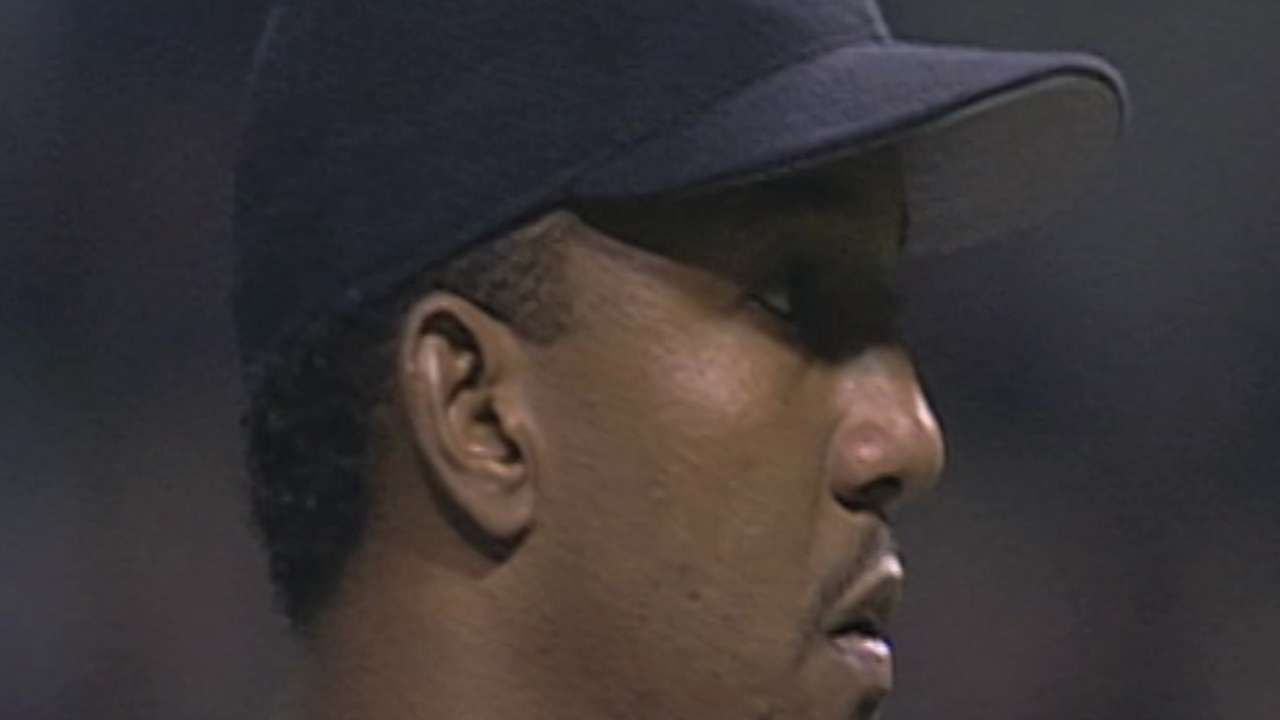 Martinez vs. Johnson
From 1995-2002, these two combined to win eight of MLB's 16 Cy Young Awards, yet they never pitched in the same game, either in the regular season or postseason.
Johnson vs. Smoltz
Even though their careers spanned exactly the same years (1988-2009), many of those spent in the National League together, they never started against each other. They did pitch in the same game once, in Game 5 of the National League Championship Series. Johnson gave up two runs in seven innings as the D-backs clinched the series over the Braves, with Smoltz throwing two scoreless innings out of the bullpen.
Biggio vs. Johnson
These two were teammates briefly, after the Astros pulled off a deal with the Mariners to acquire Johnson at the 1998 Trade Deadline. All of their at-bats against each other came from 2000-02, with Biggio going 0-for-14 with five strikeouts and two walks, making him one of many hitters who did not enjoy his battles with the Big Unit. Biggio also struck out against Johnson as the first batter of the 1997 All-Star Game in Cleveland.
Biggio vs. Martinez
On the other hand, Biggio is one of a select group of hitters who enjoyed significant success against Martinez. Over 50 plate appearances, Biggio generated a .302/.400/.488 line, with six doubles, a triple, two RBIs and six walks.
Biggio vs. Smoltz
Greg Maddux was the only pitcher Biggio faced more than Smoltz, who generally had the upper hand in their 128 confrontations. Biggio hit .239/.297/.316 off Smoltz, with three doubles, two homers, seven RBIs, nine walks and 29 strikeouts. That includes a 1-for-13 mark with three strikeouts during the postseason.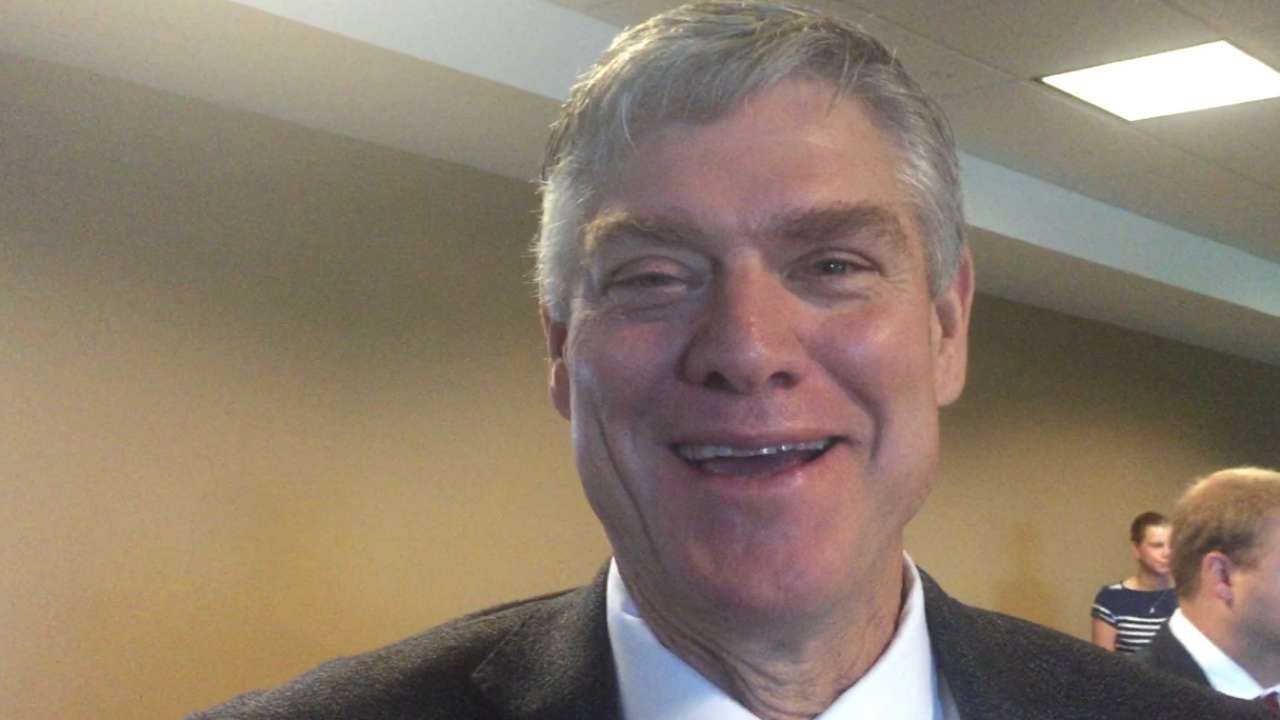 Biggio vs. Hall of Famers
Almost all of Biggio's matchups with Hall of Famers came against Smoltz, Maddux and Tom Glavine, who for a time led a dominant Braves rotation together. In 369 career plate appearances against that trio, Biggio hit well below his career level: .255/.318/.347. Meanwhile, Biggio's Astros lost to the Braves in the playoffs three times between 1997 and 2001.
Johnson vs. Hall of Famers
Even those with Cooperstown plaques in their future generally had trouble with Johnson. The 10 Hall of Fame members of the 3,000 Hit Club who challenged him combined to go 48-for-293 (.164). A rare exception to the rule was slugger Frank Thomas, who went a modest 10-for-43 (.233) but drew 11 walks and slammed five home runs.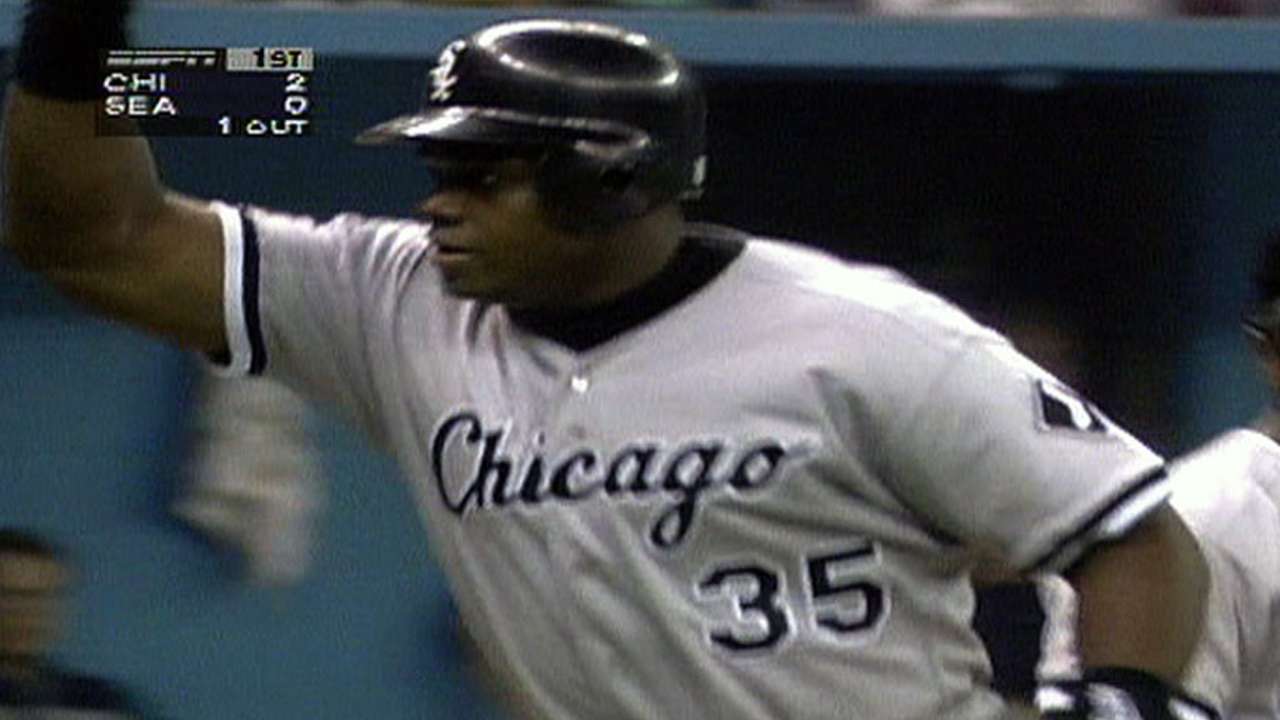 Martinez vs. Hall of Famers
Of the six Hall of Famers to face Martinez more than 15 times, only Biggio produced at least a .700 OPS. Among the rest, Thomas was 2-for-24 with one homer, one walk and 11 strikeouts, while Roberto Alomar was 6-for-31 with no extra-base hits, no walks and nine strikeouts.
Smoltz vs. Hall of Famers
While Biggio struggled against Smoltz, a couple of other Hall of Famers did the opposite. Tony Gwynn battered him for a .444 average (32-for-72) and 1.161 OPS while striking out only once, and Ryne Sandberg hit .283/.389/.674, with six homers in 46 at-bats. On the other end of the spectrum, Andre Dawson was just 2-for-27 off Smoltz, hitting one homer but striking out nine times.
Andrew Simon is a reporter for MLB.com. Follow him on Twitter @AndrewSimonMLB. This story was not subject to the approval of Major League Baseball or its clubs.