Bassitt to rejoin rotation, bat against Giants
A's starter will face Bumgarner on mound, at plate in Interleague contest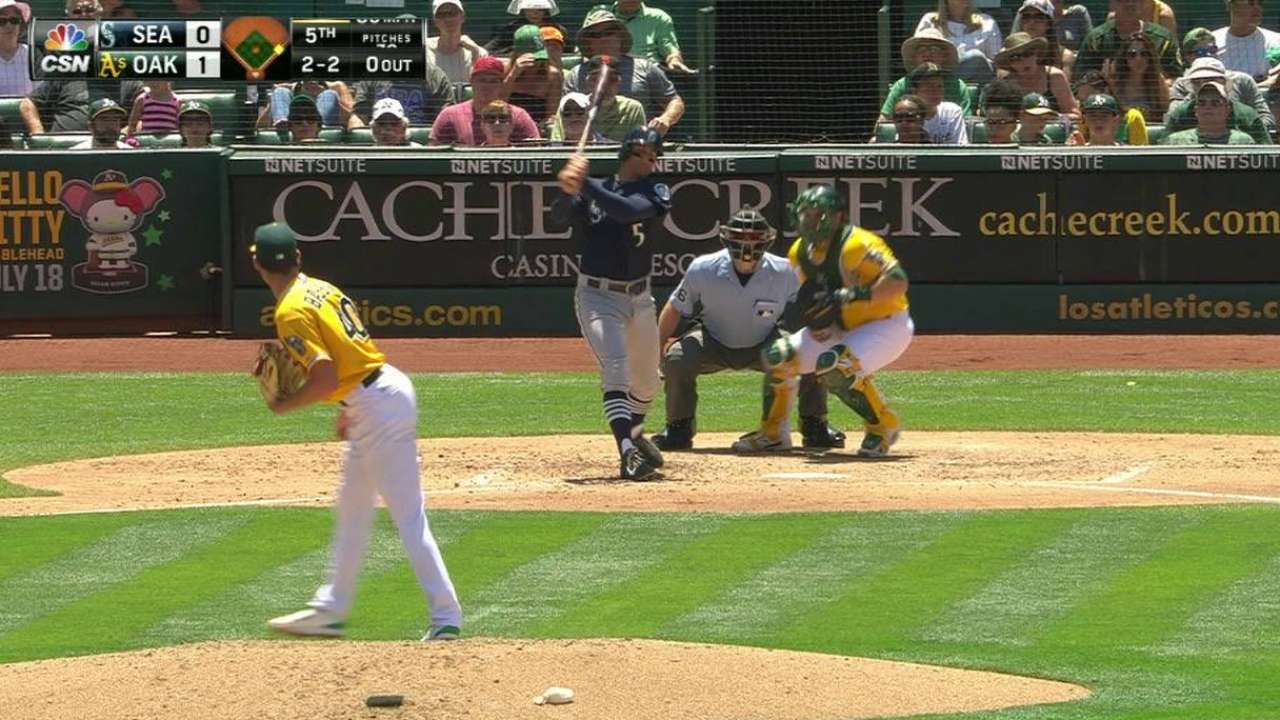 SAN FRANCISCO -- A's right-hander Chris Bassitt, who was officially named Saturday's starter against Madison Bumgarner, is confident heading into his fourth start of the season.
On the mound, that is. Not at the plate.
"I'm telling all my friends I'm going to hit one in [McCovey] Cove," Bassitt said, "but I'll be happy if I hit one fair to say the least, especially off him."
Bassitt said he hasn't hit regularly in seven or eight years and that he'll be lucky to lay down a bunt against someone of Bumgarner's caliber.
Saturday is Bassitt's first time pitching at AT&T Park. He said he came to the park once in 2012 when he was introduced as an All-Star prior to a Carolina League-California League game.
Bassitt has essentially cemented himself as the A's fifth starter going forward, and manager Bob Melvin said this series is an opportunity for the right-hander to get settled and feel less pressure than he has in the past.
"He's done everything he can to give himself the opportunity to pitch every fifth day," Melvin said, "and at this point it looks like he's going to be here for a while."
Bassitt has yielded five earned runs in 17 innings in his three starts and has kept the A's in all three games.
He's known he would be making this start against the Giants ever since he was sent down after his outing July 11.
While in the Minors, Bassitt worked on throwing more changeups and breaking balls, two pitches he wants to use more effectively at the Major League level.
He wasn't focused solely on results in Nashville, but also on ensuring those pitches are where they need to be, and said he was pleased with the way he pitched.
Bassitt flew in from Colorado Springs on Friday morning, and he's hoping he can make the Bay Area a more consistent home after a month of frequently traveling across the country.
"You're never used to it," Bassitt said. "I'm ready for everything to settle down, that's for dang sure. It's been one hectic month."
• Switch-pitcher Pat Venditte, who has been on the disabled list since June 12 with a strained right shoulder, threw one inning right-handed with Class A Advanced Stockton on Thursday in his first rehab appearance and will throw one inning left-handed with the Ports on Saturday.
• Melvin said left-hander Sean Doolittle (strained left shoulder) will throw from flat ground Saturday, keeping him on track to throw a bullpen session by the end of the month.
• Outfielder Coco Crisp (neck strain) is open to a rehab assignment, Melvin said, so the two will map out a plan in the coming days.
• Right-hander Taylor Thompson (strained right shoulder) will make a third rehab appearance with Stockton on Sunday, and Melvin said Thompson felt as good as he's felt recently in his last outing.
Trevor Hass is an associate reporter for MLB.com. This story was not subject to the approval of Major League Baseball or its clubs.