After tumble, Butler picks himself up in win
Despite baserunning blunder, young righty finishes night on positive note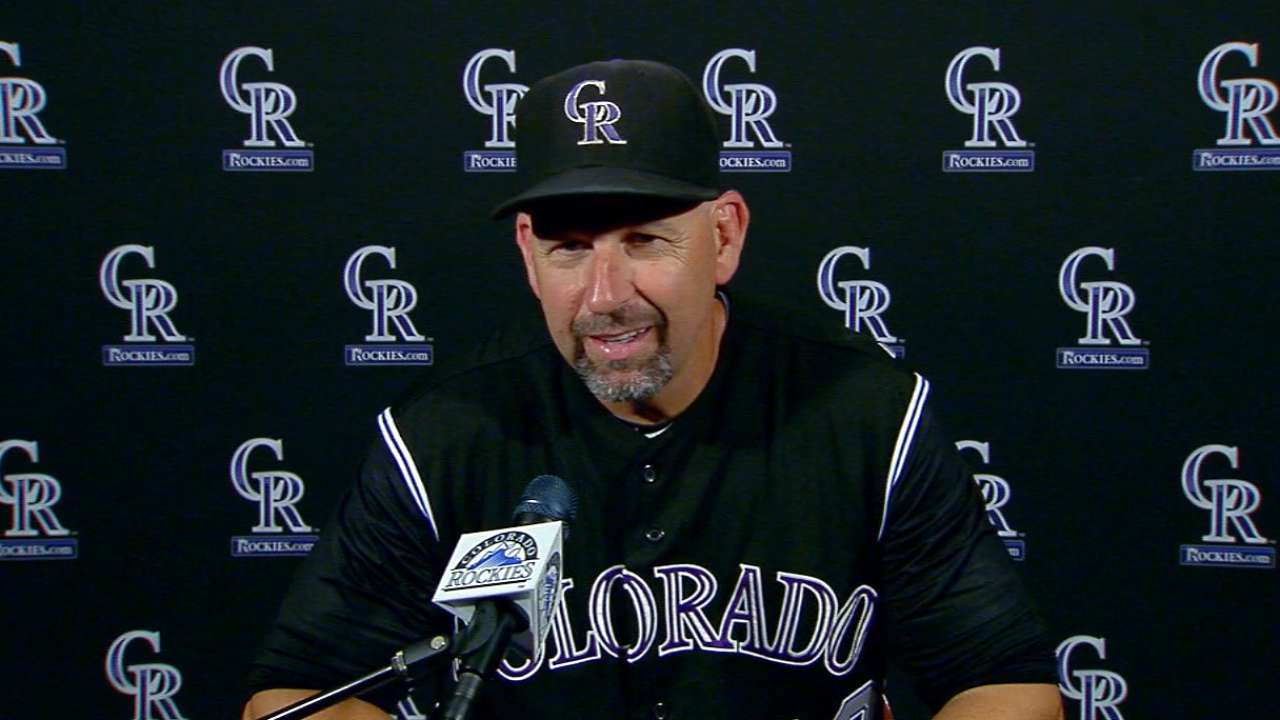 DENVER -- Eddie Butler's arm showed the progress, while his legs delivered the laughs.
Pitching for just the second time since his return to the Rockies' rotation, the right-hander pushed his way through six innings and bumbled his way into future blooper reels on the basepaths. All in all, the smiles were in abundance postgame after Colorado walked off to a 6-5 win over the Reds in Friday's series opener at Coors Field.
Butler finished the night with six hits and three runs surrendered, while walking three and striking out three. In his first start at home since June 5, his six innings tied a career high.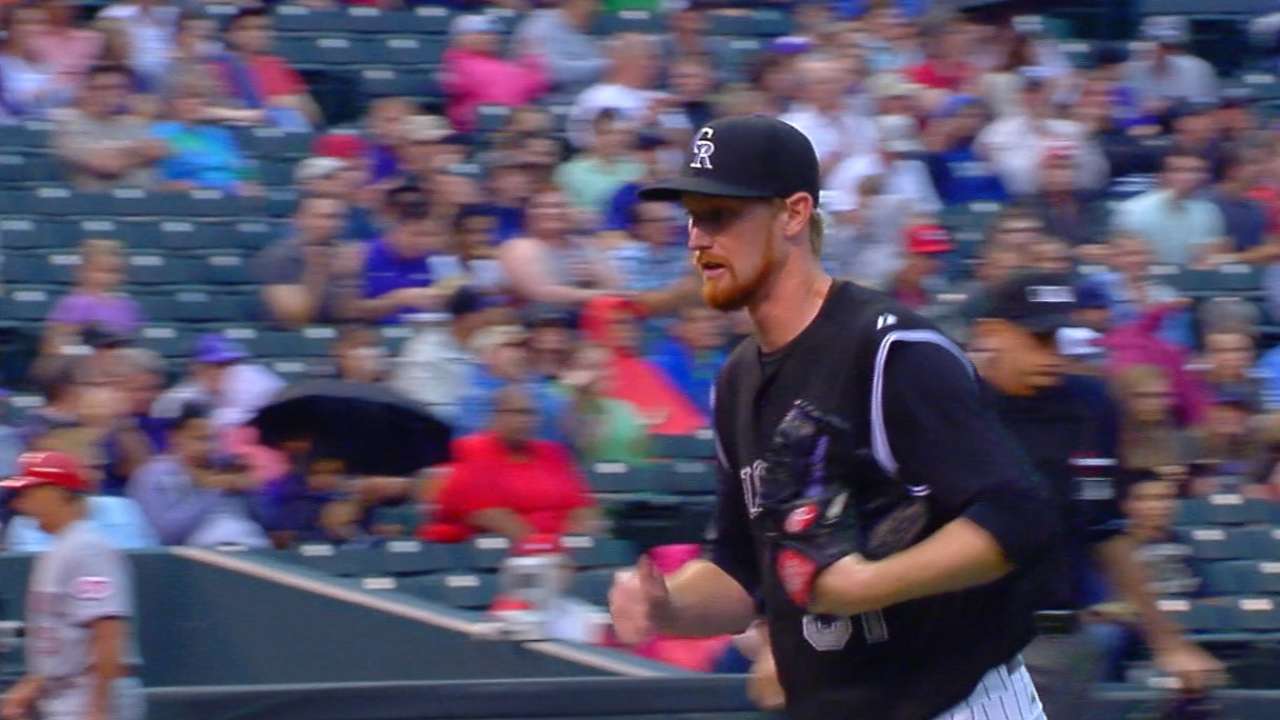 "I was just on top of the fastball," said Butler, who cruised through the first three innings with seven ground-ball outs. "I was able to throw it down in the zone with conviction, moved it around a lot. We knew they were a more aggressive team and so to be able to get the fastball down."
But as has been the case with many of Butler's starts this season, adversity soon hit. He surrendered all three runs in the fourth, where Todd Frazier and Ivan De Jesus both delivered run-scoring doubles to hand Cincinnati a 3-0 advantage.
One inning later, his adventurous trip around the bases levied another hurdle.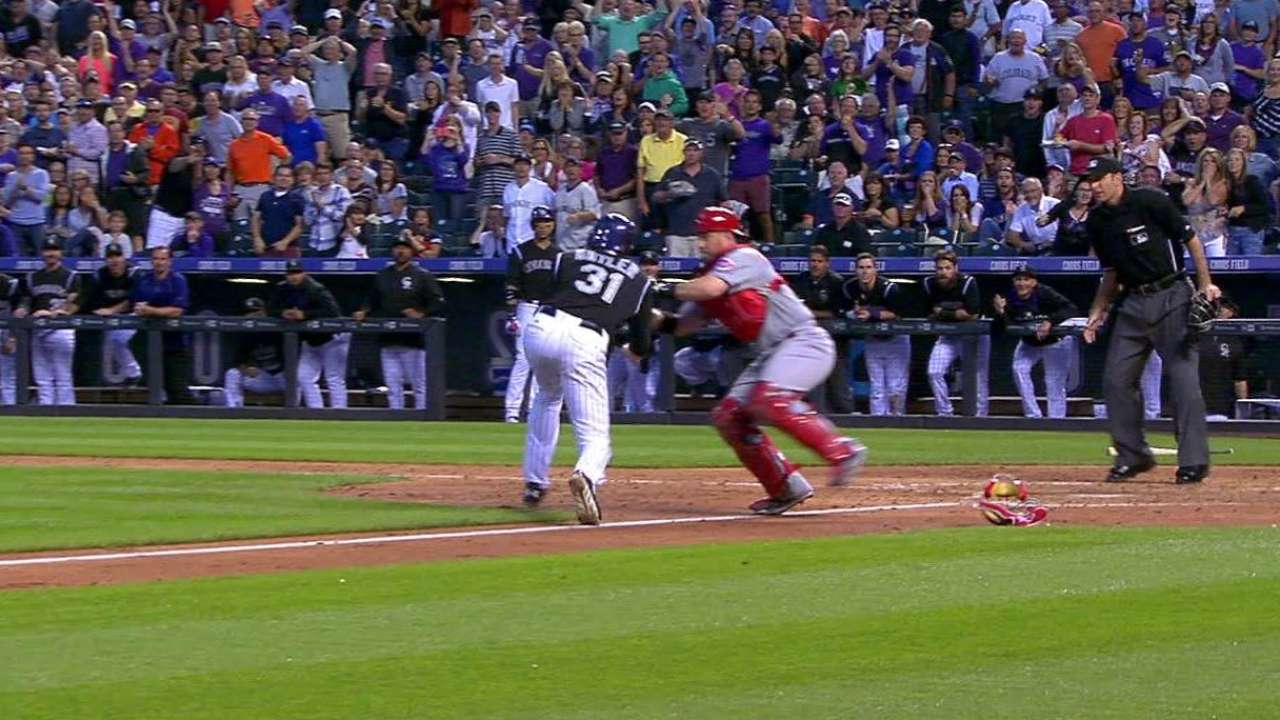 After securing his first Major League hit, Butler moved to second on Charlie Blackmon's single and was seemingly in scoring position as DJ LeMahieu headed to the plate. The Rockies' second basemen did his part, crushing one deep into the right-field corner.
Blackmon was in full stride, but Butler -- who had just two Minor League hits, zero walks and no official offensive experience at Radford University due to a torn meniscus during the fall of his sophomore year -- kept his eyes on Bruce. With Blackmon bearing down behind him, Butler slipped over third base.
He then tripped again between third and home. With Blackmon standing on third, he had nowhere to go but into the waiting tag of Reds catcher Tucker Barnhart.
"Mind was going a hundred miles an hour," Butler said. "The legs were not."
Jay Bruce kept the obstacles coming after leading off the sixth with a double on an 0-2 slider. But Butler clamped down and retired Marlon Byrd on a groundout, received a nice leaping catch from LeMahieu and eventually struck out Anthony DeSclafani to end the frame unscathed.
"I think Eddie continues to show some growth," Rockies manager Walt Weiss said. "Great job by Eddie not giving in."
Butler is still far from a finished product. But with the added use of his curveball and the confidence to wiggle out of severe trouble, Friday's outing was a step in the right direction.
Even if there were some physical stumbles.
"The one bad inning, that's something that I need to be able to fix quicker," Butler said. "But other than that, it was great."
Dargan Southard is an associate reporter for MLB.com. This story was not subject to the approval of Major League Baseball or its clubs.